Racing July 3-9th, 2023
After two spectacular years in the Okanagan, We are heading back to the COAST of Vancouver Island.  We are working with new communities to enhance the journey and take you through some of the best the island has to offer.  Back to roots, back to the green room, back to the rainforest.  
Our design mantra has gone from high percentage singletrack to REALLY high percentage single track.  Purpose built trails made by mountain bikers for mountain bikers.  Stay tuned for the release of the new communities & trail networks we will be visiting in 2023
About Vancouver Island
Vancouver Island, off Canada's Pacific Coast, is known for its mild climate. Vancouver Island is renowned for wild, untamed beaches that are an idyllic summer sanctuary, and a hub for storm-watching and surfing in the winter. In addition to its endless list of biking, hiking, camping, and paddling adventures, the Island offers ample opportunities to unwind in lush vineyards.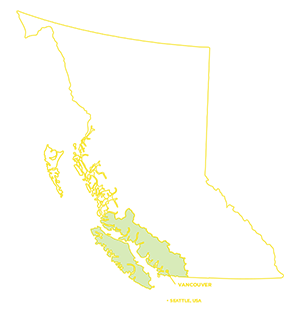 We at BCBR are excited about our routes and all the adventures we plan for our riders. Going forward under the context of accessing permits, conversations with land owners and coordination with others who seek to enjoy the trails and roads, we will begin to keep only limited course details available online. Information provided will be enough to plan your training and allow you to be properly prepared in terms of both on and off bike experience at BCBR events.
BCBR is a curated experience, and the race day course reveal will deliver an incredible experience on each stage of racing.
Stage Races that are not fully detailed ahead of race day exist to provide a level playing field for all participants. We believe this element will allow for the greatest race experience for all, and will allow us to be as fluid as possible while planning the great adventures we've become known for.
Steady, smart riding over the entire week will yield the best results.
If you want to access pre-race info in greater depth than we will provide, you can get out in person or virtually to see the trail networks using Trailforks to get the vibe, taste and feel. Take in all the favorites from each area we are racing this fall and see how the zones generally differ from one another, and how they flow.
We are known around the world for our awesome course marking and will provide GPS course information closer to the event.
Count on us to use the best trails and routes available!
""It was a great week out here in Penticton, BC Bike Race has been on the bucket list for a lot of years. Finally had a chance to do it, loved the competition, loved the new trails, the terrain, just being part of the BC Bike Race community is a lot of fun"!

Dan Hamhuis - Retired Professional Hockey Player, Olympic Gold Medalist