Patty McKeeman is the only woman over 60 on our start line for 2020.  We're in awe and wanted to learn more about her.  Here's what she had to say.
The first real trail I ever rode was Stanley Gap in the North Georgia Mountains which is still one of the toughest trails in the area.  It was the early 1990's, and I rode a fully rigid steel bike. I can't count how many times I crashed, but I fell in love with the sport!! At the time, I was in the middle of an Olympic Sailboarding Campaign but never made it to the Olympics. After the trials, I bought a mountain bike and never looked back.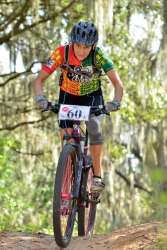 Because of competing so much with sailboarding, I had no desire to compete in MTB races.  I just wanted to be in the woods on my bike. To motivate and challenge myself, I enter a few long-distance events a year.
My passion for mountain biking continued to grow through the years as it is a sport that can be done anywhere in the world and isn't as dependent on the weather as sailing is. Soon after discovering the sport, I found that there were great trails in (believe it or not) central Florida, which are pretty technical. I can ride year-round in our backyard, and now, 25-years later, I'm taking my grandson with me!!
I am very nervous about the BCBR for several reasons.  First the logistics of getting there and making all the travel arrangements.  Also all the thoughts that go through my head: am I ready, have I trained enough, can I physically do this, I hope I can finish!!!  At the same time, I'm excited to experience the trails of BC, meet people with the same passion and to challenge myself.  The folks at BCBR been wonderful and have taken away many of my fears … I can't wait!!