Throwdown on Mount Tzouhalem
When you're at "The Ultimate Singletrack Experience," there's no time to ease into it. Tight racing in Monday's Prologue foreshadowed the battle to come. The first full day of racing on Mount Tzouhalem saw the top men and women going toe-to-toe for 40 kilometers in the Cowichan Valley.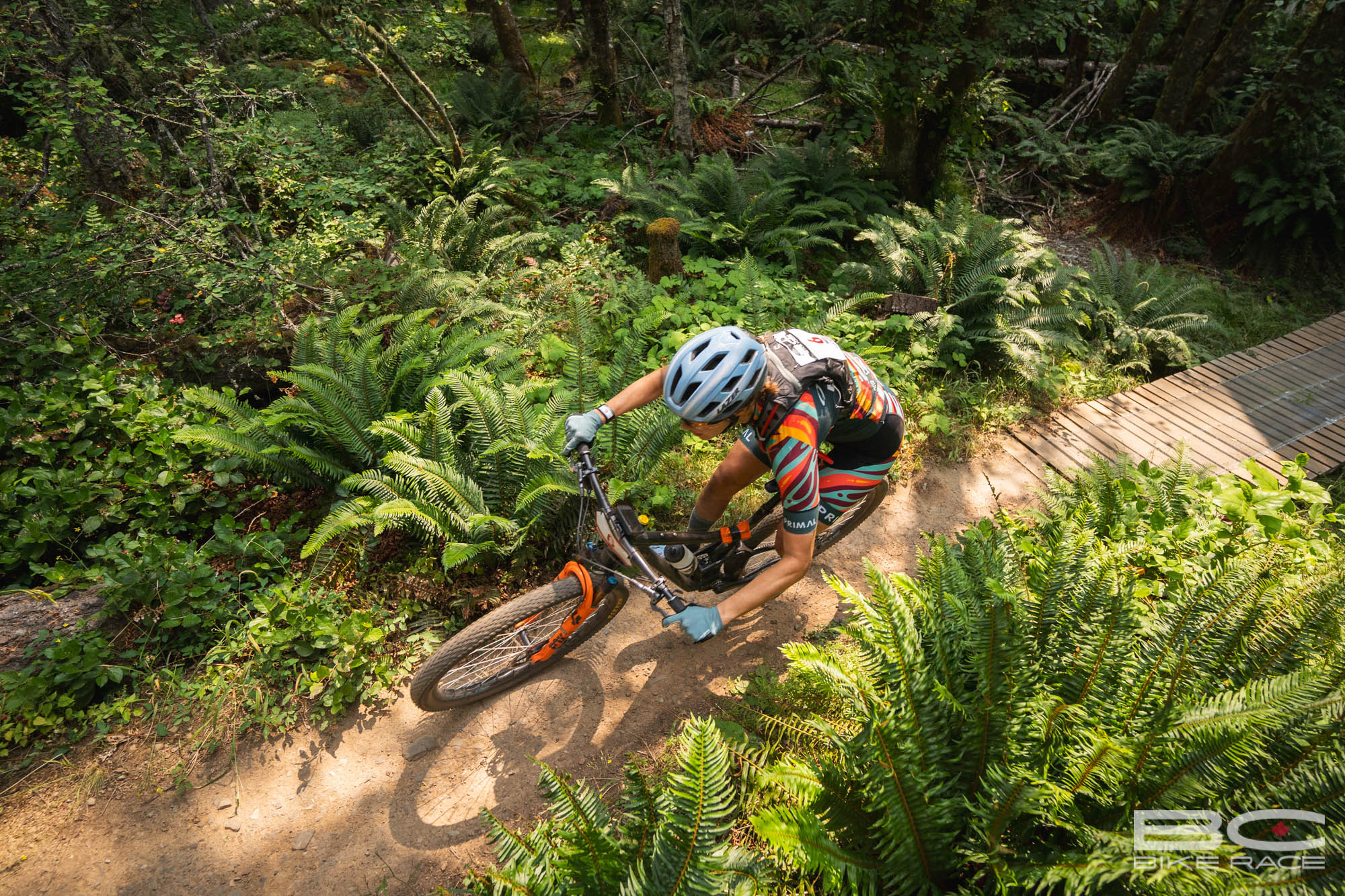 Into the Green Room with Syd
Katerina Nash fends off a long week's first challenge
Katerina Nash had to work hard for her victory on Day 2 but was eventually able to shake Evelyn Dong and Alberta's Eva Poidevin to take her second win this week. With a few BCBR titles under her belt already, the veteran racer is looking forward to the battle ahead. 
"So far it's been a really smooth week," Nash said after stepping off of Tuesday's podium. "I'm just really excited to be back at BCBR, it's been four years. I do love the riding here. So many people want to travel from around the world to ride these trails, so I'm pretty stoked."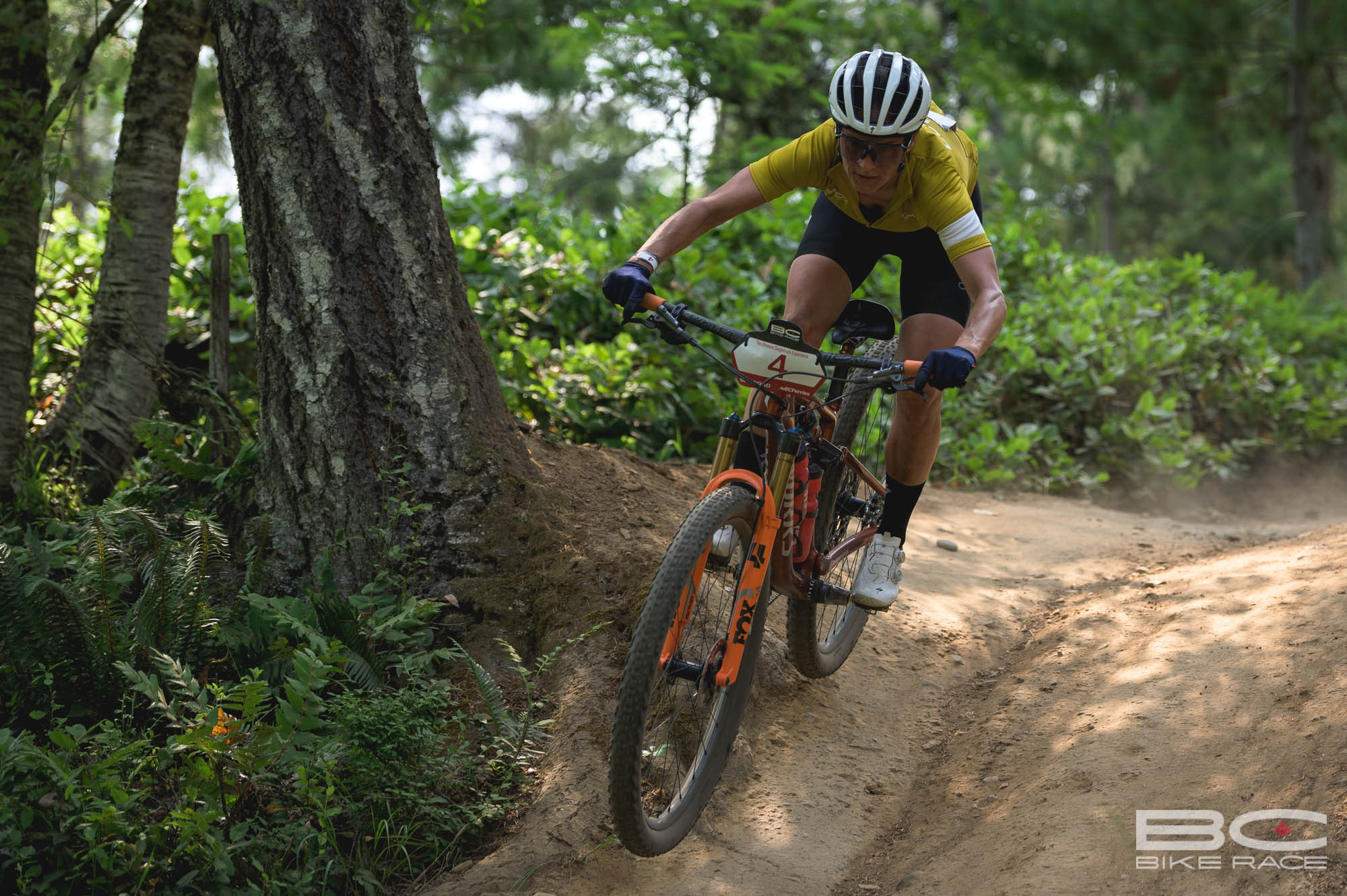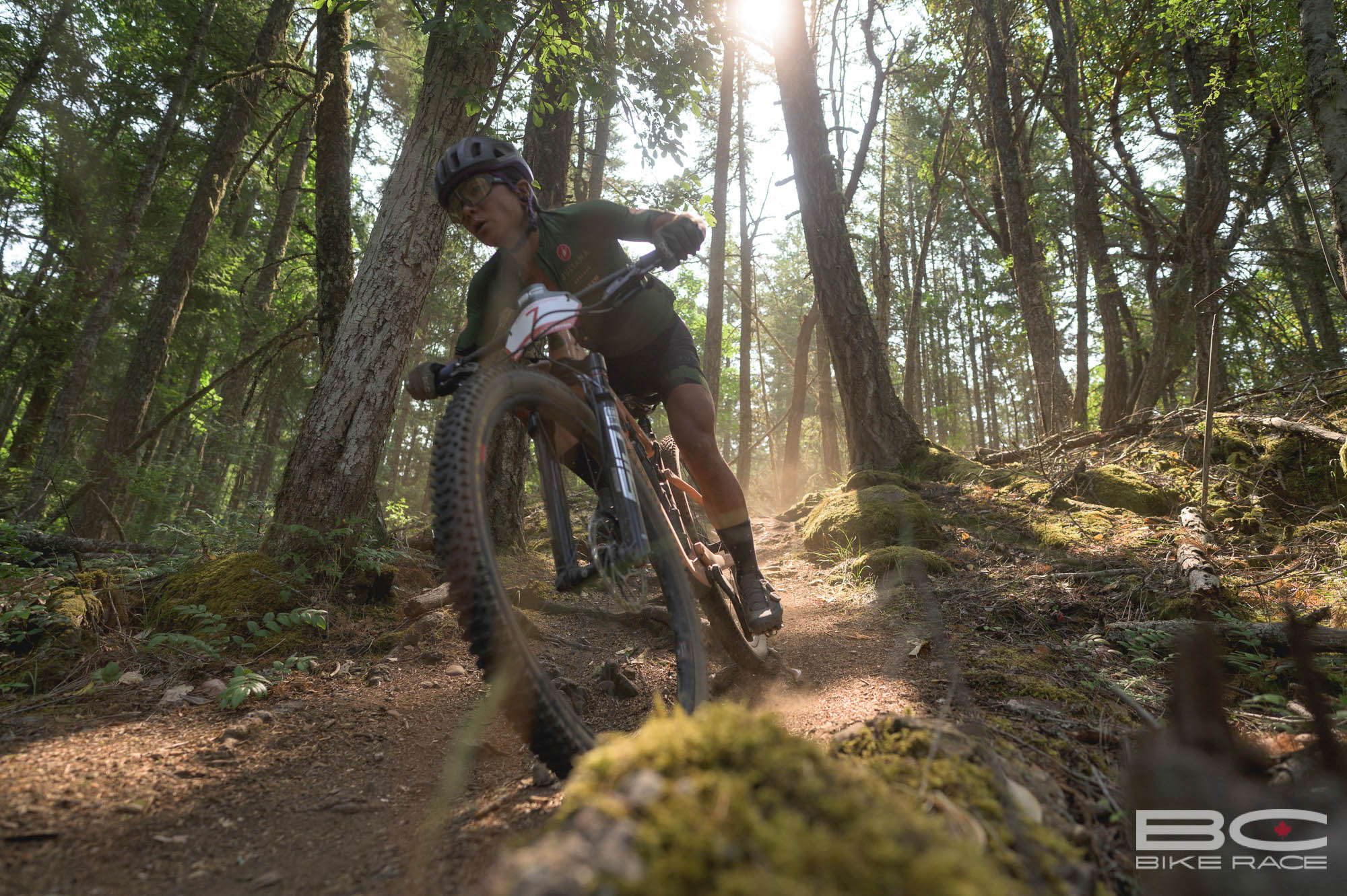 The times are still tight, with Dong keeping the gap close today. Poidevin dropped a couple of minutes back but still finished solidly under the two-hour mark and kept Canada on the open women's podium on Day 2. BCBR's return to Vancouver Island is also bringing back close racing among the top women.
"We definitely have a good competitive field. Evelyn is riding really strong. It's great to see Eva.  and have a young rider in there. She's quite sendy on the downhills," said Nash. "Sandra [Walter] maybe didn't have the best first two days but I'm not counting her out yet. It'll be really cool to compete with all of them."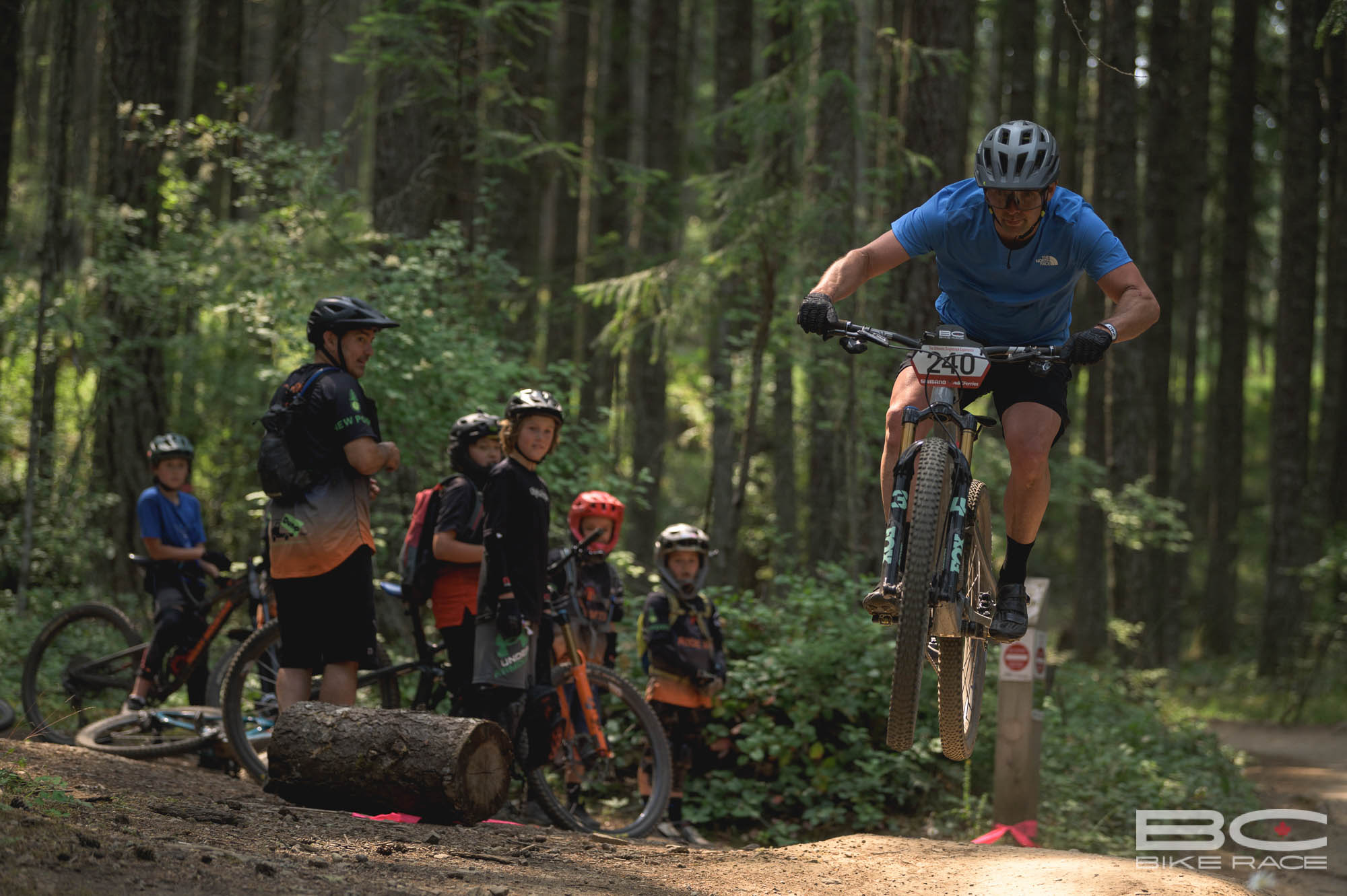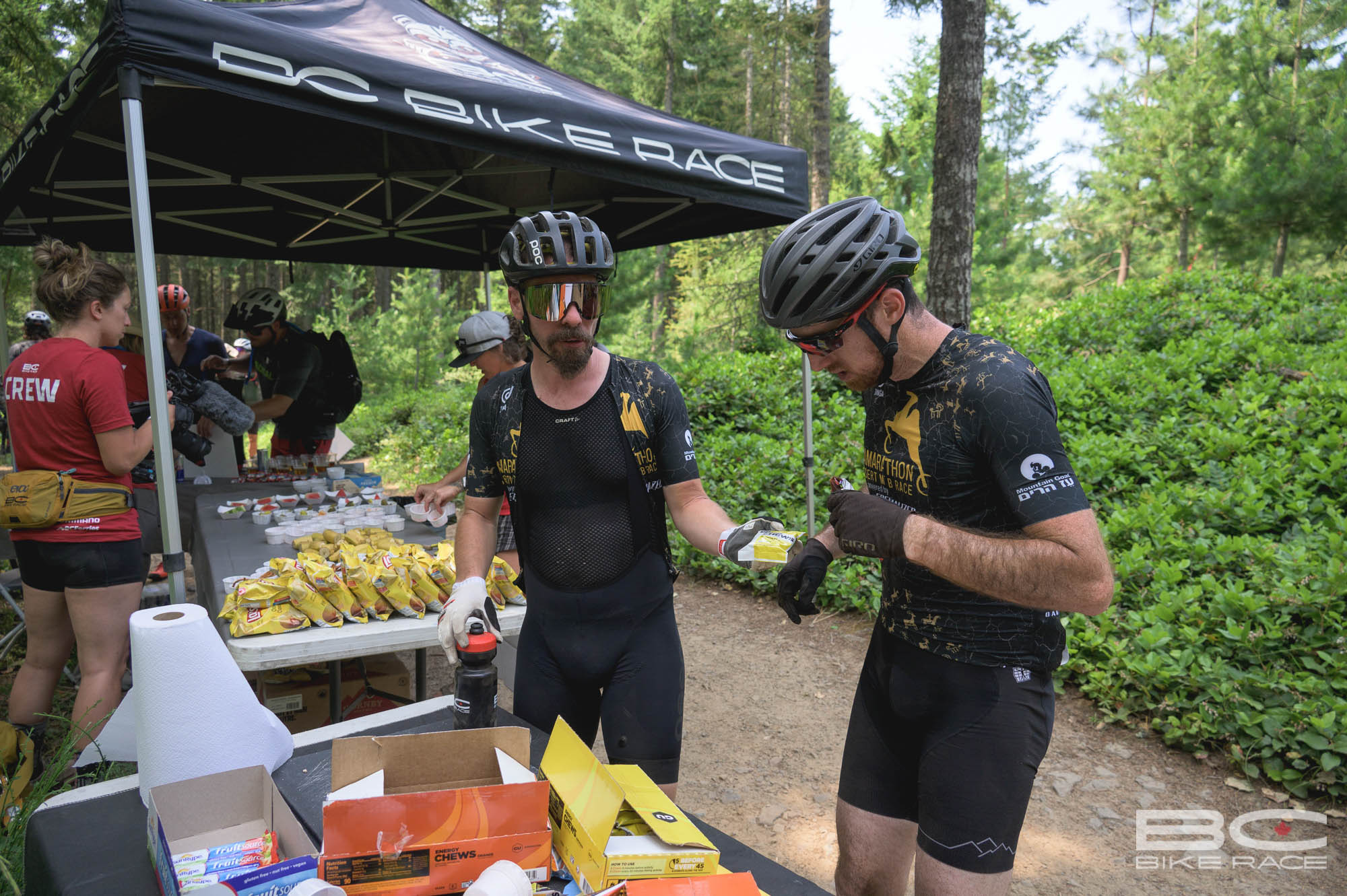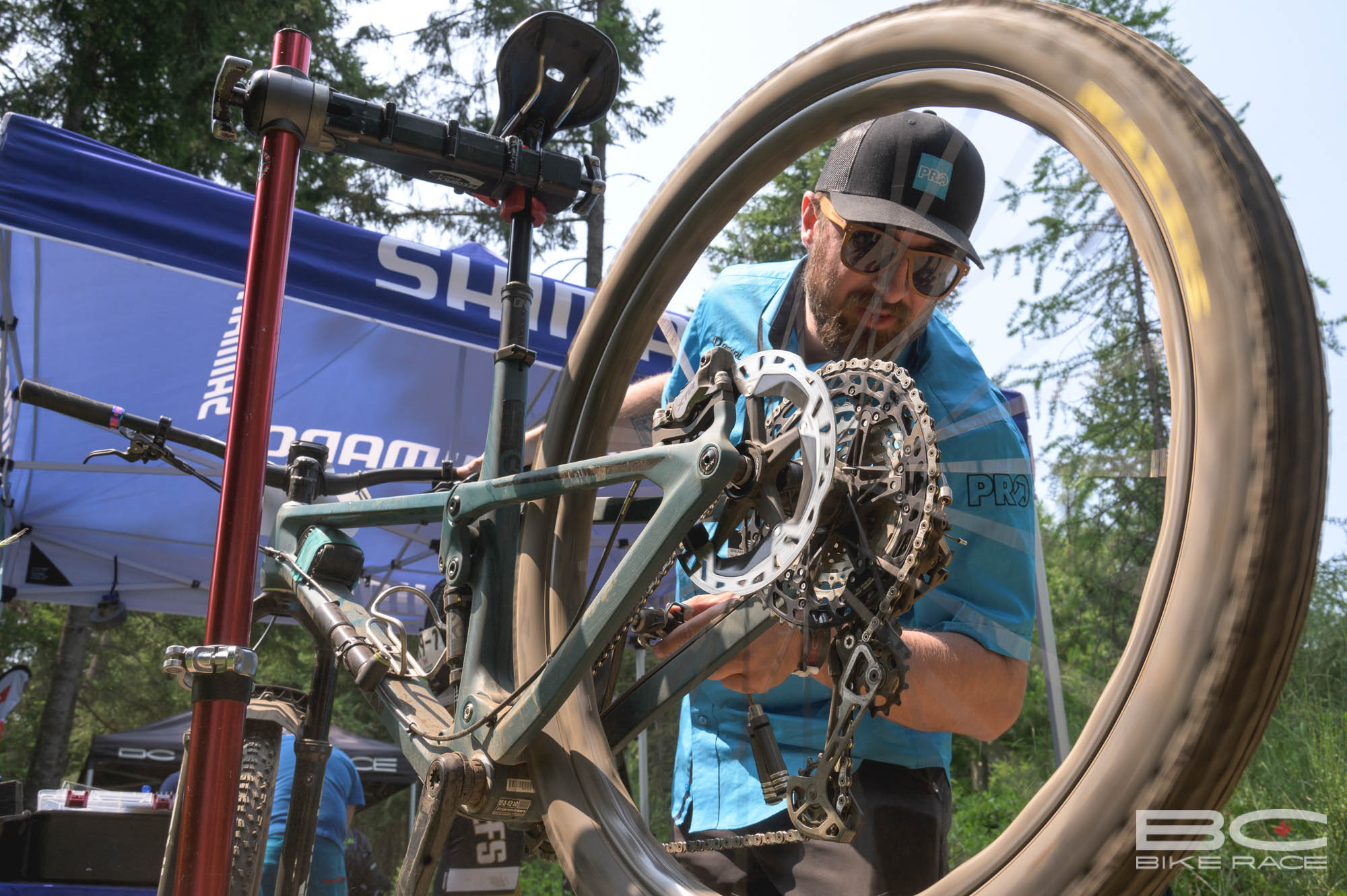 Cage match at the Tzou 
On the men's side, the race was almost too close to call. Quinton Disera and New Zealand's Craig Oliver were separated by three seconds in the Prologue. More time on the clock only made racing closer. The two World Cup racers traded leads all day on Tzouhalem's well-balanced mix of tech and flow.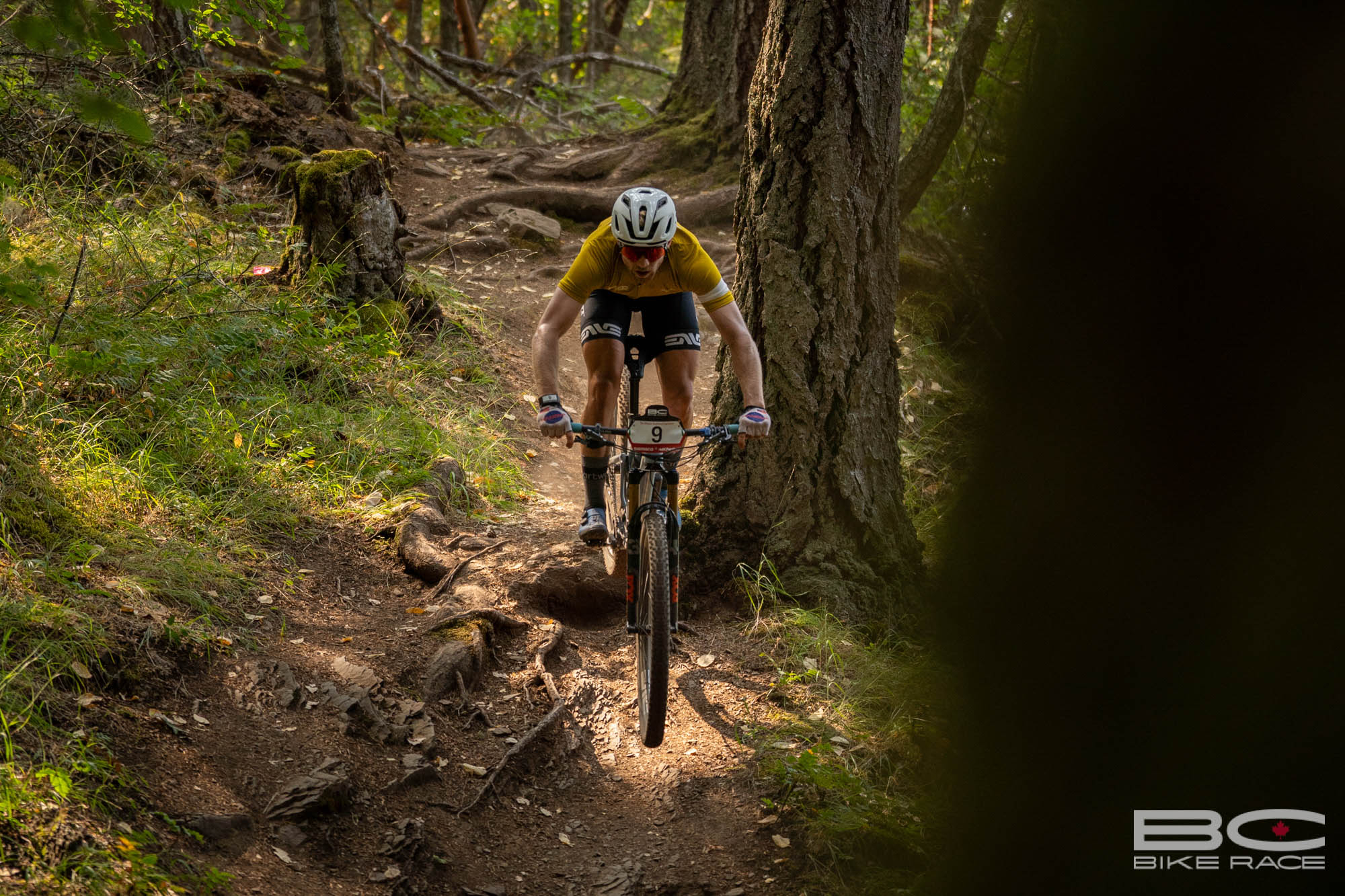 "Craig and I got off the front going into the top of Finality. I put a bit of a dig in, just because it was a steep section, then we battled back and forth," Disera told MC Brett Tippie after the finish line. "He gapped me a bit on Chicken Run. I brought him back on Double D which was running amazing today, and a bit on the climb after. We battled from there to the finish. Stoked to do it all over again tomorrow."
Oliver ends up taking the stage win by a razor-thin 0.02-second margin. Quinton Disera retains the yellow leader's jersey. 2021 winner Andrew L'Esperance finished third again on Stage 2.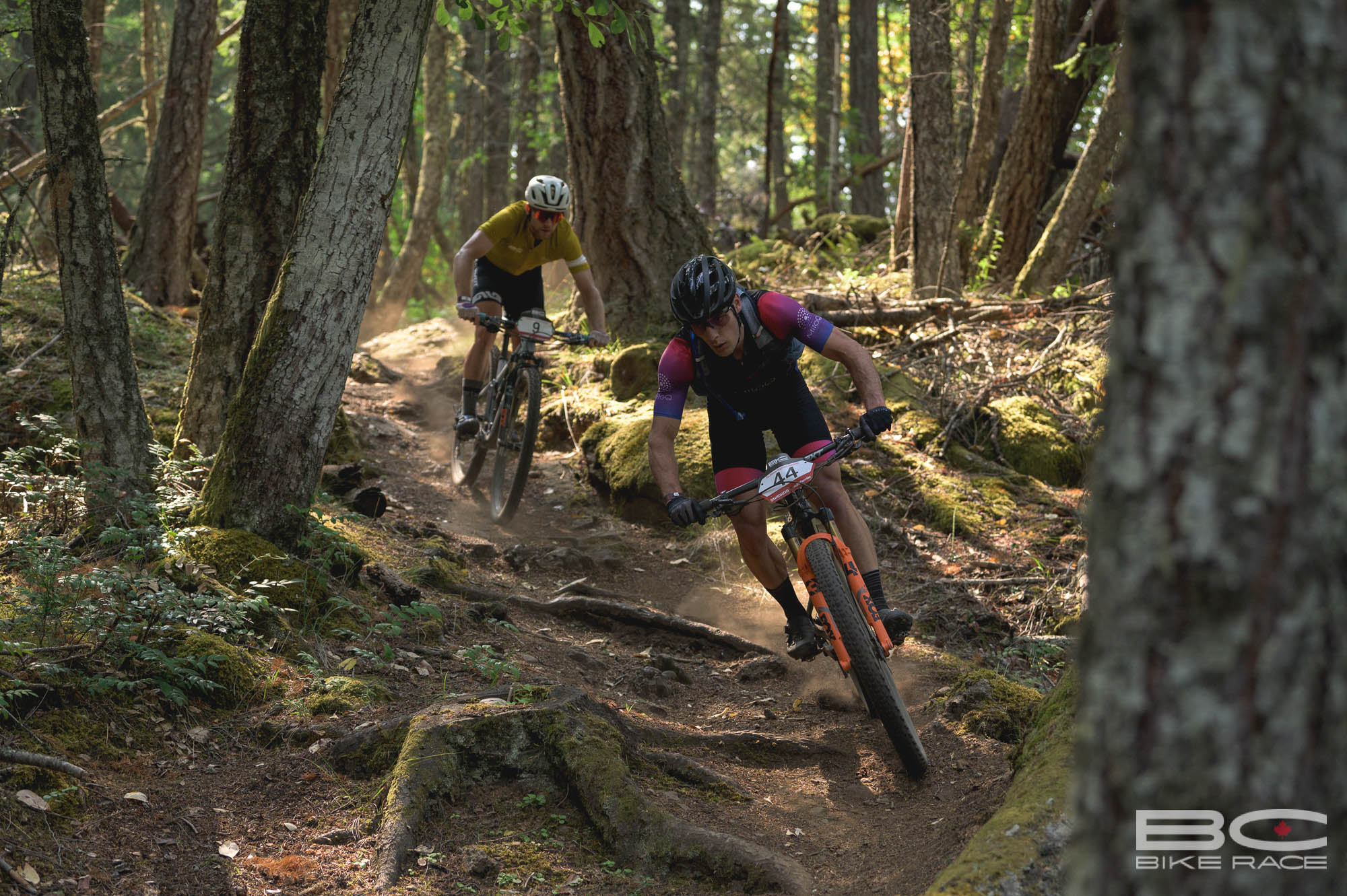 Brotherly love at BCBR 
While 2023 is Quinton's first taste of the BC Bike Race experience, he is here racing alongside his older brother Peter Disera who just happens to be the 2022 BC Bike Race champion. Does the family connection come with any insider BCBR knowledge? 
"Not yet, no," Quinton quips, with a laugh. Teamwork is limited on the trails, too. "Once you get into the trails you're not leading people or anything. The trail determines your speed." 
"Any of the advice is non-direct," Peter is quick to add. The returning champ had to fight for his win last year, and that does come with some lessons learned. "The week's long. I lost 10 minutes on Day 2 last year and won Day 3 by 15. It's a different story here because the climbs are shorter and a little bit more punchy. But we're going to see completely different trails, venues and feels over the next five days. As we move up Island, it could be a different race."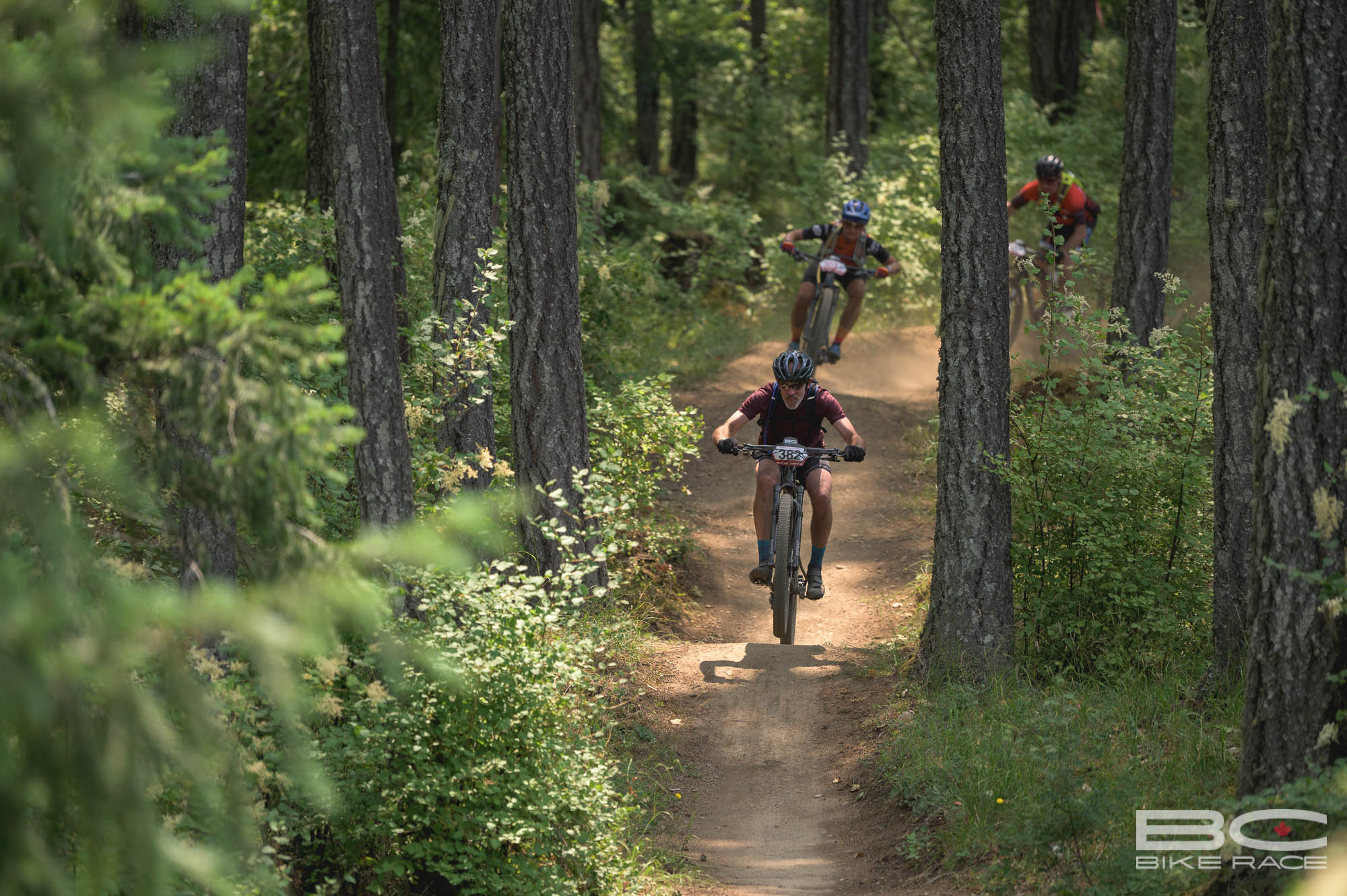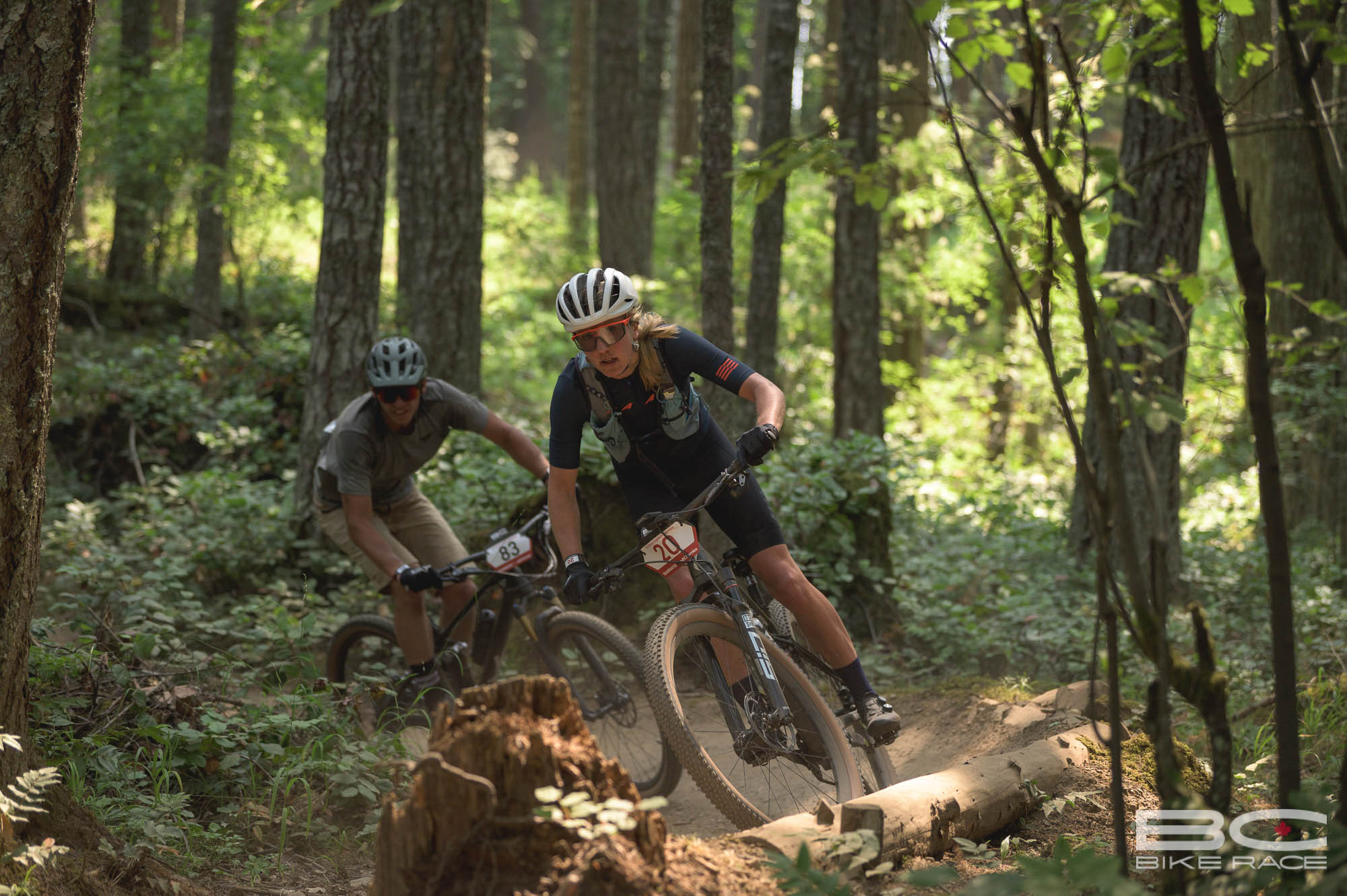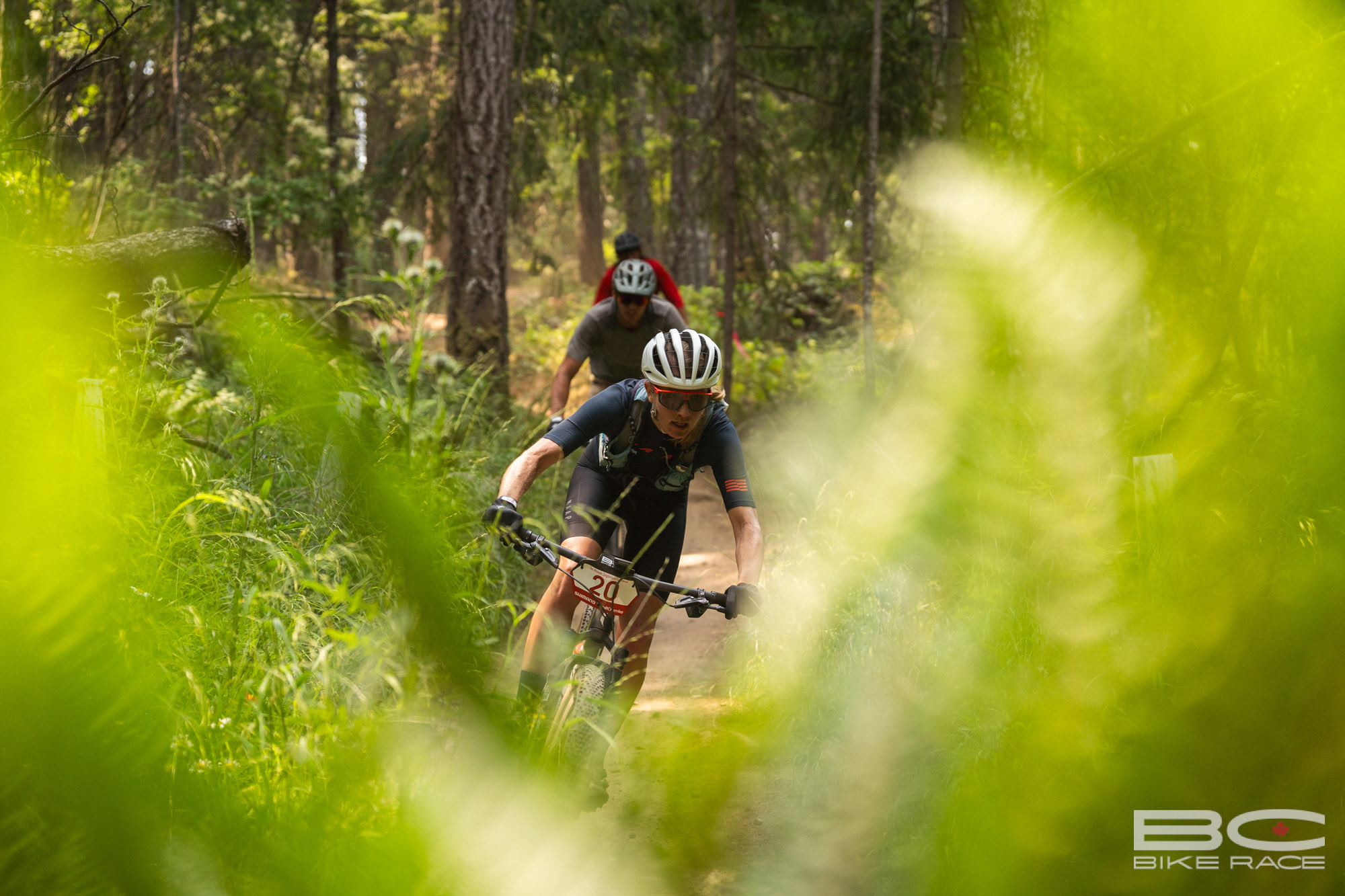 As for his race today? 
"The boys were throwing some bombs, I just settled in and did my own thing."
If there's one thing that is clear, it's that there's no inter-family rivalry. The two Disera's may not work together, but they do want to keep the title in the family. 
"We're competitive, but if he can nail it down, that's good. If I get stronger throughout the week, it's good," Peter admits, adding, "Just as long somebody walks away with it."
With five days of racing left, and just a 2.98-second lead, Quinton knows the Disera family knows they don't have the crown firmly in their grasp just yet.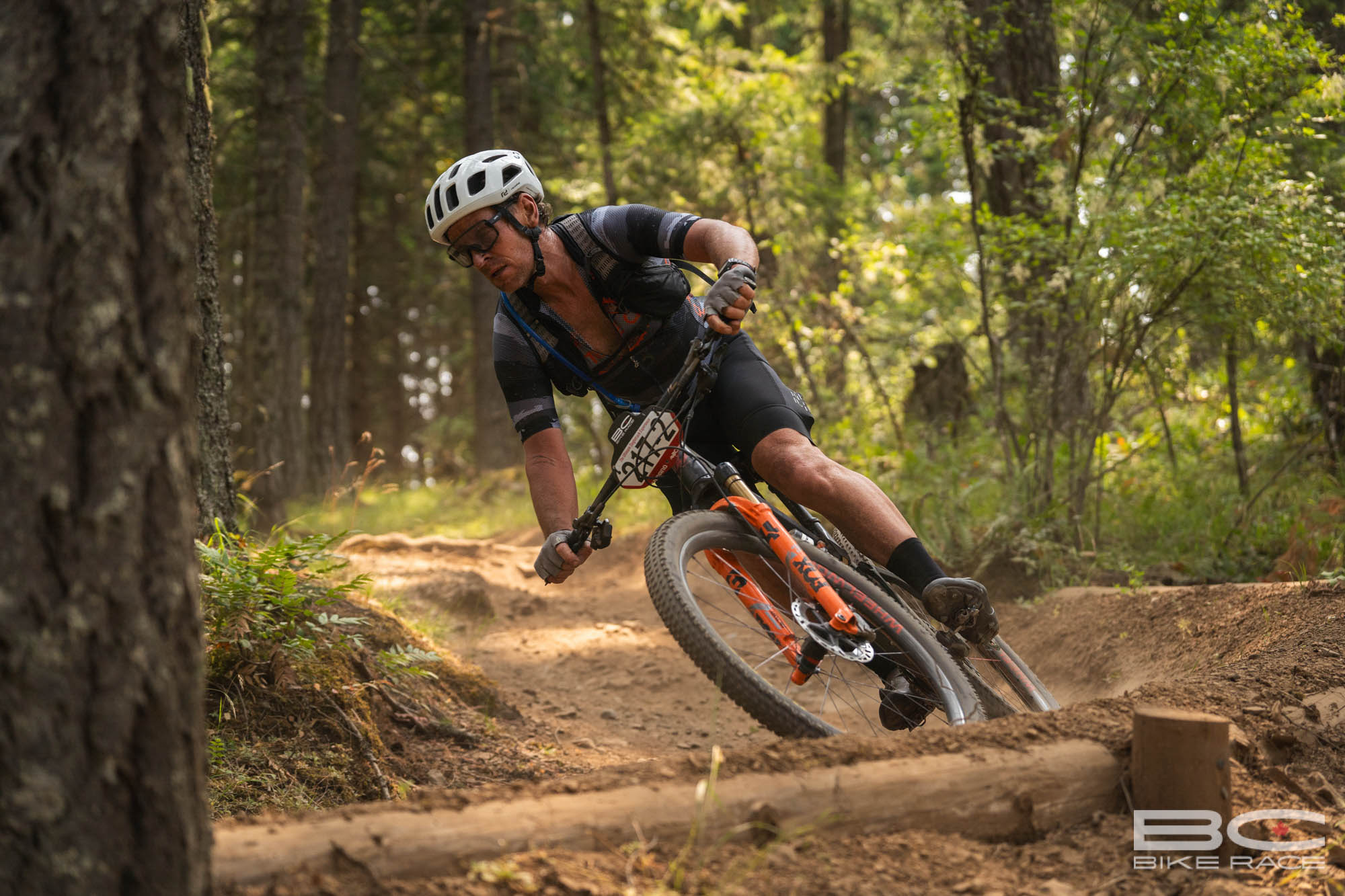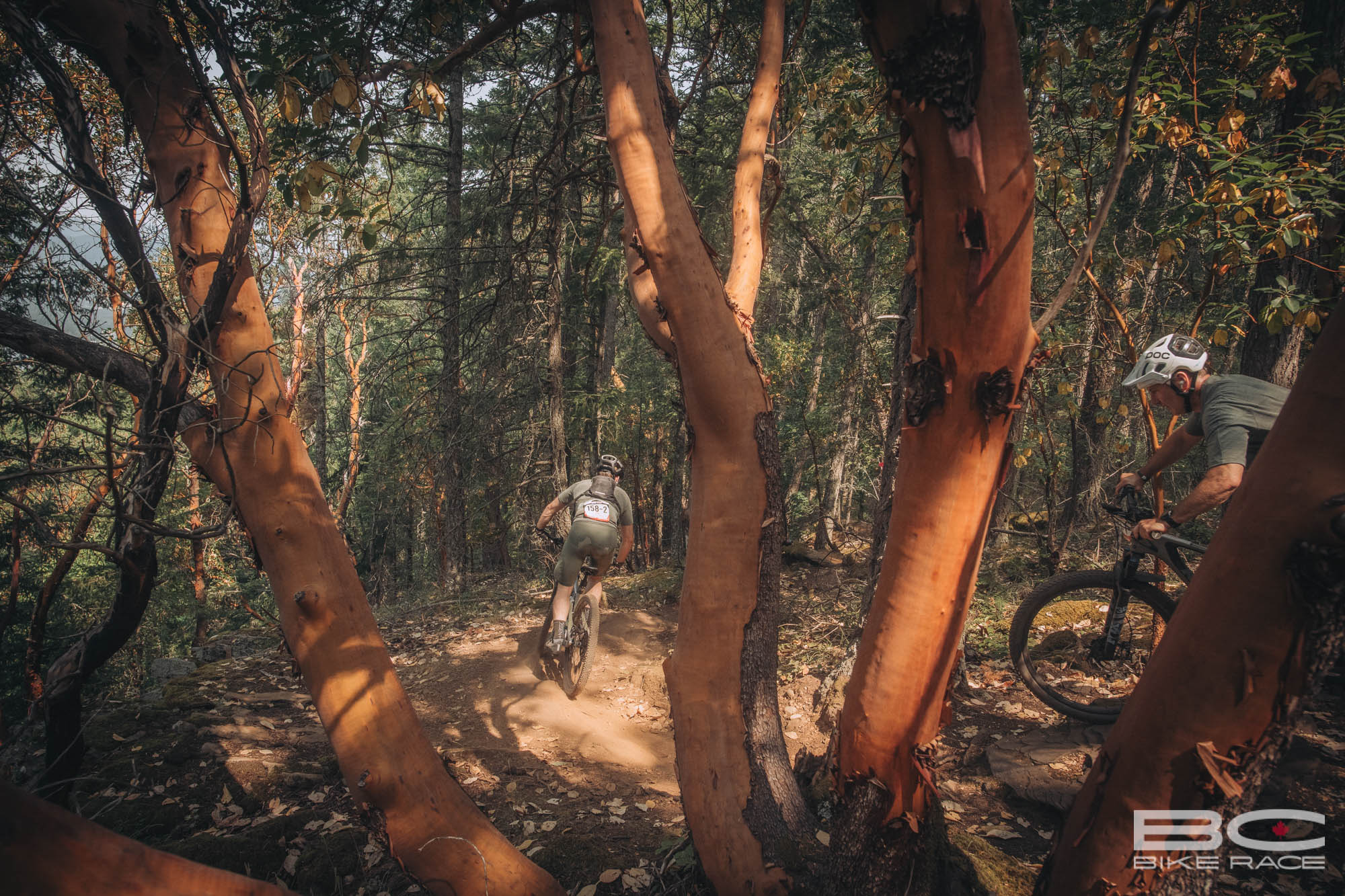 "I'm just rolling with the day-to-day. For me, I think the days are going to get harder. And, as the week rolls on, the days get harder anyway. So taking each day and not really thinking about the next, but also thinking about the end of the week, too." 
While that sounds like a hard balance to strike, the Canadian is enjoying the change from his usual international start lines.
 "This is not another beast entirely, but it's more enjoyable than racing World Cup efforts, for sure. It's nice to be away from that and enjoy the days more. This is a great race in terms of getting to race on the mountain and getting to just socialize after. It's nice to break away from the hardcore racing scene."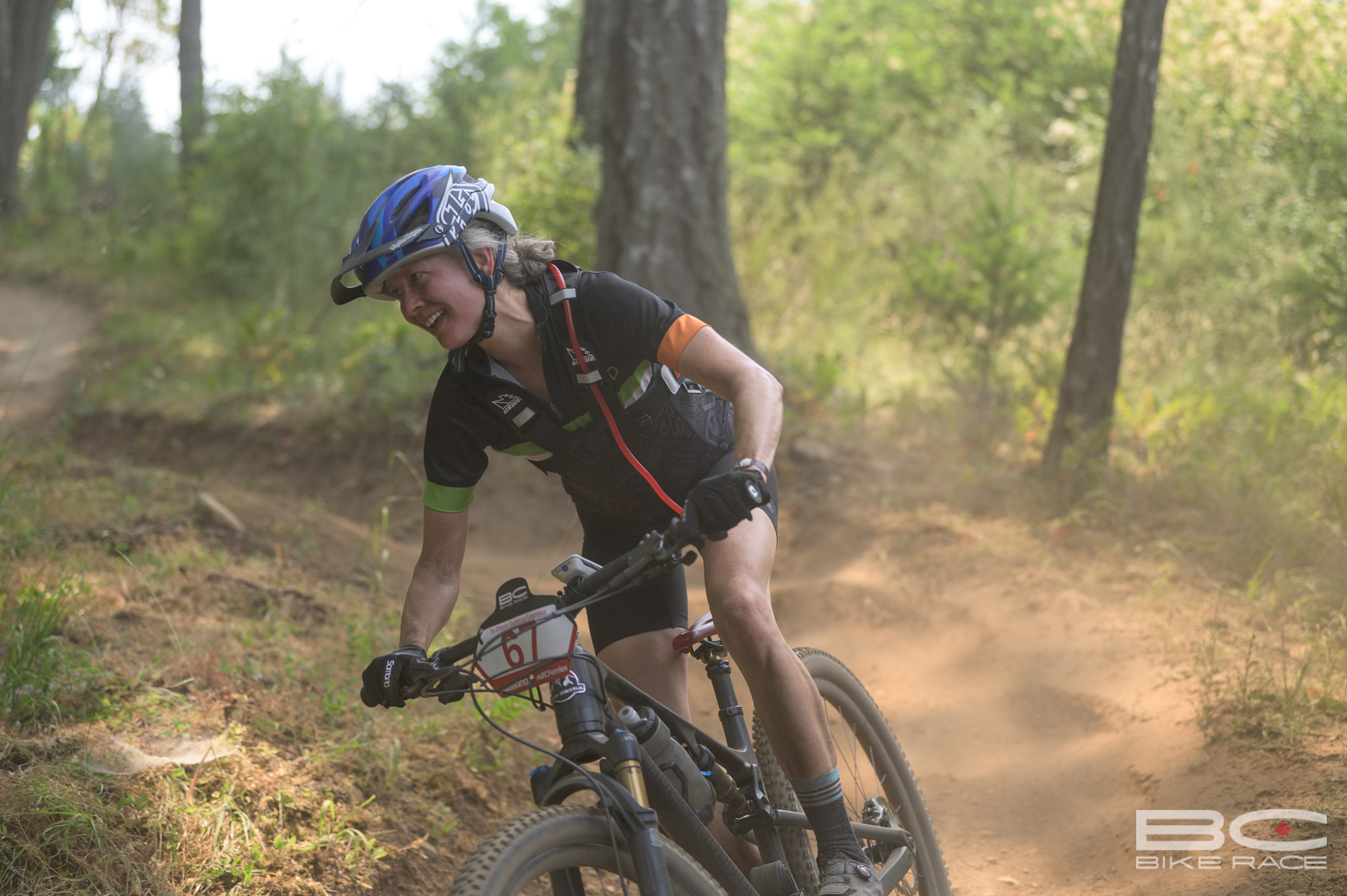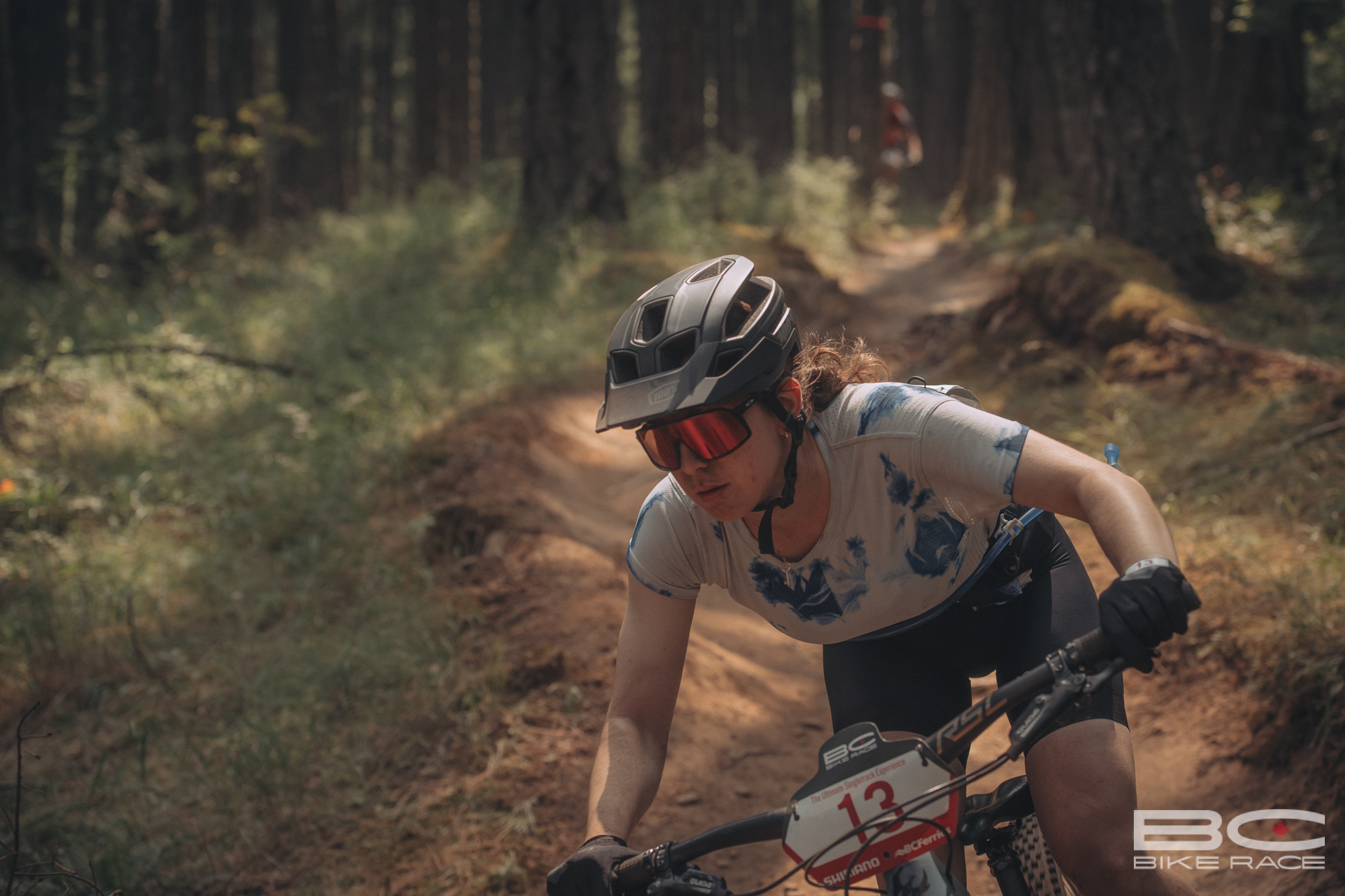 Sending off July 4th in Canada 
Podiums were not the only celebration on Tuesday. With a solid third of the field traveling north to experience Vancouver Island's singletrack, U.S.A's Independence Day festivities were showing strong in the peloton. 
Johnny Rock kicked the day off with the Star Spangled Banner blaring from a roof, or trailer-top, to call racers to the line. On course, the Red, White and Blue highlighted many racer's kit. Rebecca Fahringer rocked her jersey to a top 10 in the open women's field. Slightly further back, Calvin Dumer and Thomas Olek traveled all the way from Minnesota and Wisconsin to take on the BC Bike Race. How were their Independence Day activities? 
"We're here, man! Everyone's back home celebrating for us, they're all partying right now." 
The two were not letting the Fourth of July pass entirely unrecognized. The Team of 2 rocked appropriately patriotic eagle and Stars and Stripes jerseys all day. Two days in, the two are deep into the B.C. singletrack.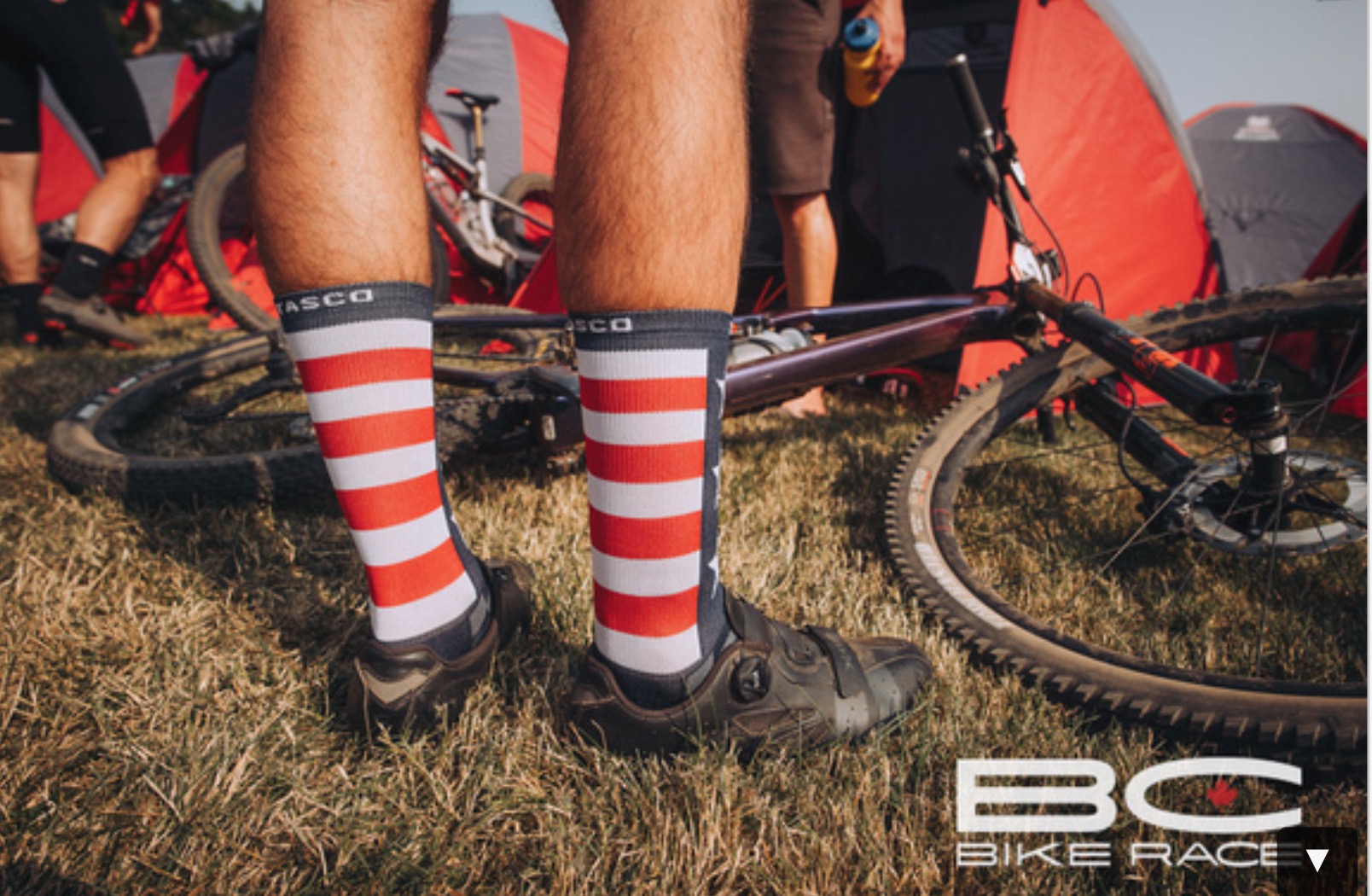 "It's epic. It's steep. We just don't have anything like that at home," says Olek. 
"Maybe something," Dumer adds, "But it's like a hundred feet. This is completely different." 
Venturing into the unknown doesn't always go perfectly according to plan and Olek was showing signs of a brief dirt sample somewhere on today's course. Despite a bit of blood, team VanVan Overlnd Kollectiv is still stoked.
"Oh, I went down, yeah. I was minor, I walked away so I'm not really concerned. But I went over the bars." 
"If you don't have a little blood on you, were you even riding?" added Dumer    
Independence Day delivered a most satisfying mix of high-speed flow, with just enough tech to keep racers on their toes. 
No matter where racers are from, and what they're celebrating today, Basecamp was there to offer a place to relax, recover and prepare for the next day's challenge. 
On Wednesday, the BCBR turns back to the classic tech and gnar that sets this event apart with an outsized return to Maple Mountain. After a taster in the Prologue, Day 3 heads all the way to the summit for a full serving of Maple Syrup. 25.2 km, all on the clock, squeezes in 921m of elevation gain and loss. Hopefully, racers are on solid footing on the B.C. tech as upper Maple Syrup is the first taste of proper Black Diamond singletrack in this year's course.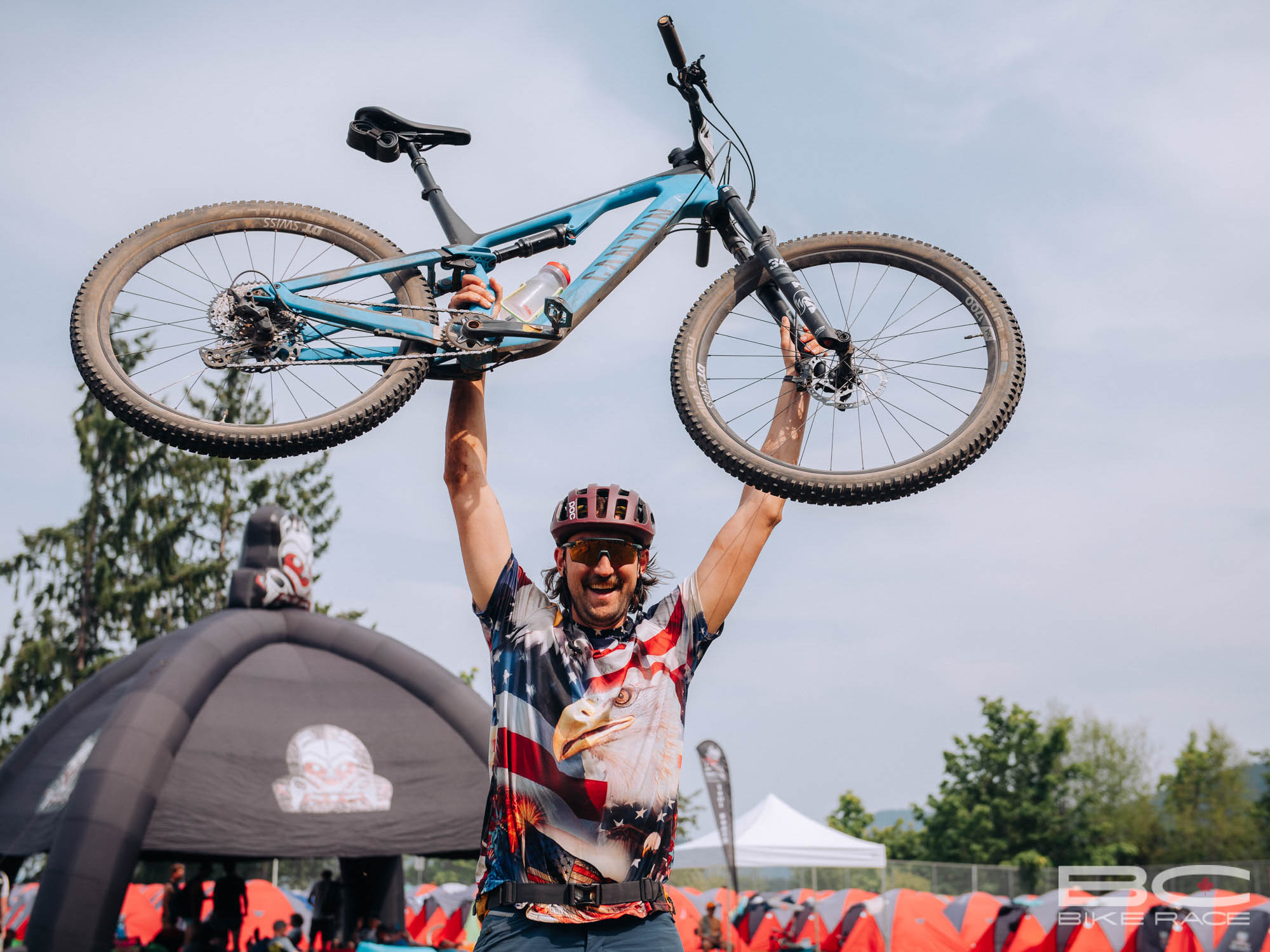 Open Men's Results
Craig Oliver – 1:30:13
Quinton Disera – 1:30:13 (+0.00.02)
Andrew L'Esperance – 1:32:44 (+1.31)
Open Women's Results
Katerina Nash – 1:50:20
Eva Poidevin – 1:51:53 (+1.33)
Evelyn Dong – 1:54.51 (+4.31)