THE 7-DAY JOURNEY
We're proud to announce the 2024 BC Bike Race route!
In our 18 years, no 2 years have been the same. Our goal with every event is to curate the best route and showcase the unique flavour of the communities we visit.
"We want to give our racers the best possible experience, so we work hard to improve each year," says BC Bike Race President, Dean Payne. "Based on racer feedback, we've created some new options and brought back some old favourites for 2024."
July 1: Victoria – Registration & Prologue
July 2: Victoria
July 3: Cowichan Valley
July 4: Nanaimo
July 5: Cumberland
July 6: Campbell River
July 7: Cumberland
We will have 3 basecamps this year: Victoria, Crofton and Cumberland.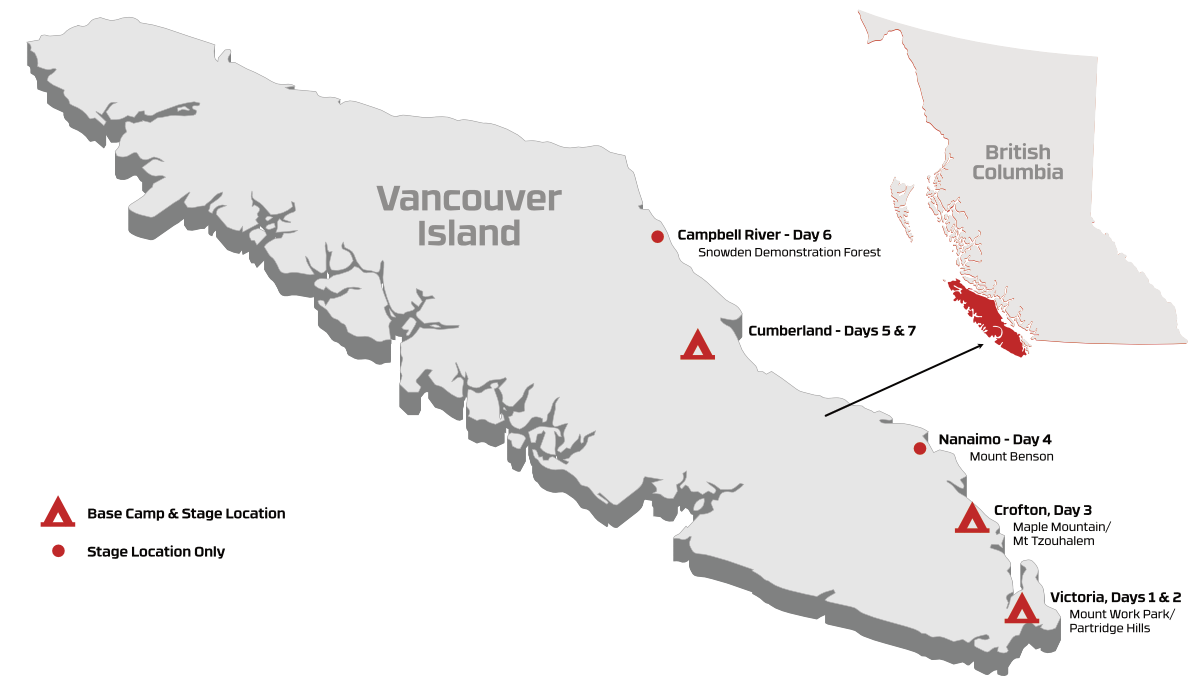 DAYS 1 & 2: Victoria
Victoria was the host for stage 1 of the original 2007 BC Bike Race and returns to the fold with nearly two decades of trail development managed by the South Island Mountain Bike Society (SIMBS).
We'll be taking riders to the heart of Victoria's mountain bike scene, Hartland, on the flank of Mount Work Park, as well as the neighbouring Partridge Hills.
Both areas are technically challenging, both up and down, so these time-tested trails will test your fitness and riding skills.
Many pro mountain bikers were born here and honed their skills on these local trails, and many other athletes have migrated here for those very same reasons. They include Andreas Hestler, Catharine Pendrel, Max Plaxton, Seamus McGrath, Lesley Tomlinson, Andrew L'Esperance, Hailey Smith, Carter Nieuwesteeg and Peter Disera.
"We're over the moon to showcase the incredible trails and land we get to call home here," says SIMBS President Brendon Earl. "From technical descents to flowy single-track, arbutus bluffs to rocky terrain, switchbacked smooth climbs to tricky punches, riders are really in for a little bit of everything and a lot of fun!"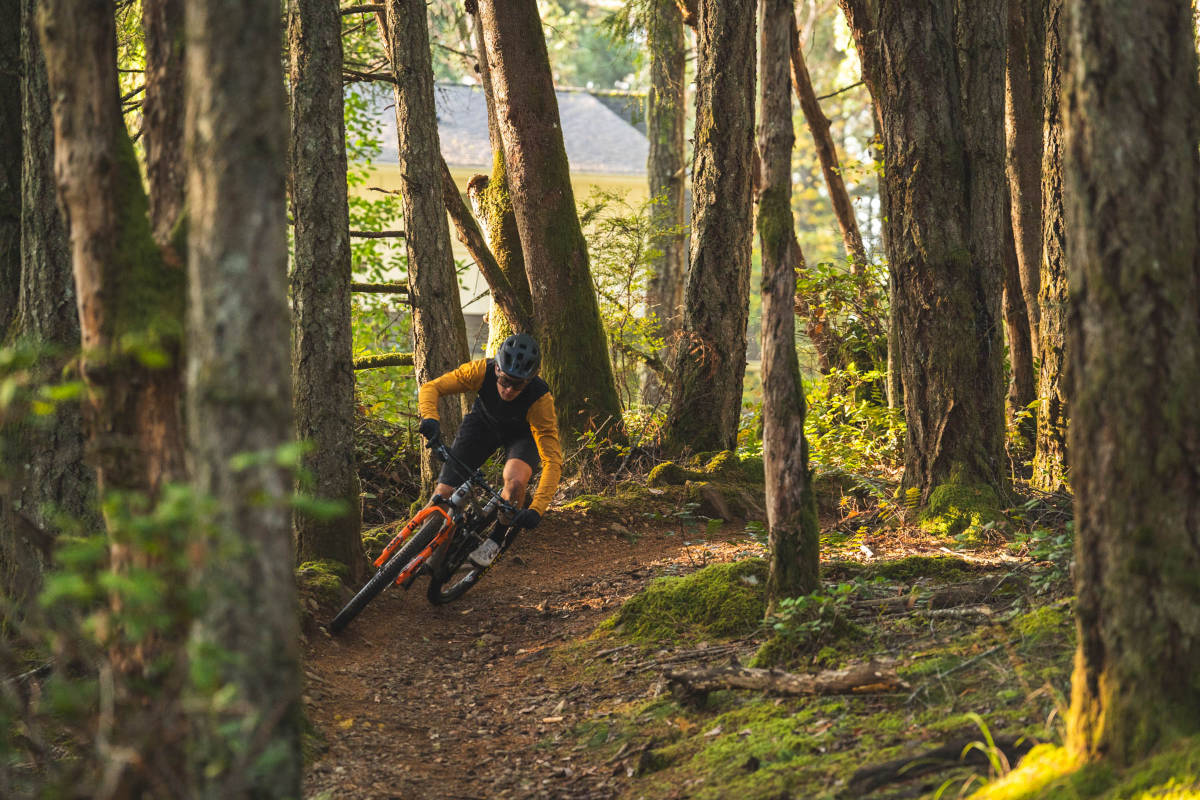 Day 3: Crofton – The Double Crown
Immediately after completing Day 2 in Victoria, basecamp heads an hour north to the tiny seaside community of Crofton. This will allow racers to wake up refreshed and ready to tackle the Queen Stage—the longest and most challenging of the 2024 course.
At roughly 47 kilometres, Day 3 will feature a double crown of Maple Mountain and Mount Tzouhalem, which are managed by the Cowichan Trail Stewardship Society.
Maple Mountain has been a crowd favourite for its technical descents that require quick line selection and commitment. "Surviving Maple Mountain" was a highlight for one 2023 racer.
Tzouhalem, meanwhile, offers fast, bermy downhill sections such as one of the feature trails, Double D.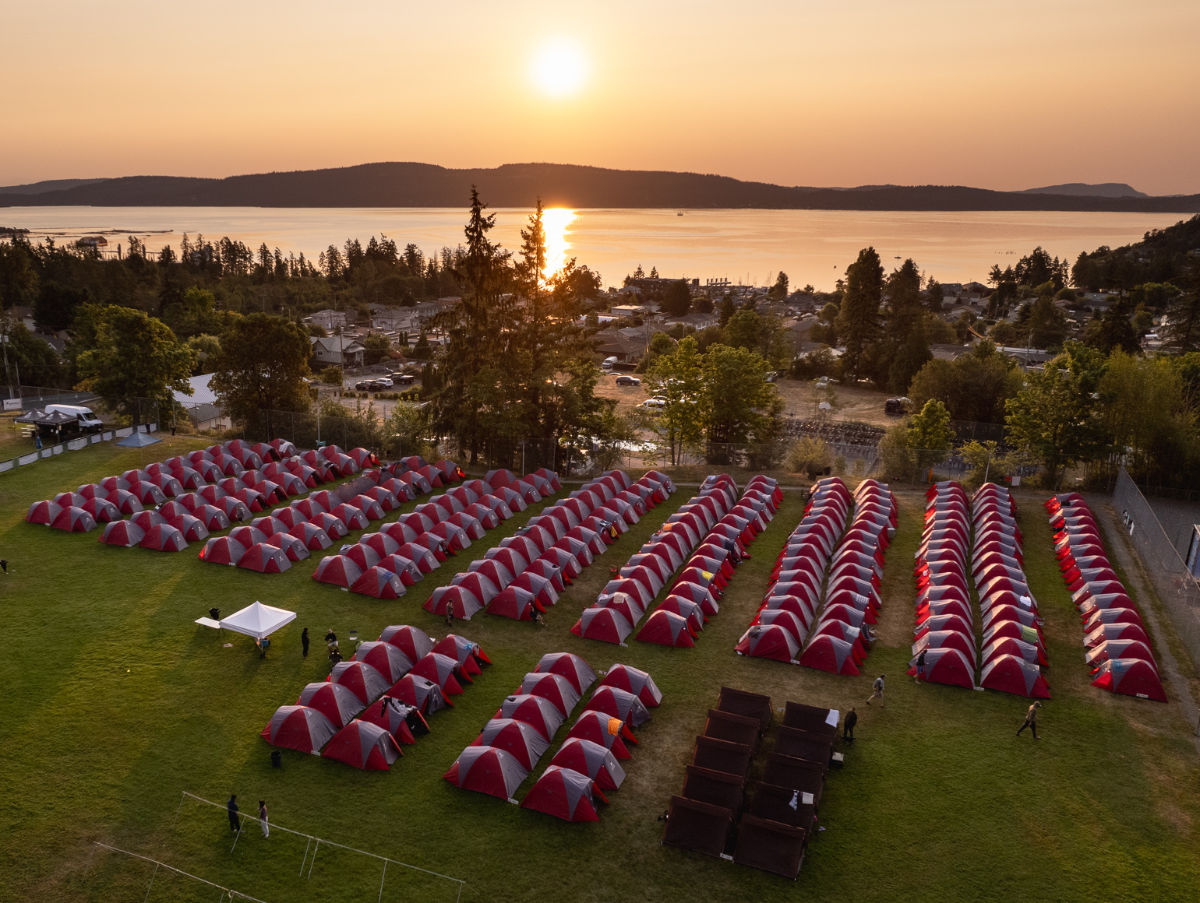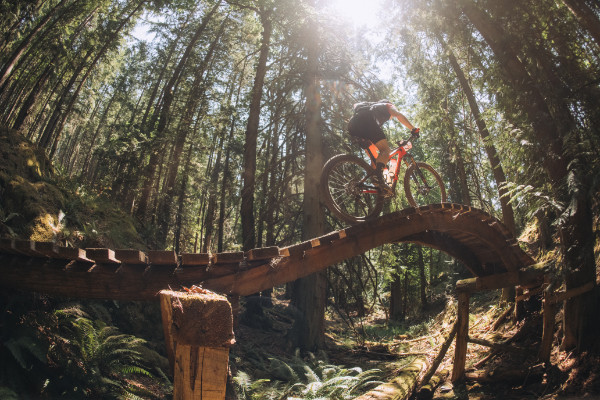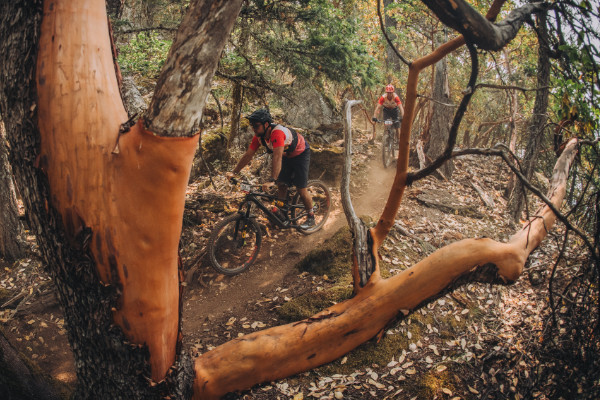 Day 4: Nanaimo
Packing up the Crofton basecamp at the start of Day 4, racers will head north again to Nanaimo, a one hour drive.
Soon after rolling out from the start line, racers will ride some of the locals' favourite trails. Nanaimo's Mount Benson, maintained by the Nanaimo Mountain Bike Club, offers a distinctive riding experience with surprising diversity.
"I was talking to a racer last year who said he felt like he rode in four different climatic zones during this stage," says Course Director Jeff Stromgren.
With the Nanaimo finish line behind us, we head an hour north to Cumberland and our final basecamp.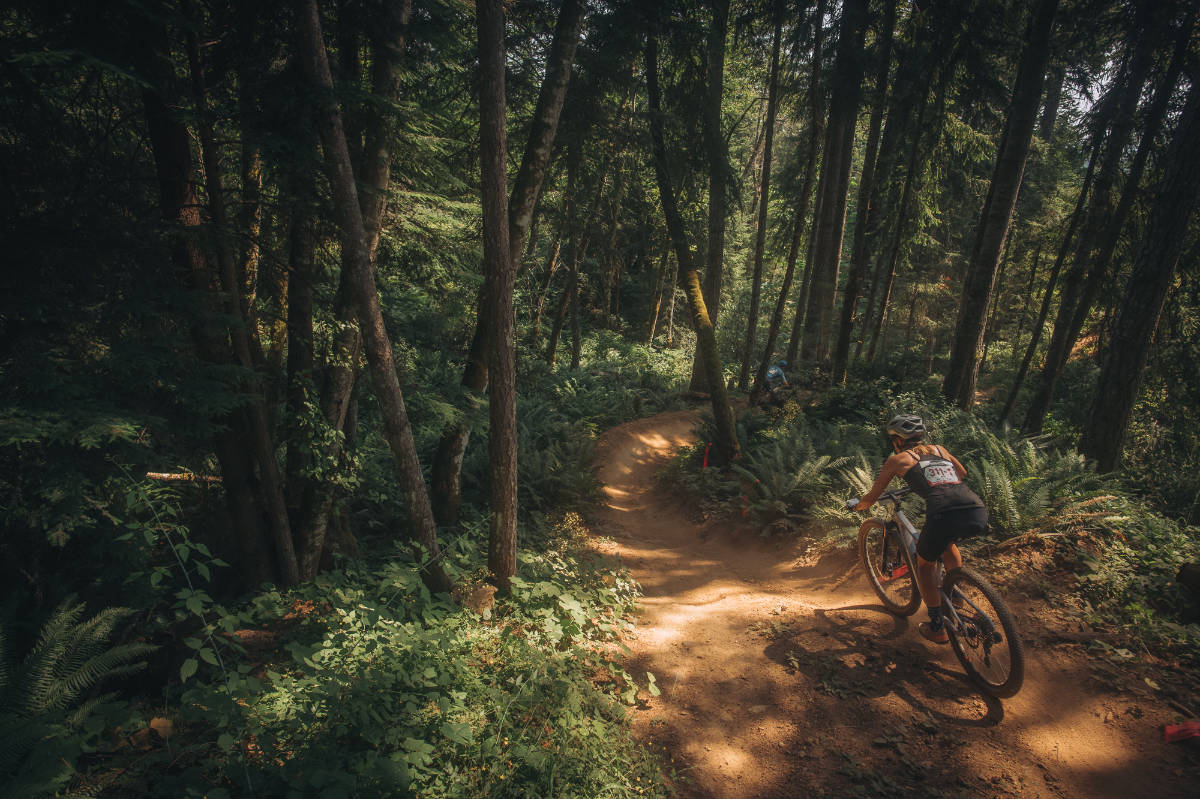 Day 5: Cumberland – An Iconic Mountain Bike Town
Though small, this village has developed a well-deserved reputation for world-class trails and is home to a passionate mountain bike community that has welcomed us with open arms every year since our first event in 2007.
Bike culture is everywhere in this former coal mining town, with 1 main street, 3 bike shops and bike-themed businesses like the famous Riding Fool Accommodations, which is operated by the unofficial mayor of Cumberland and our local course director since 2007, Jeremy Grasby.
The United Riders of Cumberland maintain the community's whopping 197 kms of trails, which provide so many course options that both Days 5 and 7 will take place here.
Day 5 will be the longer of the two Cumberland stages and feature more technical trails with a little flow mixed in.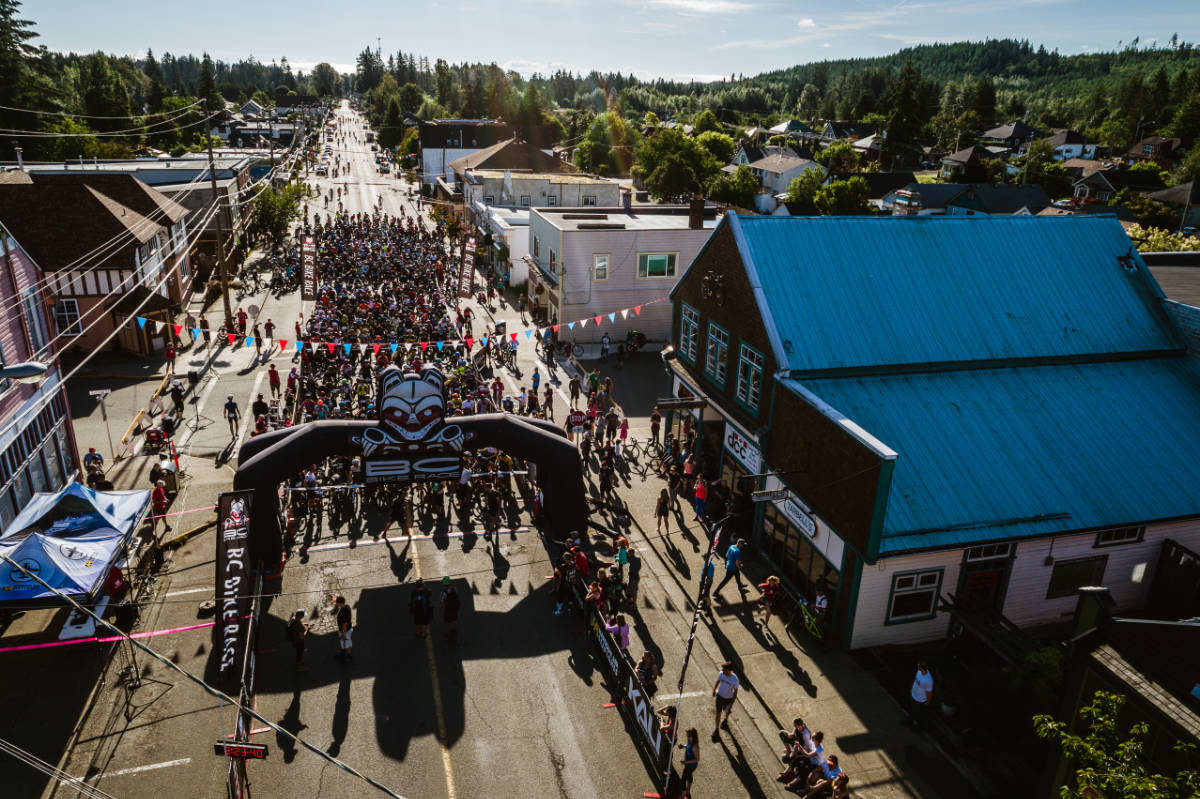 Iconic start line on Dunsmuir Avenue in Cumberland.
Photo: Dave Silver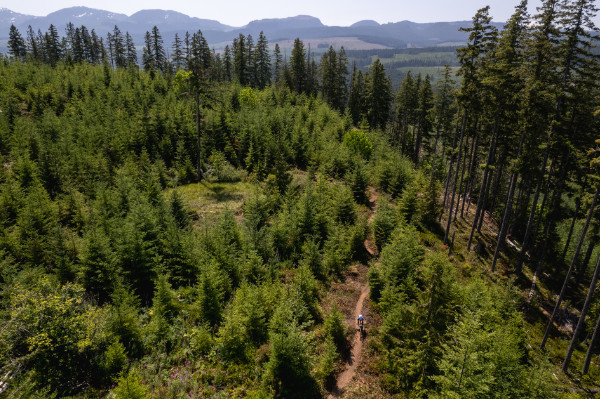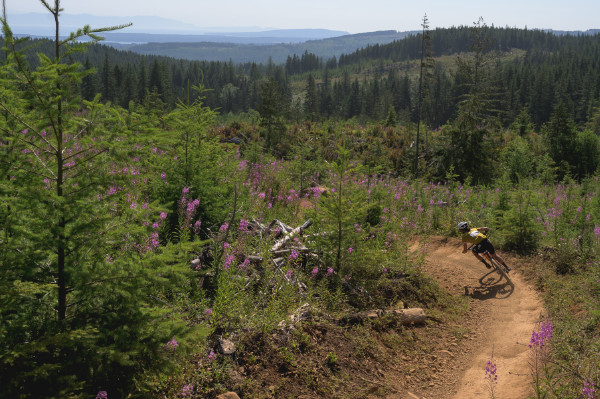 Day 6: Campbell River – The Green Room
Campbell River, may not get the kind of attention that other B.C. riding areas get, but it's trails definitely meet the high standards that BC Bike Race has set for its events.
River City Cycling Club members are incredibly proud of their 100+ kms of singletrack, which take you up and down through the phenomenal forest of the Snowden Demonstration Forest and Elk Falls Provincial Park.
The unique flavour of this area is the continuous journey under the lush green canopy on brown loam throughout the entire day. Though this stage is long in distance, it's 90% buff flowy singletrack with modest elevation gain, making for a leg-spinning good time.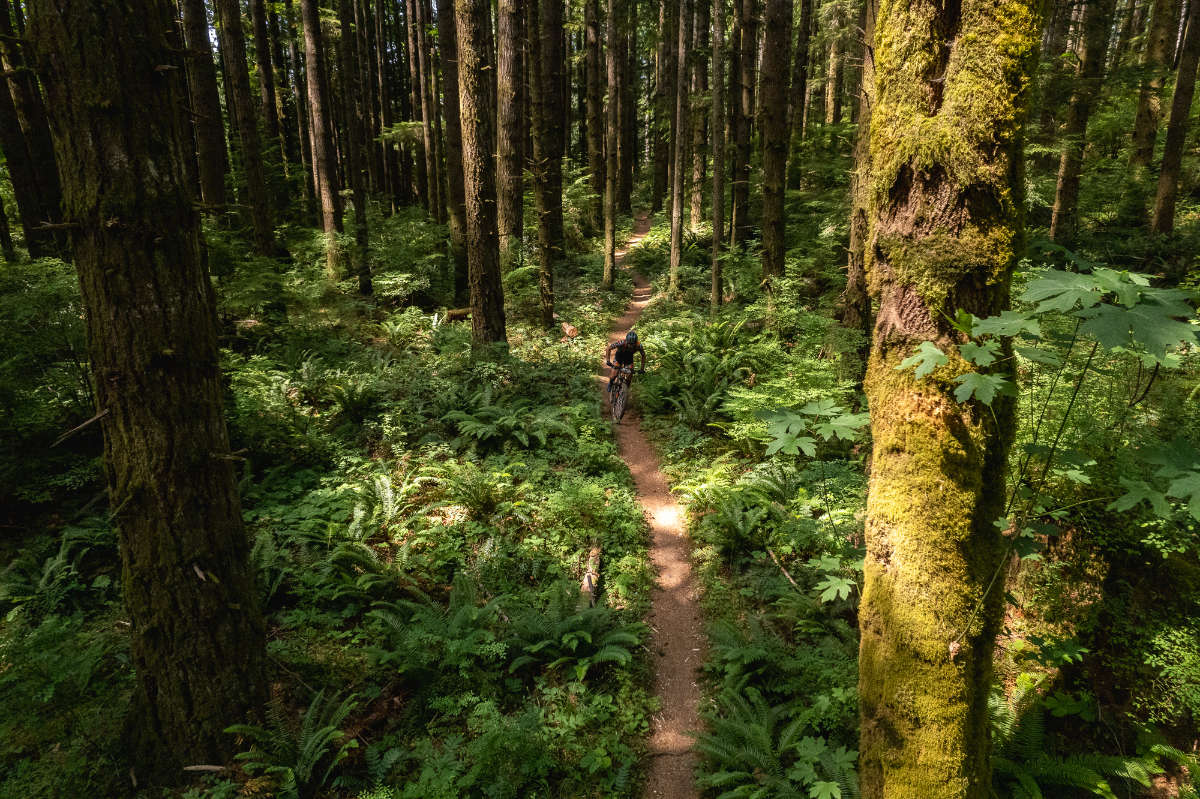 Day 7: Cumberland – The Finale
Our final stage is a shorter course that takes in some of the best descending Cumberland has to offer. It will leave you with just enough energy for the post-event party.
Last year, the final day featured live music from Canadian music legend Barney Bentall. This year we'll be adding a barbecue dinner and expand the beer garden for the festivities.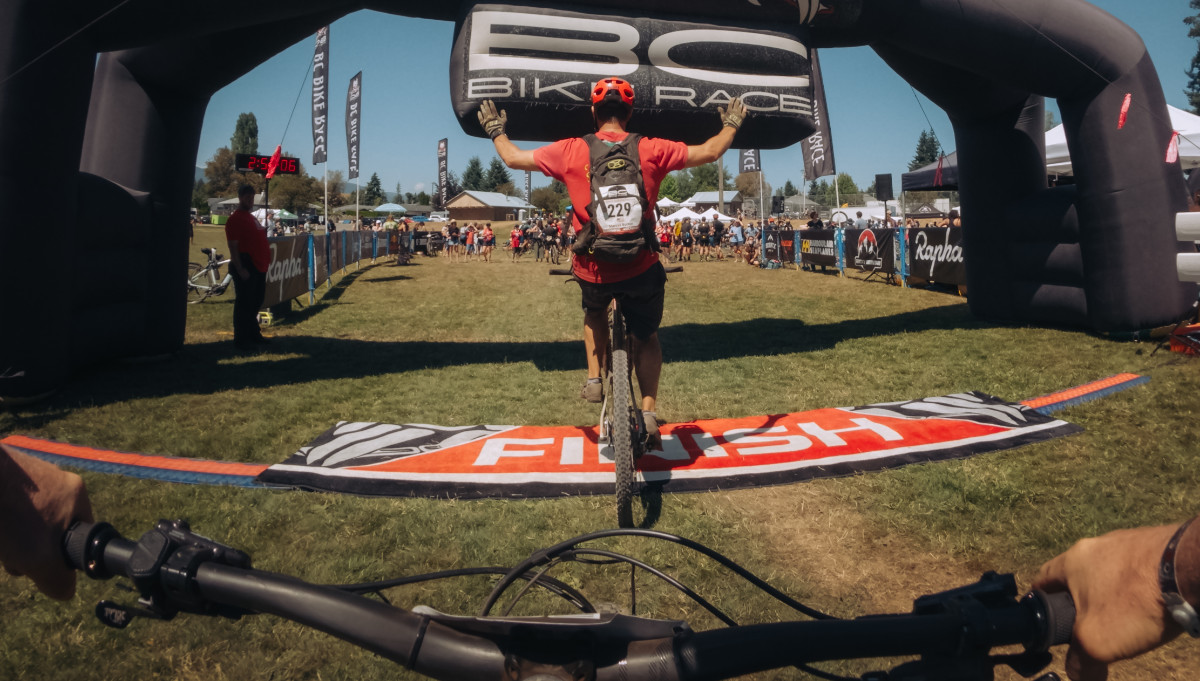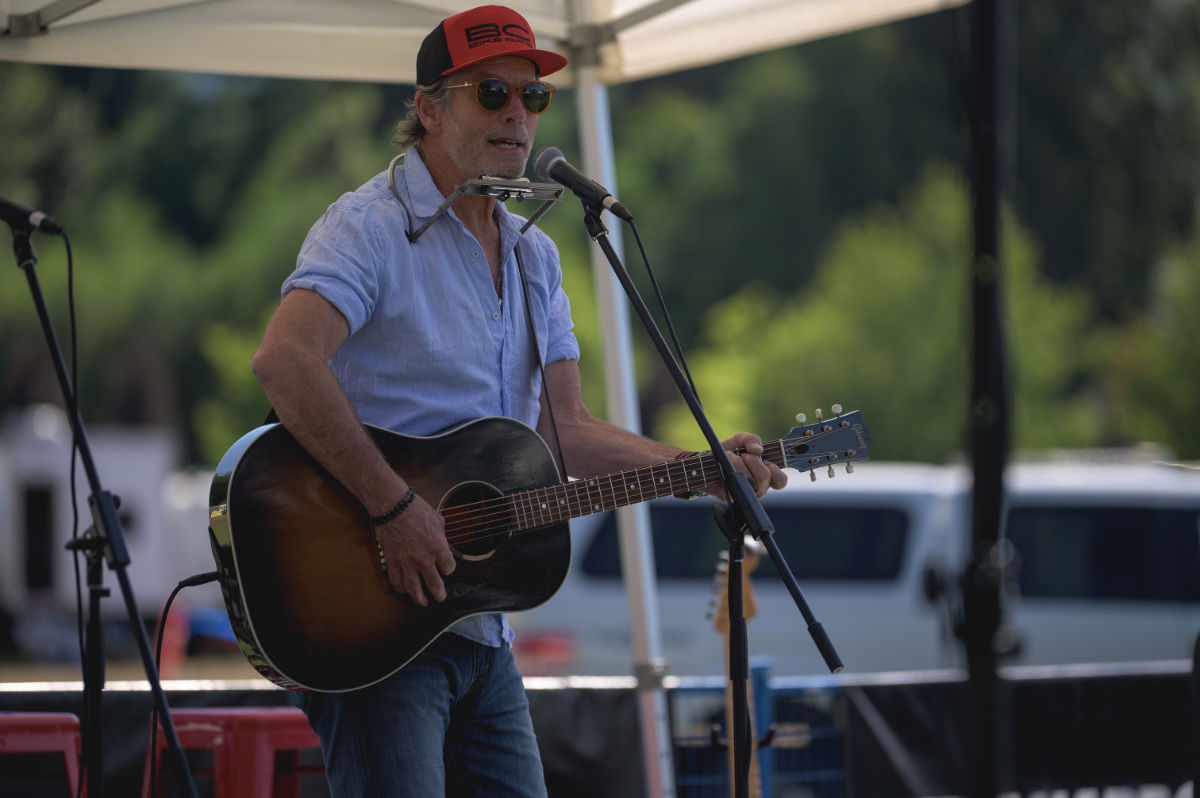 Day 7 celebrations with Canadian rock legend Barney Bentall.
Photo: Dave Silver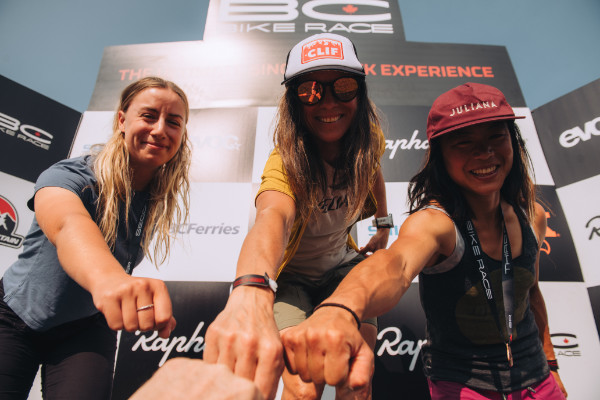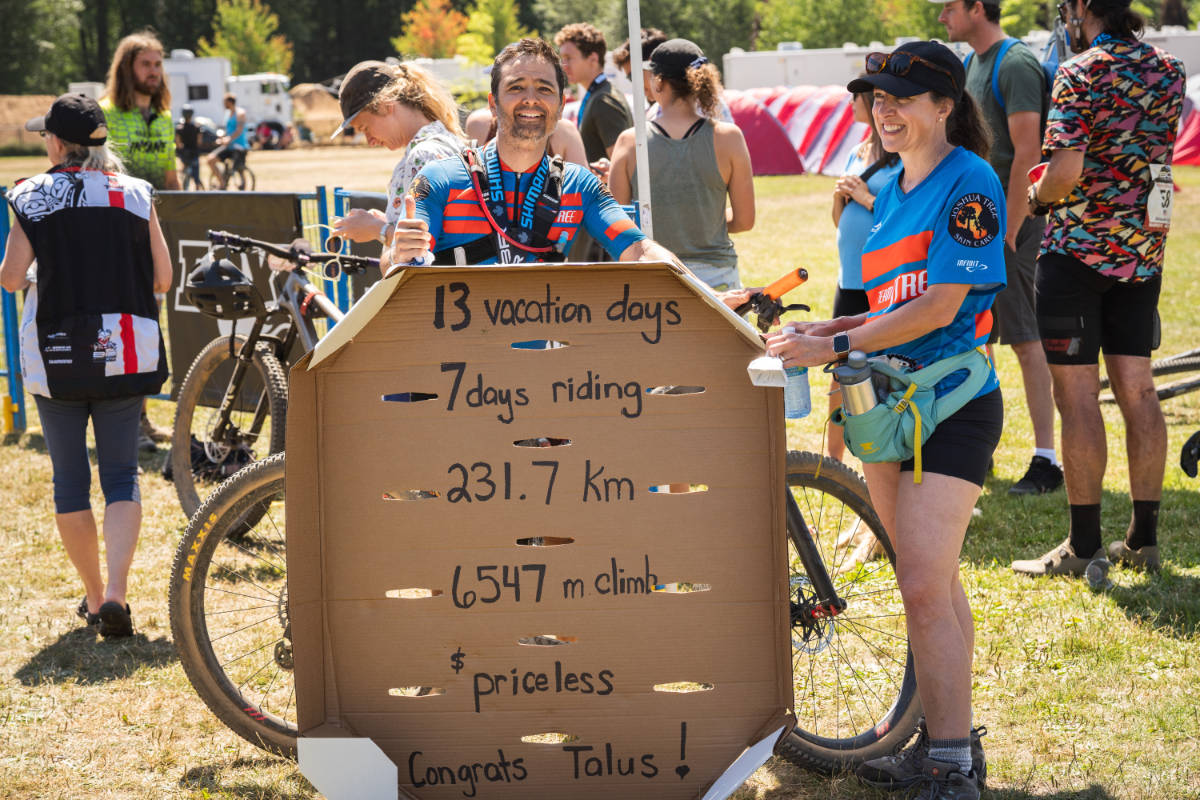 The entire BC Bike Race team has been working hard to create our 2024 adventure and will be rolling out more details about specific stage distance and elevation soon.