WELCOME BACK!
The wheels are spinning, and we are deep into planning the 2024 BC Bike Race. 
It was so good to see the event back on the coast and back to pre-pandemic numbers. Riders had a blast, and we have been overwhelmed by the positive feedback. We spent weeks going through survey results to really understand people's highlights and areas we can improve on. 
The number one thing we are known for and are constantly trying to improve is our course. You are signing up to ride/race the best possible singletrack the areas have to offer, without ever looking at a map. The riding and trail networks on Vancouver Island have become internationally known as a must-visit place to ride. The variety makes it hard to even choose where to go for us. However, without further ado, we are stoked to be presenting our new 2024 location:
VICTORIA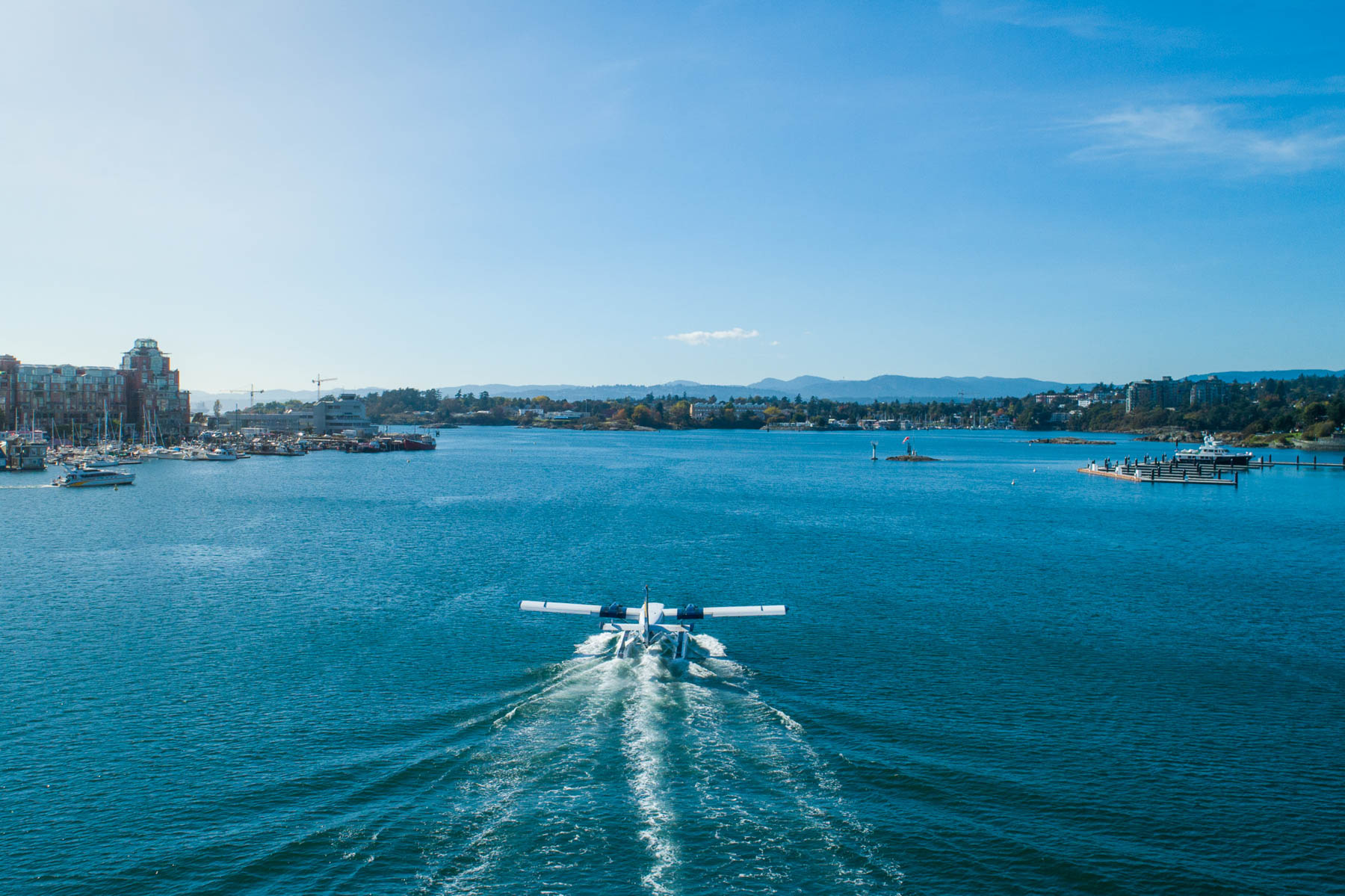 Photo credit: Destination Greater Victoria
Victoria, the capital of British Columbia, is located on the southern tip of Vancouver Island between the tranquil waters of the Salish Sea and the mighty rainforests. A city full of world-class attraction and adventures.
The very first BC Bike Race took place in Victoria in 2007; a lot has changed since. For several successful Canadian mountain bikers like Ryder Hesjedal, Geoff Kabush, Roland Green, Andreas Hestler, and Catharine Pendrel, the town has been a proving ground.
Karen Stark and I set out to see what the riding is all about, meet up with some locals, and chat about logistics and trails.
We started our journey in Tsawwassen, 40 minutes south of downtown Vancouver, at the BC Ferries Terminal; if you are intending to join us in 2024, this would be the best starting point. Being on a late afternoon ferry, we were in for a treat since the sun was setting during the 1h35m crossing. A breathtaking route through the Gulf Islands.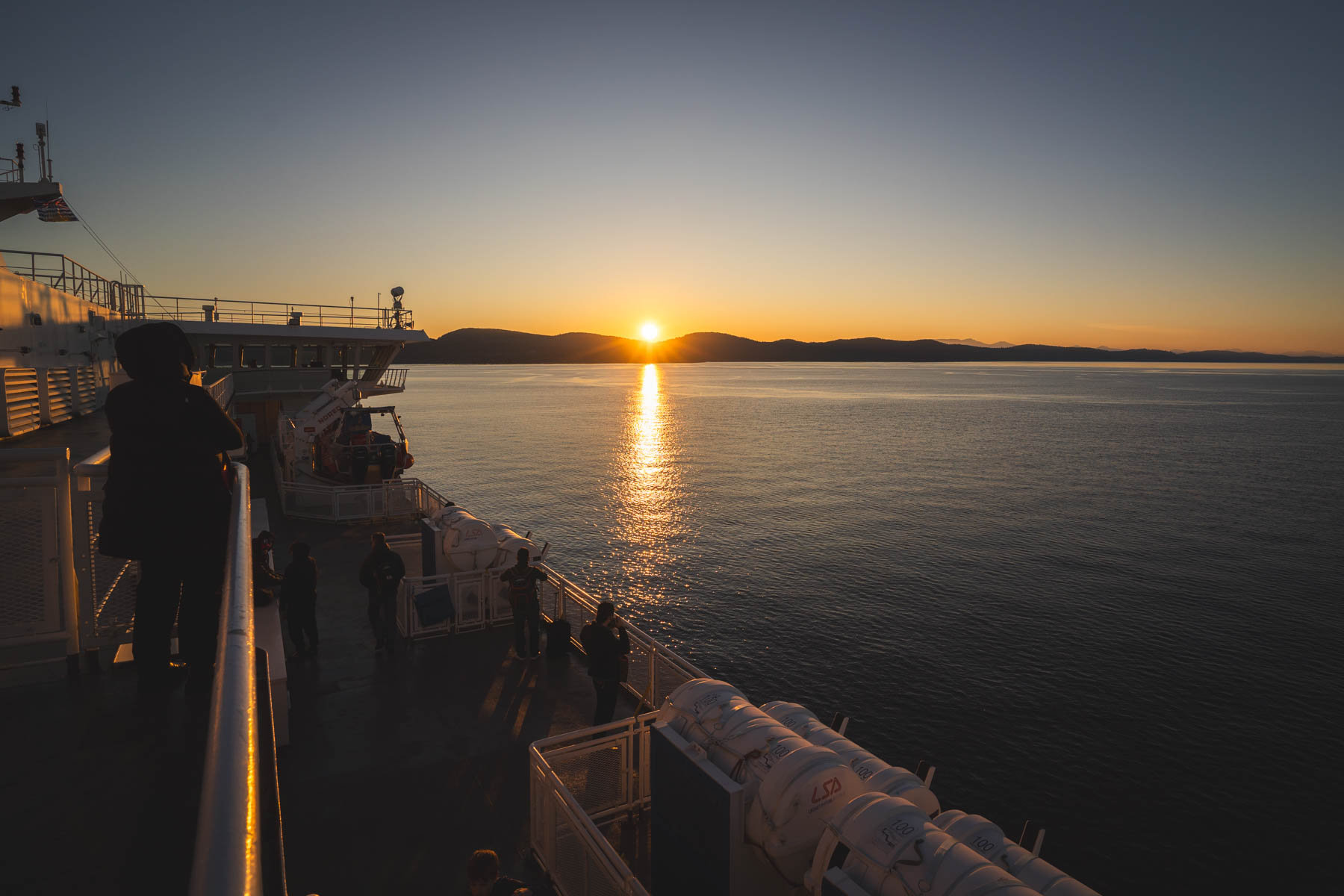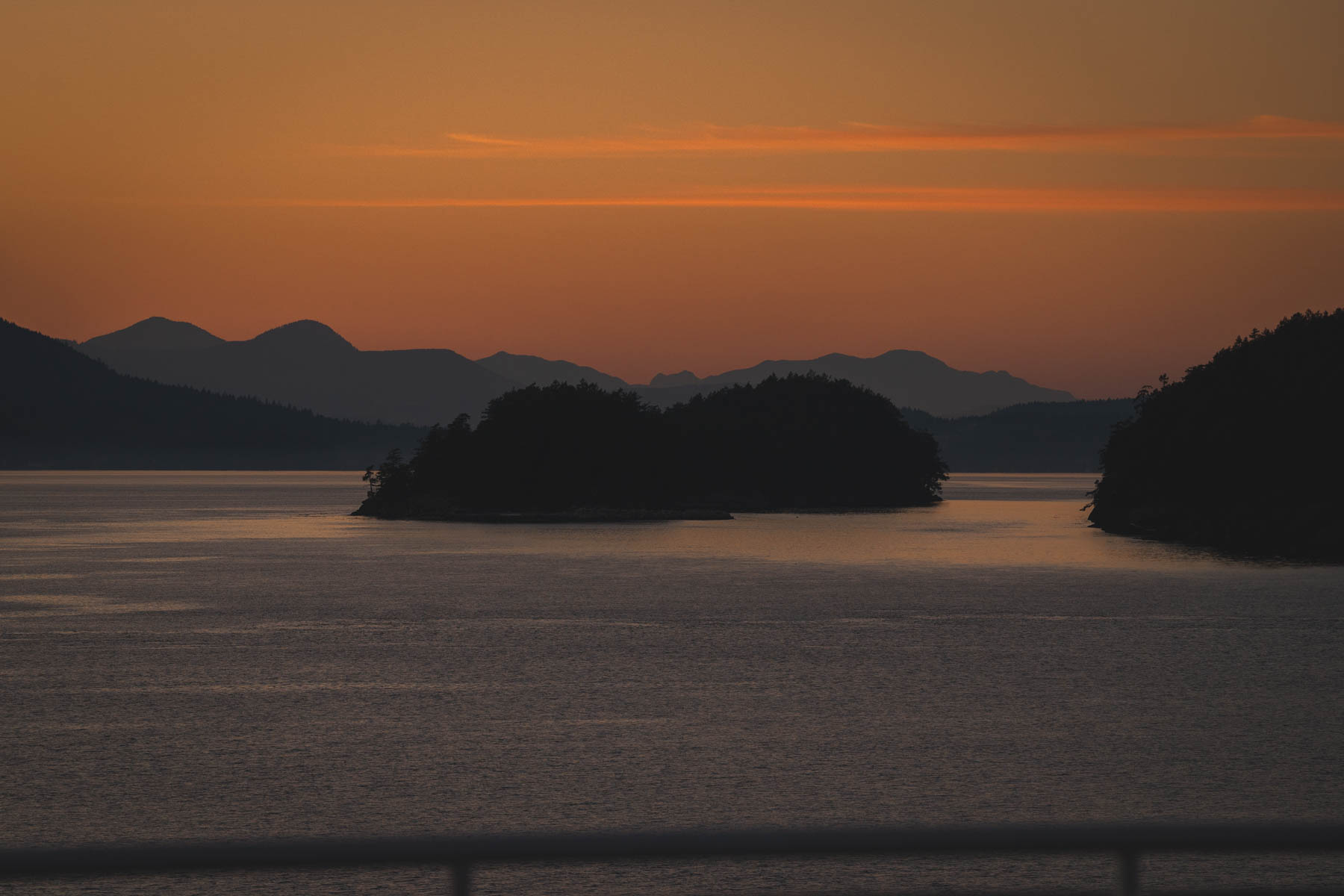 Day 1 – The Two Mountains and Tech
On our first day, we met with Dean Payne, President of the BC Bike Race, and Mahon Lamont, Advocacy Director of SIMBS, the South Island Mountain Bike Society; who better to ride with than the guy who knows everything about the current network. He is involved in what is currently going through an approval process or being planned on the trail side.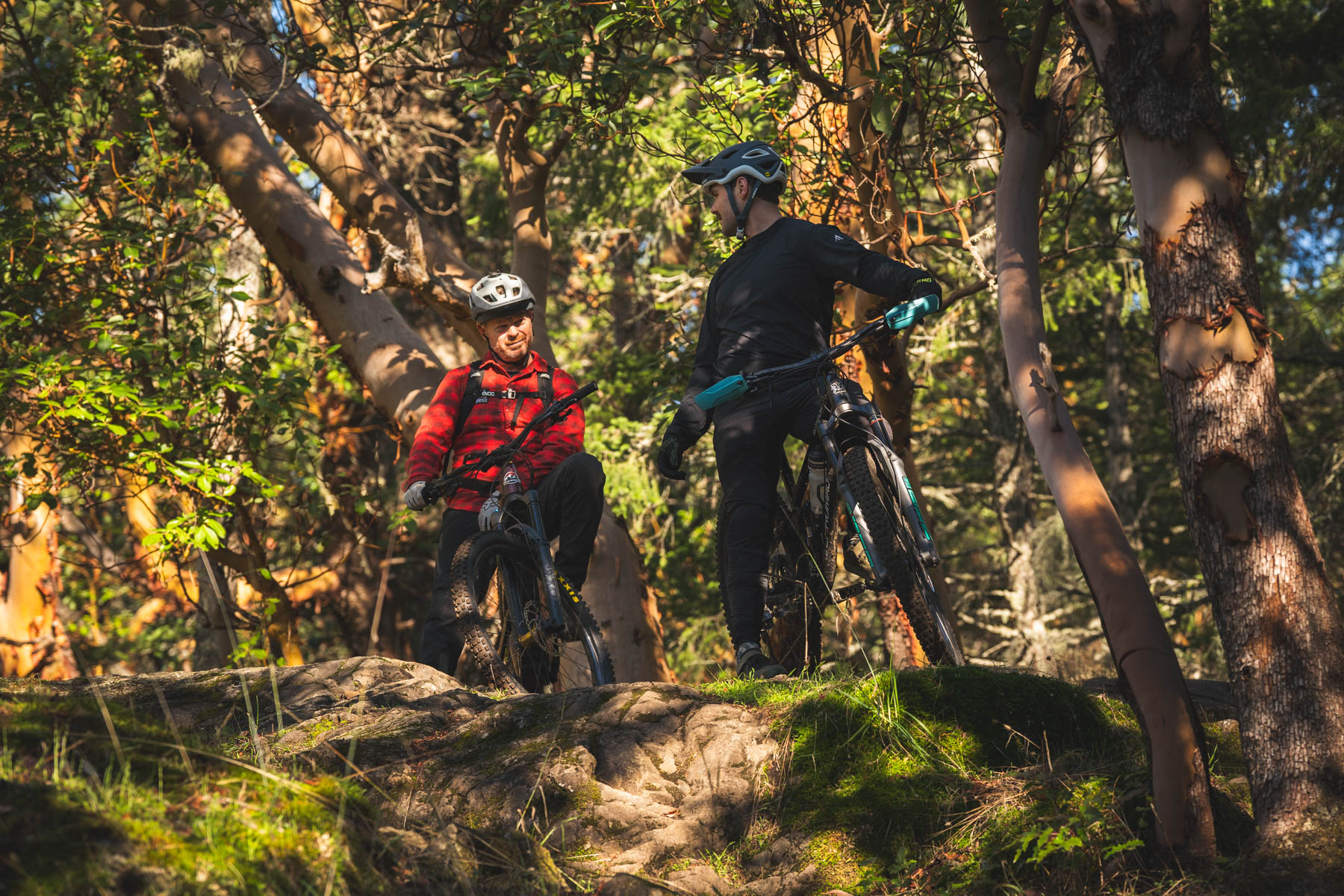 Dean Payne & Mahon Lamont
Starting from the Hartland parking lot, we rode up the Regional Trail to Trillium and Seven and connected to the Partridge Hills network. Partridge represents a smaller area, right above Durrance Lake, but can be easily added to a great Hartland Loop. It was a cold morning, but in the summer this beautiful lake would be great for a post-ride swim.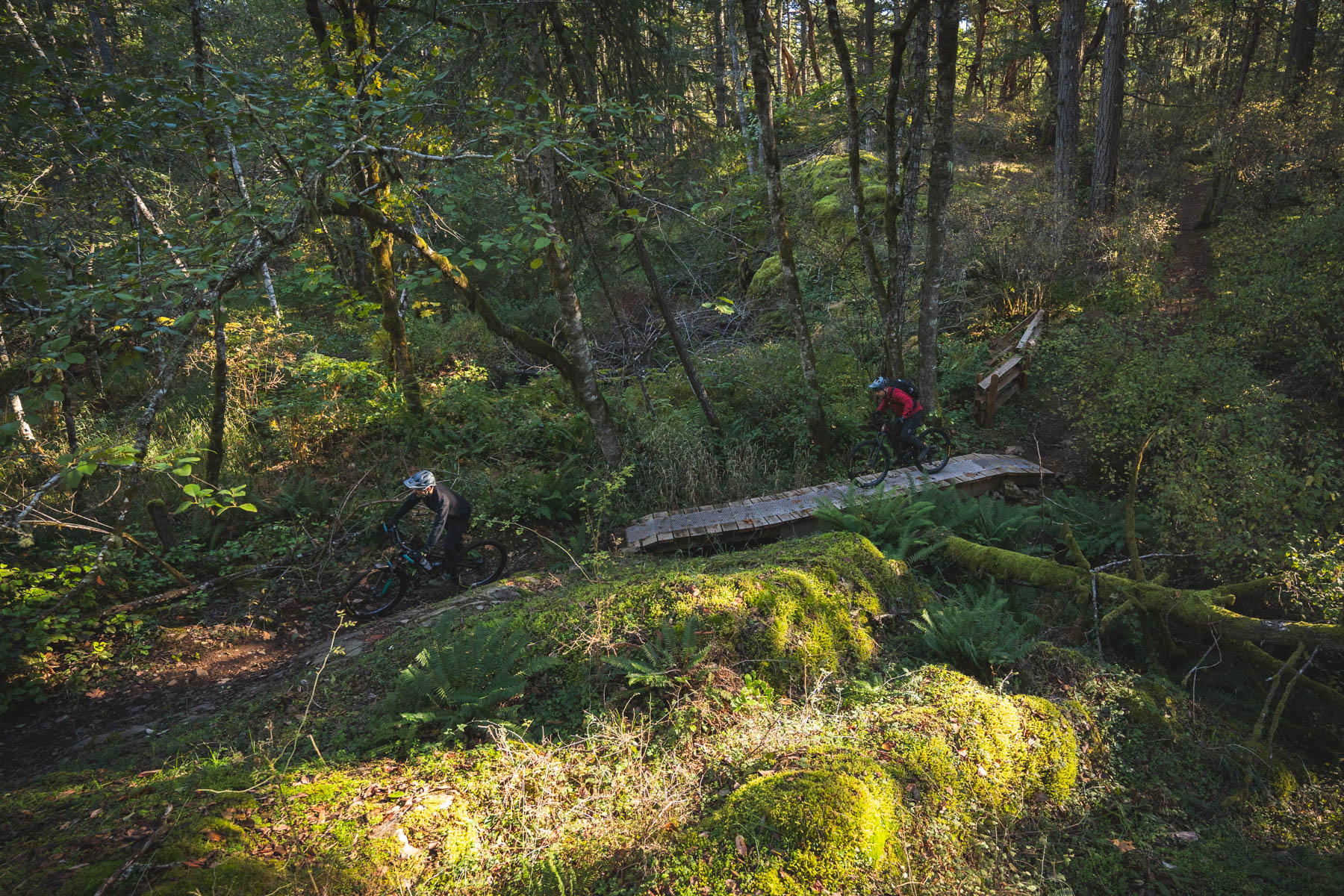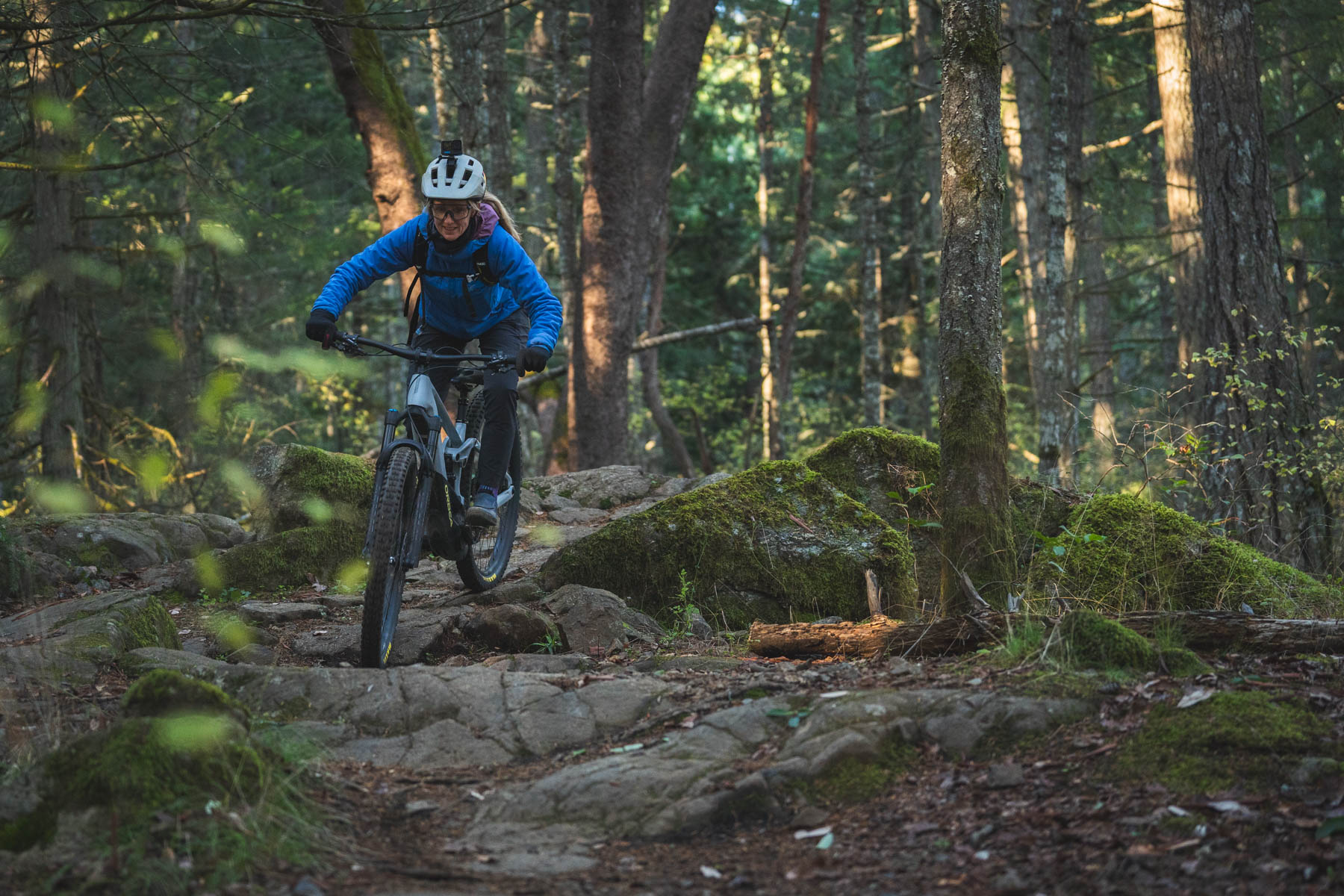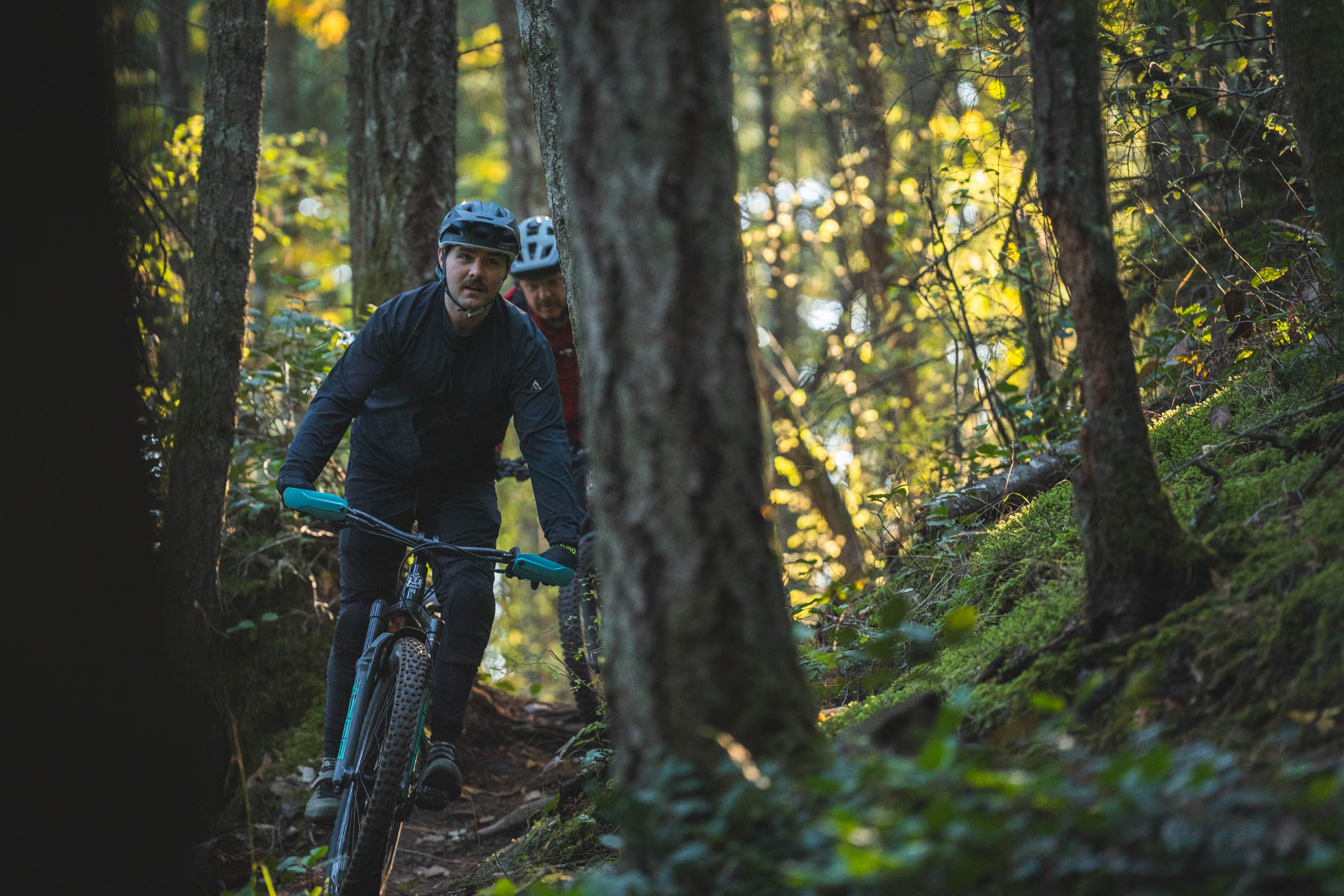 On our way to the summit, we became acquainted with the vegetation of the Saanich Peninsula. The combination of the moss-covered ground and an abundance of Arbutus trees is visually stunning. 
After a quick break and a phenomenal view of the Malahat, we started our first proper descent of the day. Watchdog into Urge. A cool mix of rock slabs, tech flow, and some berms get us back down to the Lake. Big smiles across the group. This descent is very likely to be featured in 2024.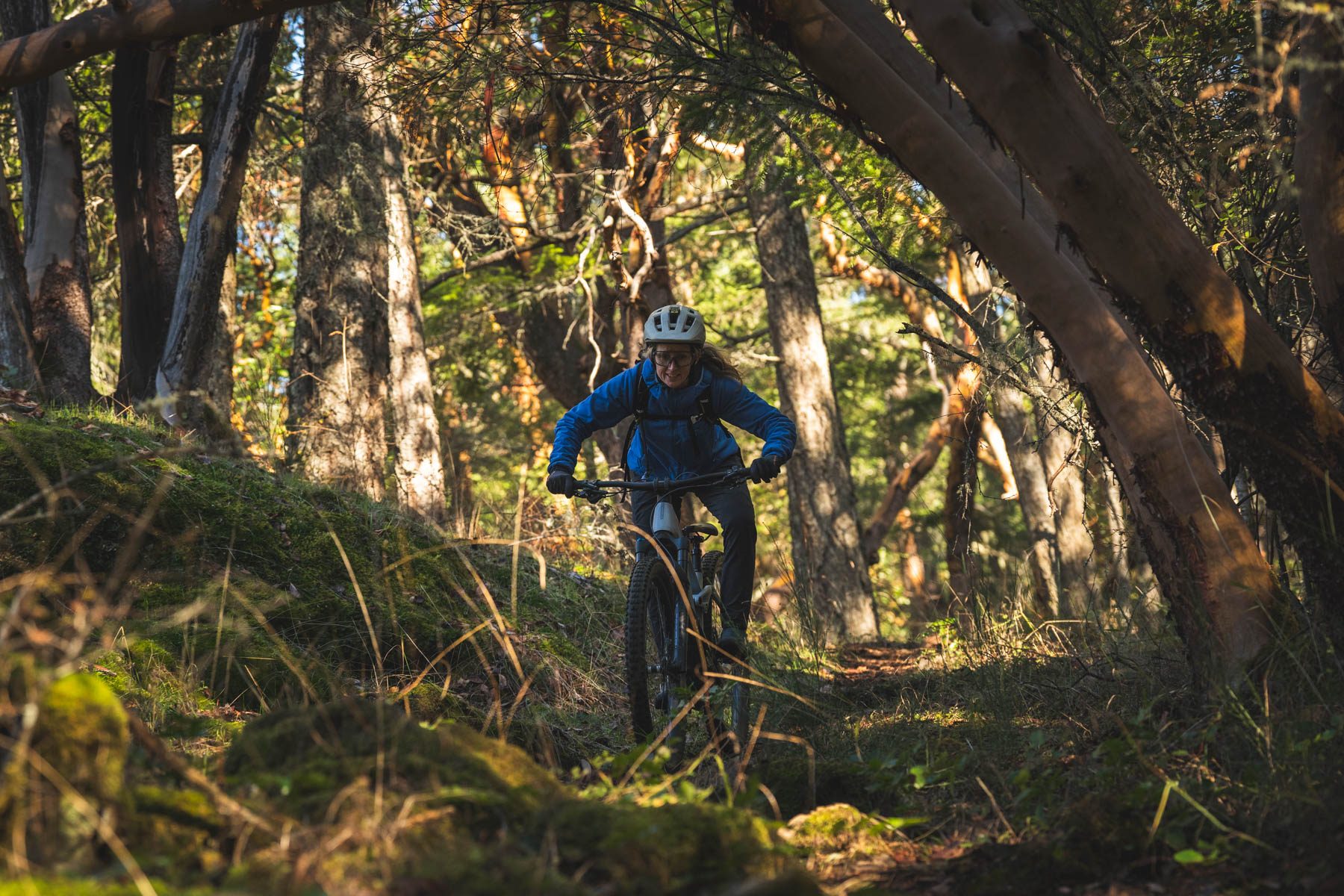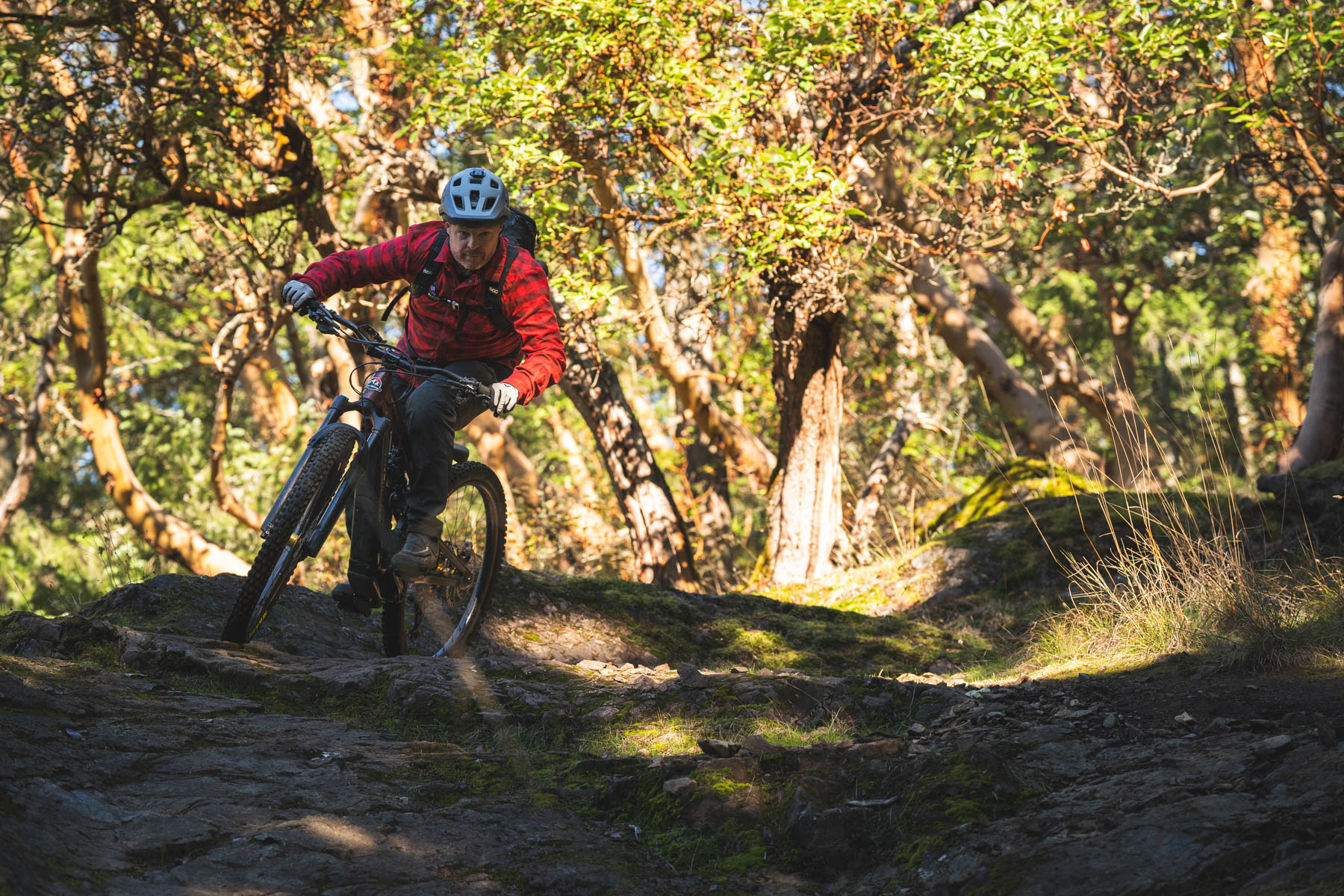 Back to Hartland, the bread and butter of this area; an absolute maze of trails and one-off tech rock rolls around every corner. Nothing is mandatory, just some fun options to keep you challenged. On our way up, we learned more about land ownership, future projects, and the history of this zone. 
From the Lookout, we dropped into Snakes and Ladders, a must-ride and the longest sustained downhill at Hartland. Coasting on fast and fun low-grade bench-cut quickly turns into slower-moving rock lines and small optional jumps. Certainly, a trail you could ride 100 times and still find new options.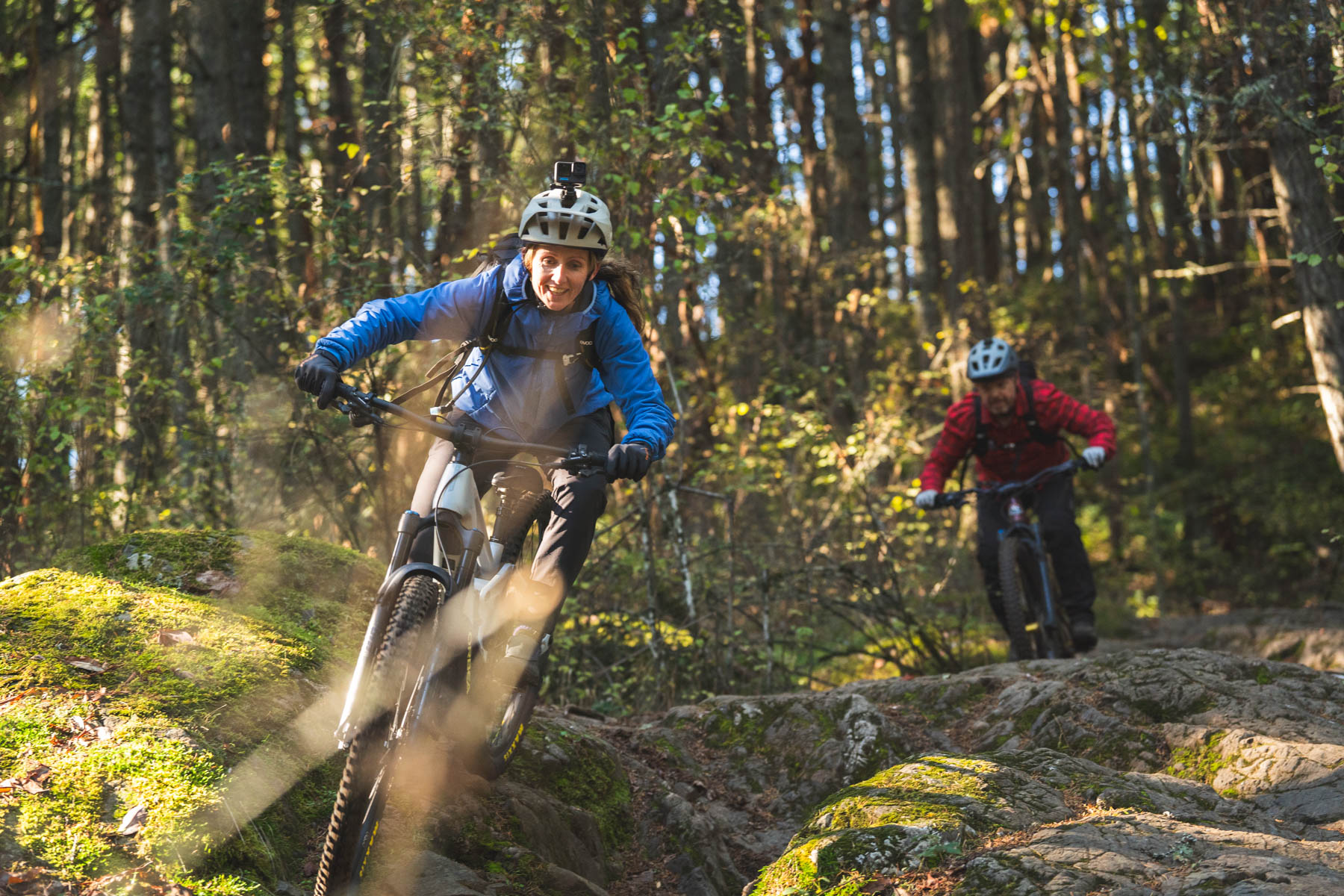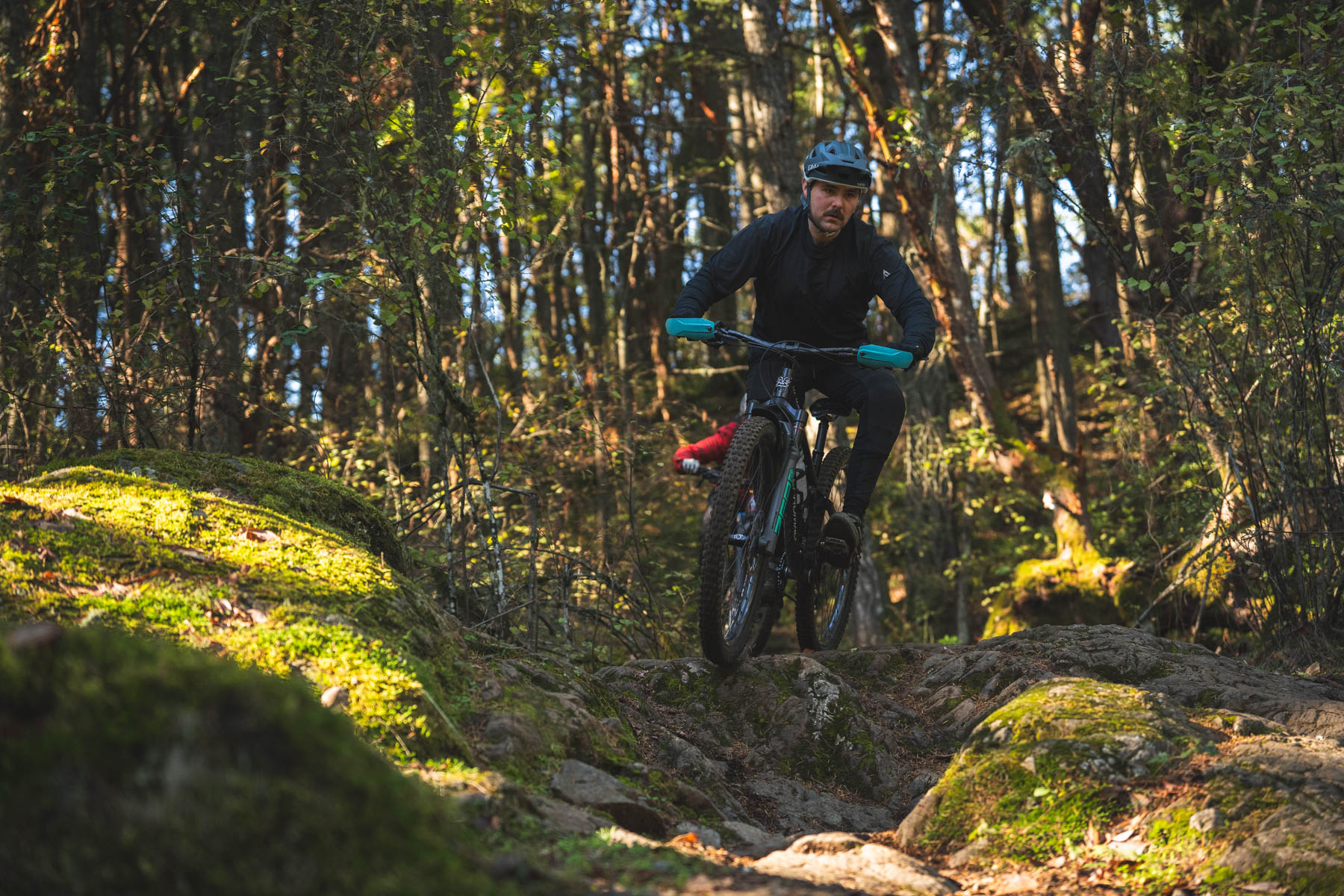 Next on the list was Middle-Earth, a beautiful new climbing trail that gets you back up to the top of some of the local's favorites, including 90's Jank. We had heard about this gem and wanted to check it out. The trail is outstanding but features more advanced tech-flow, which is unlikely to be part of a 2024 course. However, it is worth checking out if you happen to pre-ride the mountain.
This was it for Day 1.
Day 2- XC Tech Flow
Another chilly morning and the parking lot at Hartland is packed. Today, we meet Carter Nieuwesteeg and Hannah Simms, both professional cyclists. Carter, born and raised in Fernie BC, has spent multiple years in Victoria training, while he went to school. He competed in numerous Island Cups and is no stranger to the trails. Hannah, originally from Ontario, is relatively new to riding on the Island.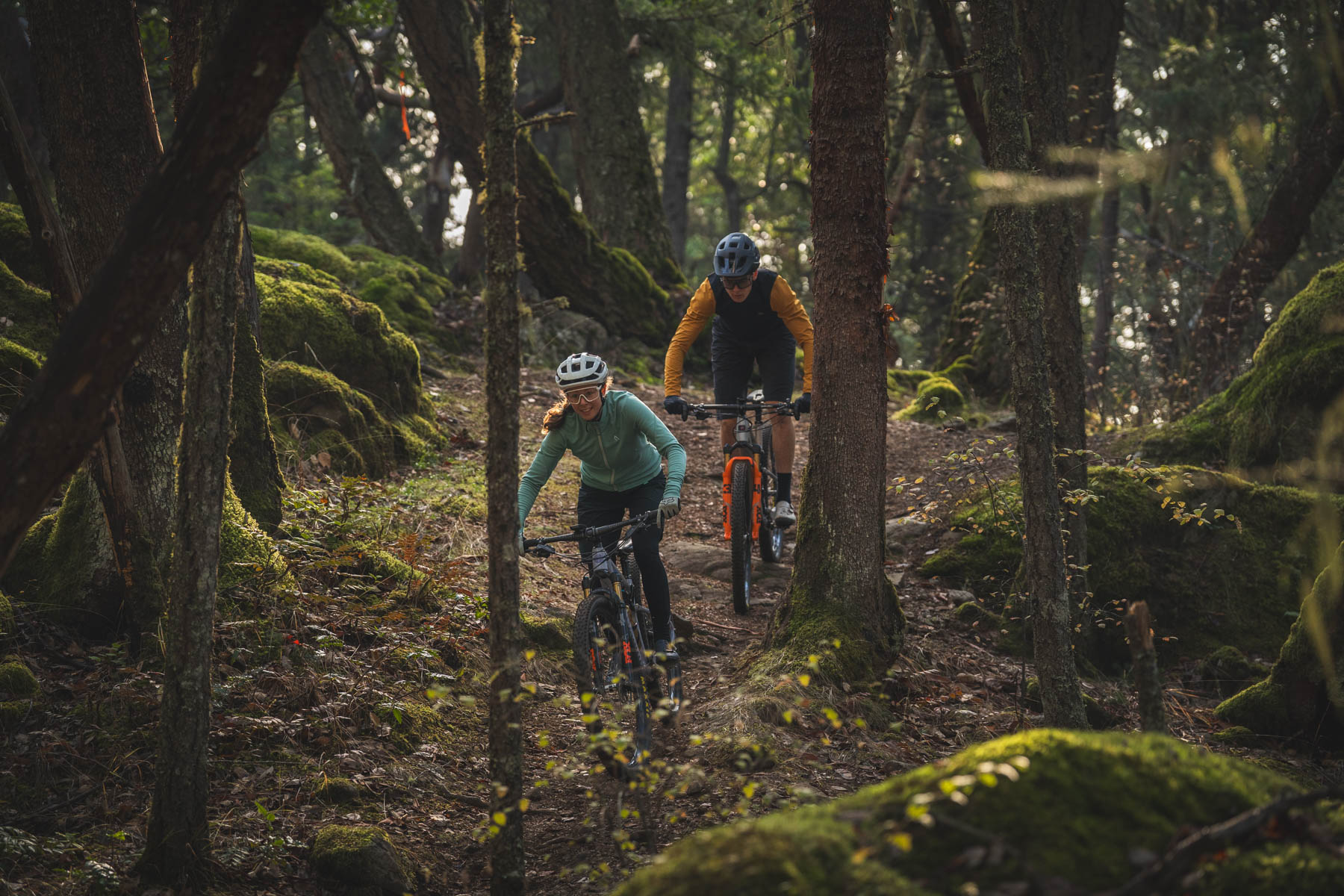 We set out in the opposite direction and headed into the more rolling XC trails of Hartland. From the get-go, it already felt like an entirely different mountain. We made our way across, riding One Less Car, Crossover, and Say Ahhh, to connect to the Fun Trail, which could not be named any better.
The terrain is very different from the previous day; buff singletrack climbs with punchy grade changes and beautiful up-and-over rock moves sprinkled in. BC tech-XC at its finest. The moss-covered surroundings made us stop multiple times along the way to take some photos; also a good time to chat about how trails can be connected, and what has been done in races before. Carter knows this area like the back of his hand.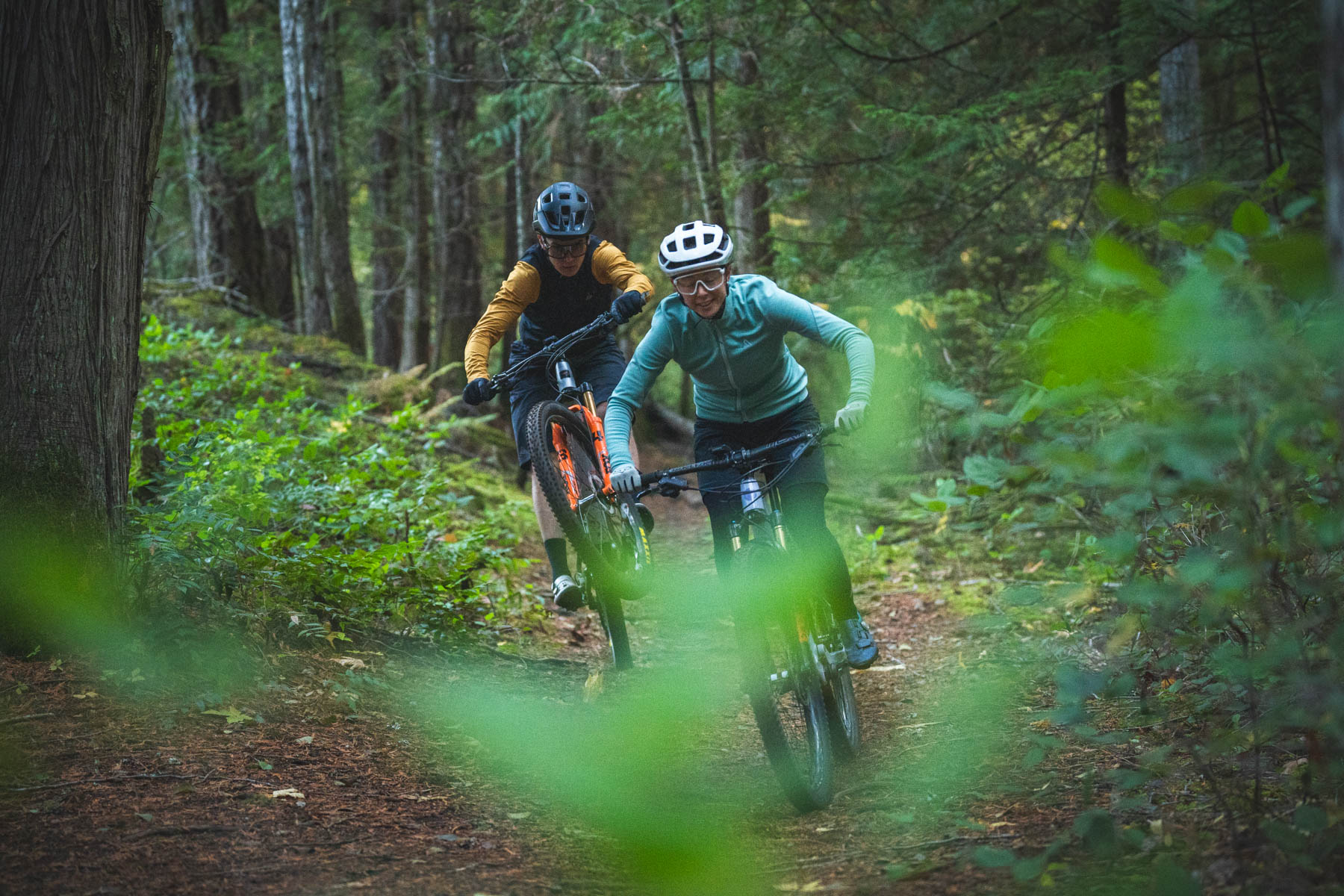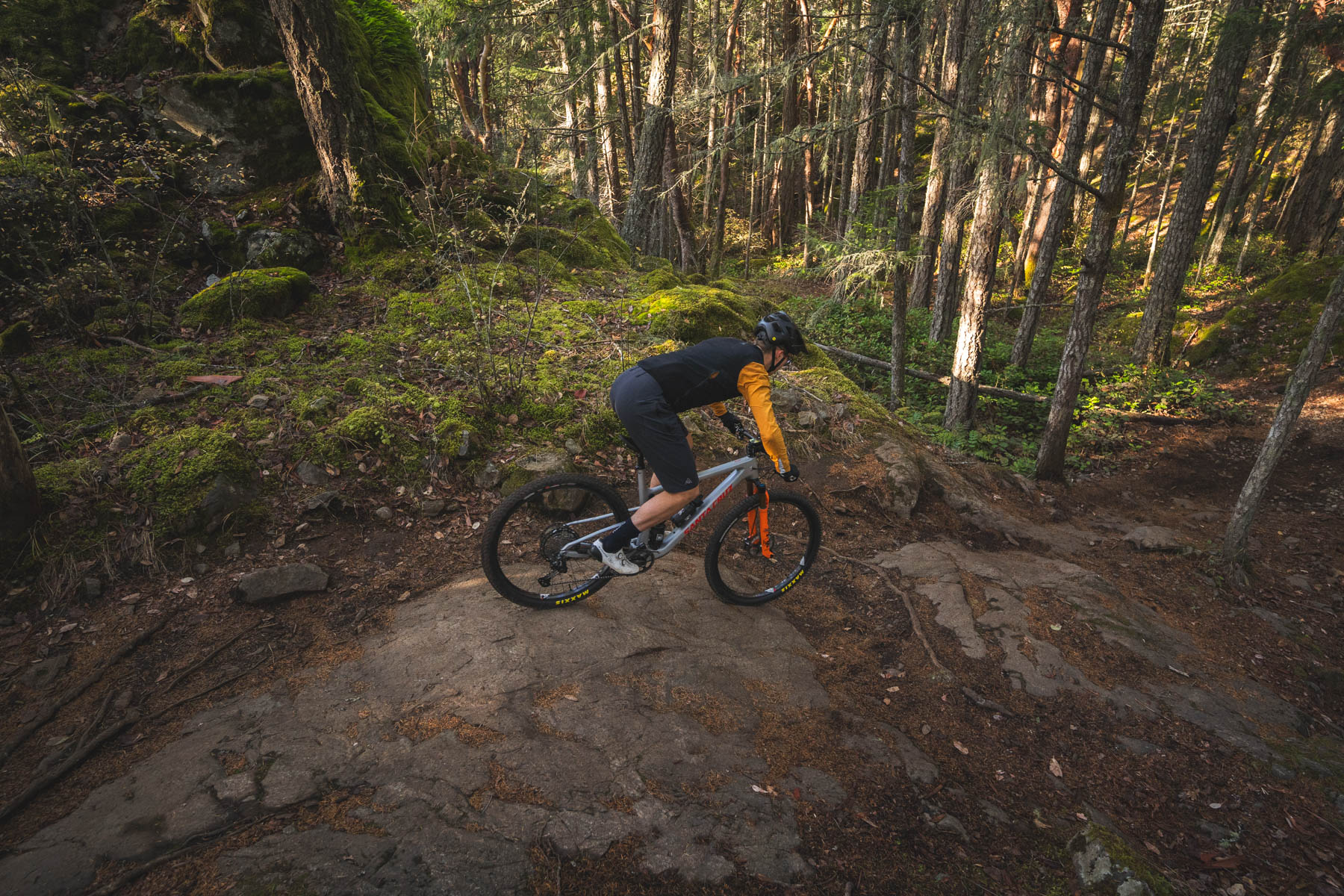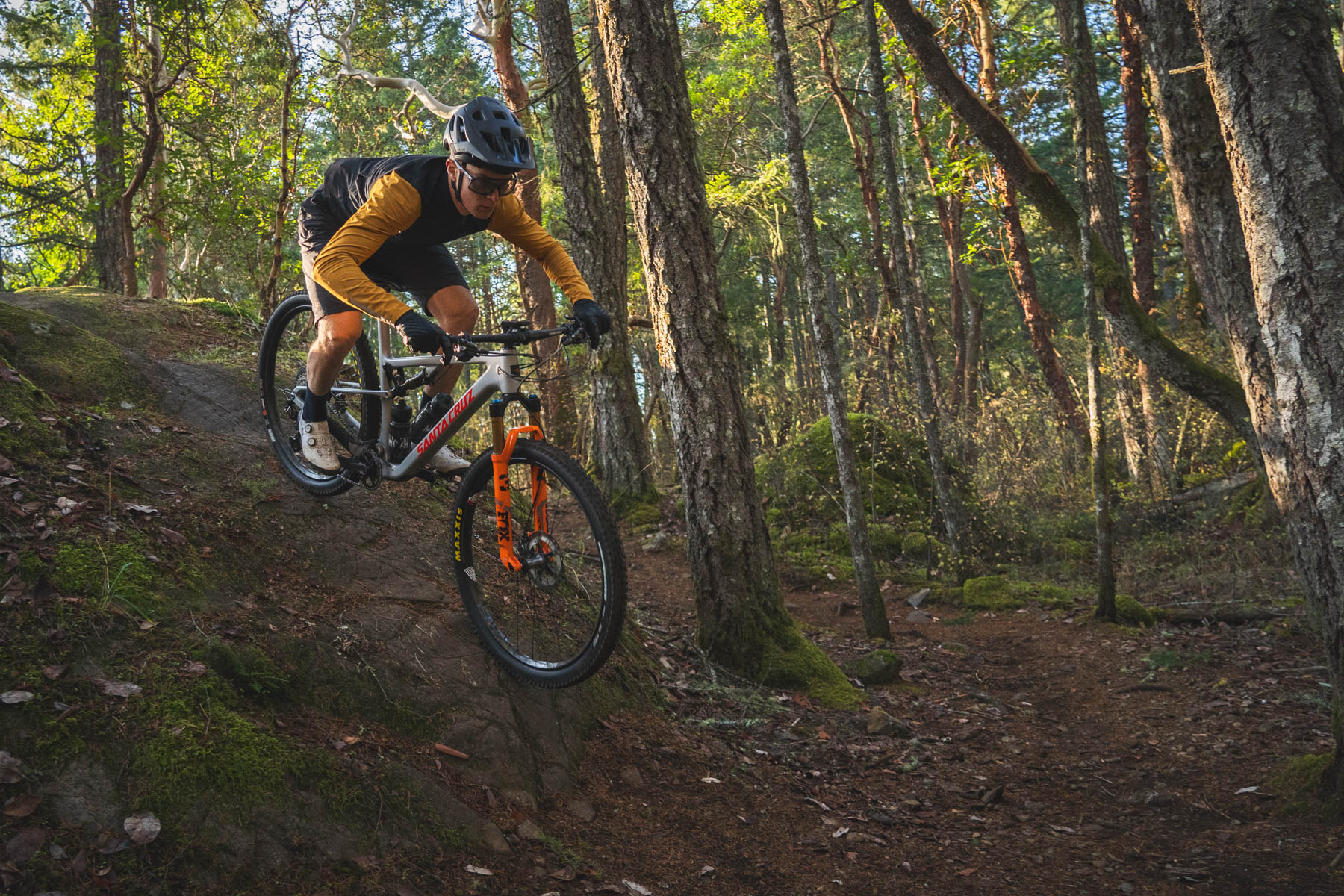 Our first distinct descent of the day was Sofa King, a trail, which has evolved a lot over the years. It went from an old-school line with sketchy features to a flowy downhill pump track with hits and berms, near bike park quality. Sofa King can be enjoyed by all skill levels and lands in the top 5 trails for a good reason.
Being new to an area, I always love to get higher up within the network, and if possible to a viewpoint, to better understand the lay of the land.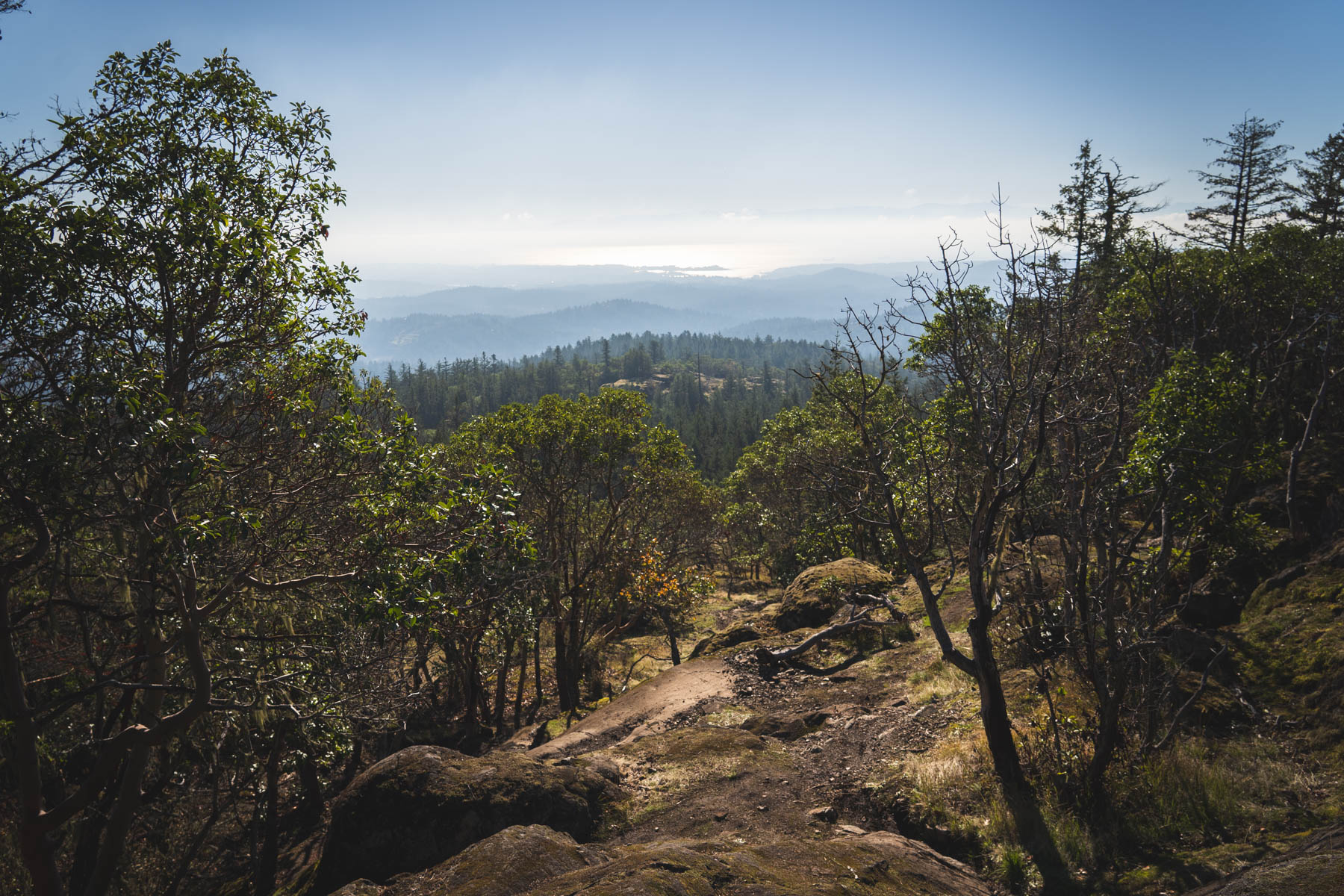 Back on the Fun Trail, we continued into Dave's Line, and eventually into Breathless, a double black "climbing" trail. Yes, it certainly deserves this rating, but don't worry, it won't be in the race. Nevertheless, it is worth checking out. The loose ground and steep grade make it very hard, but doable, as Carter demonstrated. It was rather impressive to watch. Breathless gets you to a beautiful viewpoint, overlooking Victoria and the Salish Sea in the far distance, and a phenomenal descent called Huge Ribbon.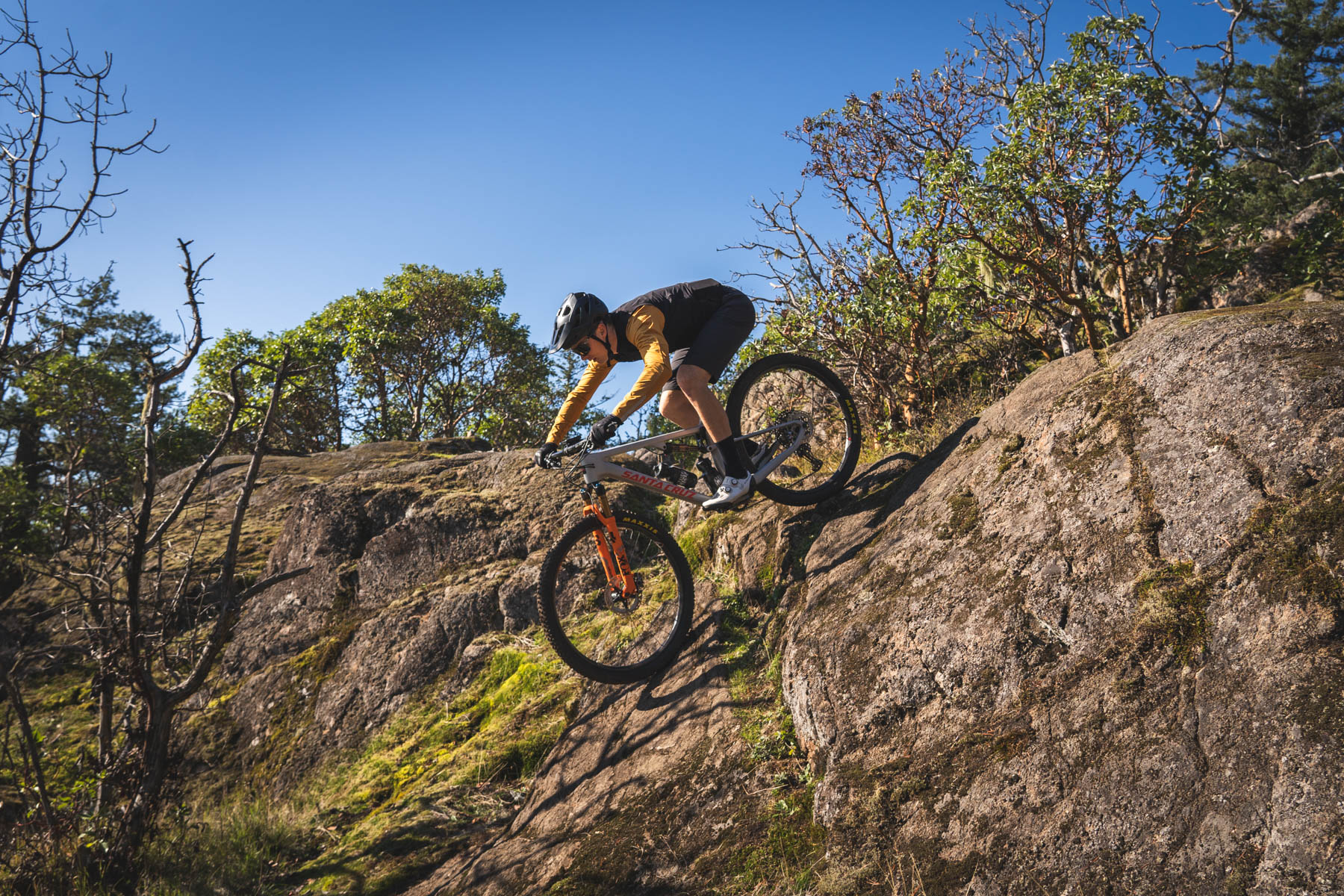 Back in the main network, Carter kept one trail for the final descent, Torpedo Run. Another, must-ride and top 5 line. For a few minutes, you leave rocks and tech behind and enter a rollercoaster ride of perfect little table jumps and berms. Everything can be either rolled or jumped, and you won't stop smiling until you reach the end of the trail. Torpedo Run represents the only machine-built blue flow trail on the mountain. Sofa King and Torpedo Run could easily be repeated countless times and are very likely to make an appearance in the 2024 course.   
This wrapped up our second day and we headed north to Cumberland for more 2024 planning.
Victoria will be an amazing addition to the 2024 course, with its own flavor and style. The amount of world-class riding Vancouver Island has to offer is remarkable. With the amount of trail work happening across the Island, we are striving to also change up other stages to create a unique character for the entire week.
Stay tuned for FULL 2024 location announcement next week.
Jens 
Words and photos by Jens Klett, unless noted otherwise. November 8th, 2023