Day 7 Racing Down to the Wire in Cumberland
It seems like an obvious statement that stage races are as long as they are for a reason. Early leads are just that, early leads. Like sprinting off the line in a marathon, going hard in the first days of a stage race doesn't always seem like a good idea when you get to the end of the week.
At BCBR, every day counts. That's true whether you're one of the top pros fighting for the win or battling against a new friend you've been going back and forth with all week.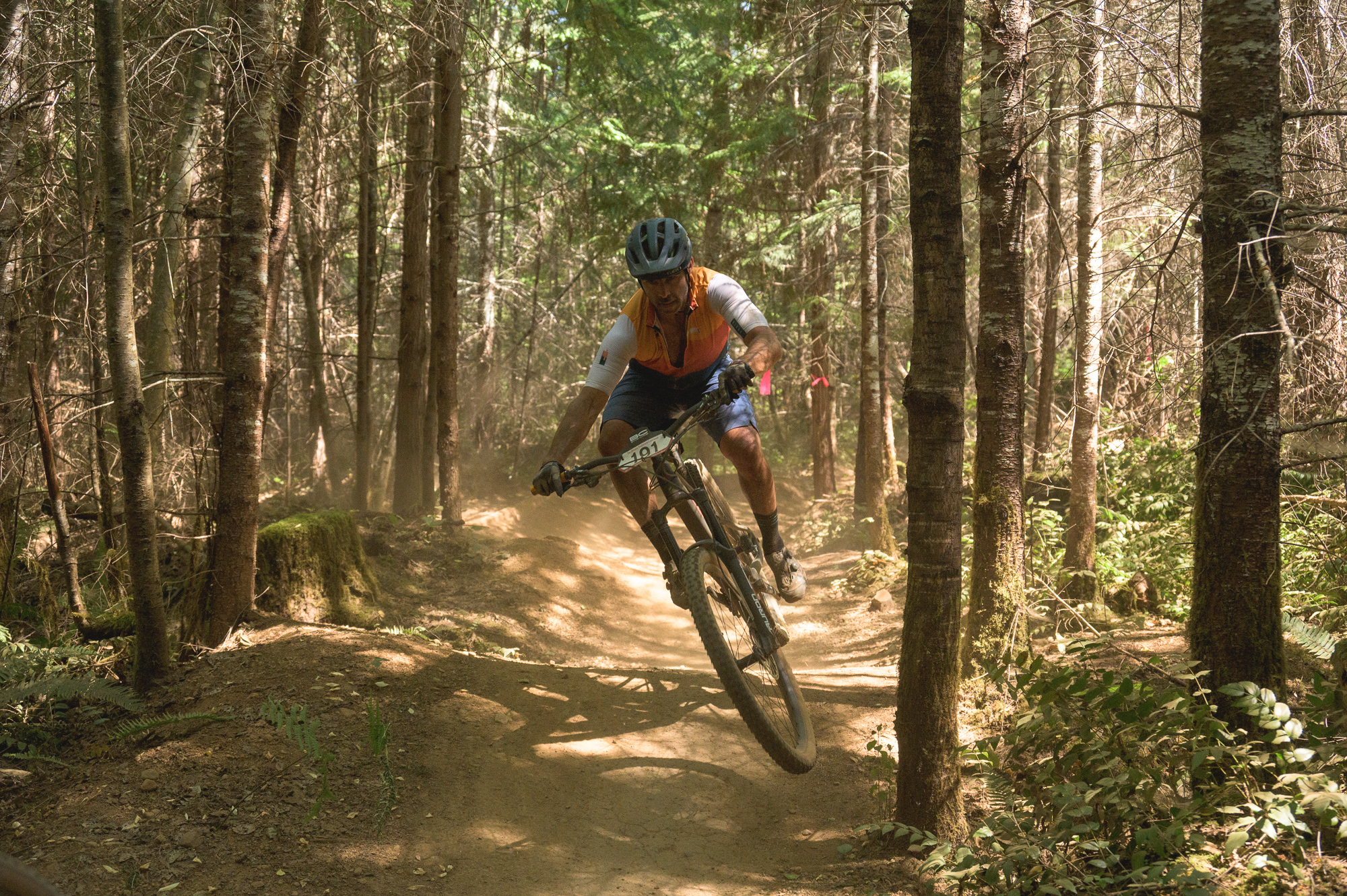 Saving time with some air time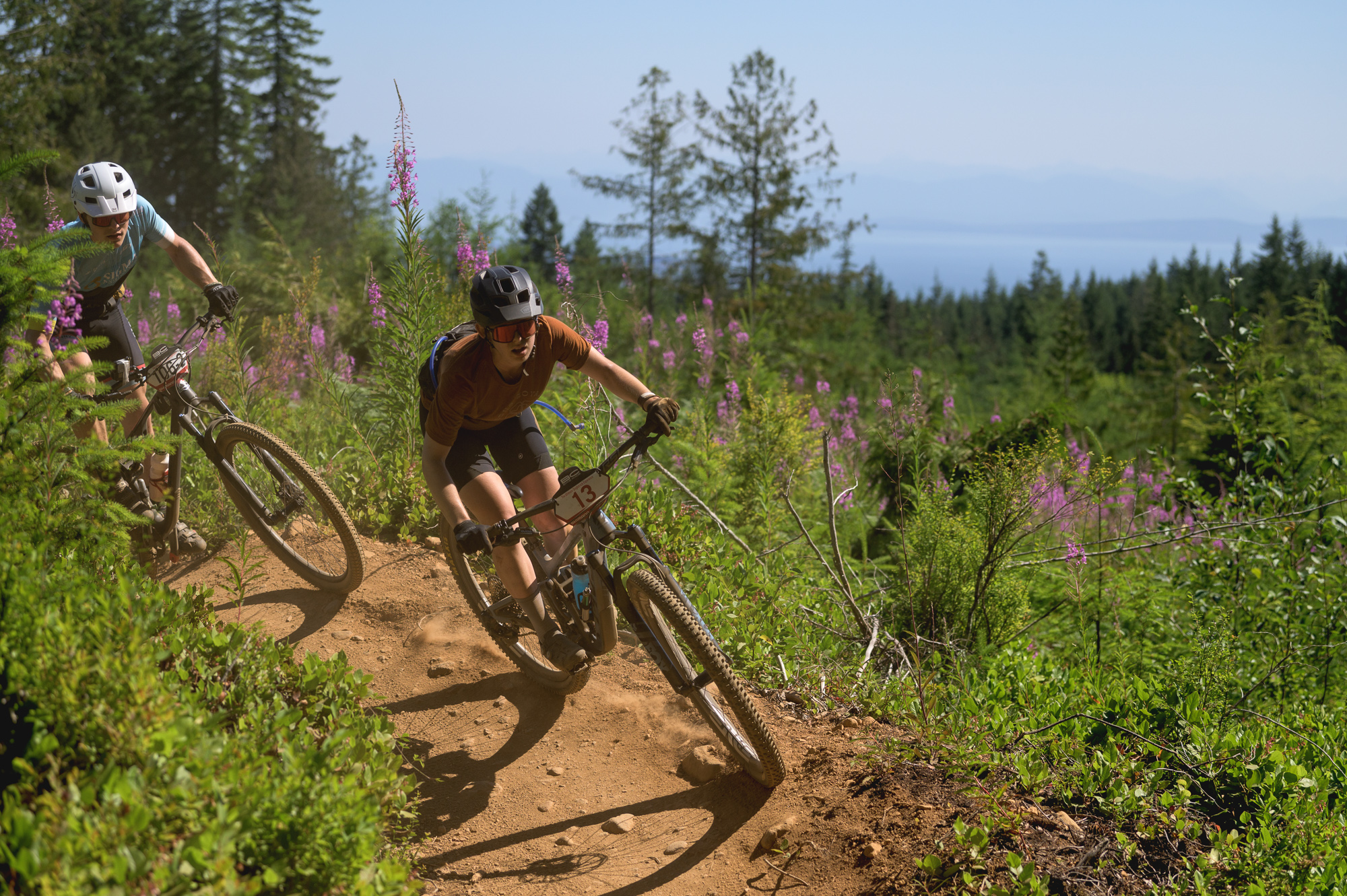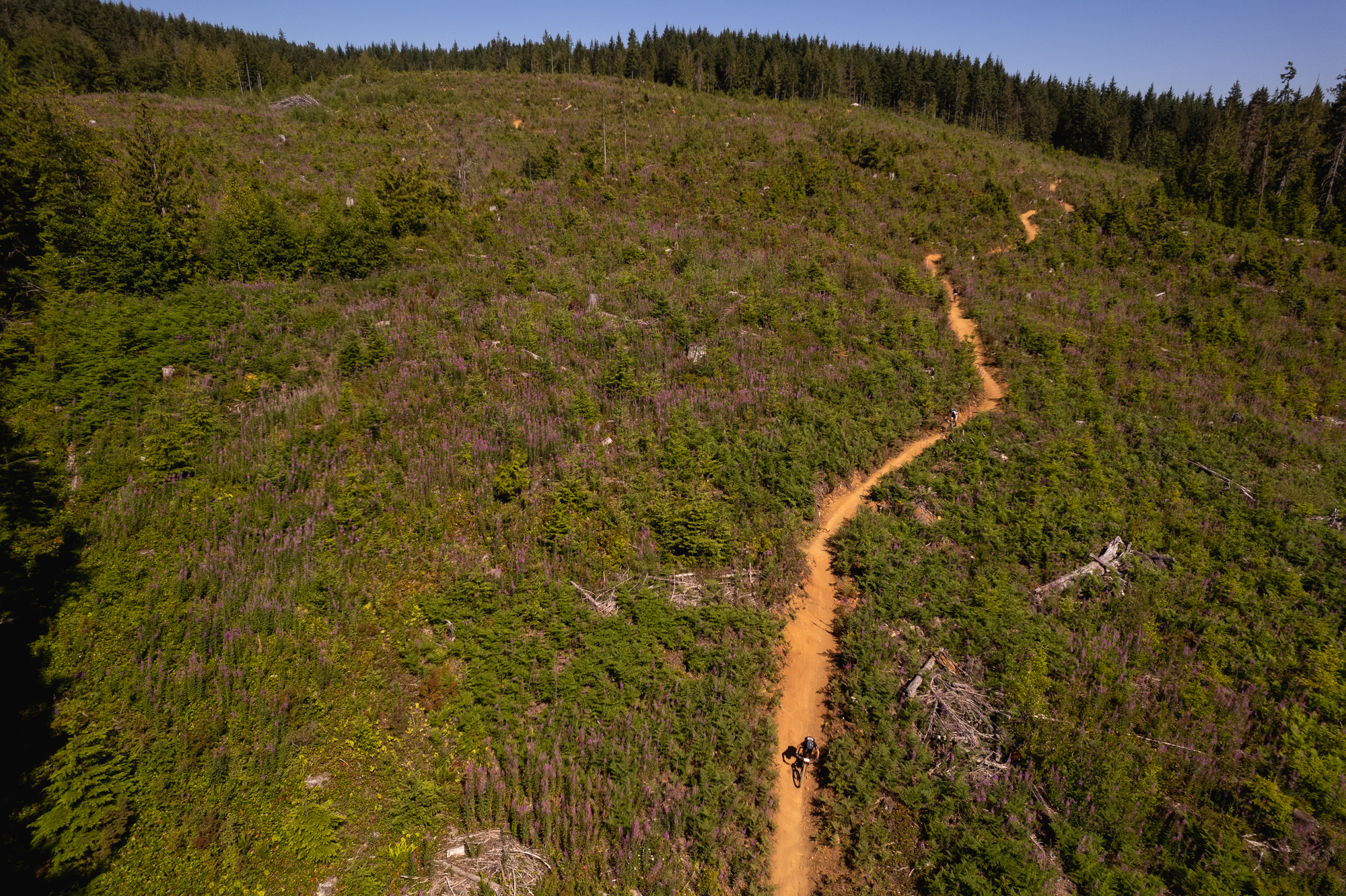 All to play in three-way men's race
With just over 90 seconds separating the top three men on the start line of the final stage, every second mattered. Andrew L'Esperance managed to lead Peter Disera and Craig Oliver early, setting – or attempting to control – the pace on the Solo no Michi climb trail.
"Yeah, exactly. The pace was pretty hard off the start and into that first climb. I knew there weren't many passing opportunities, so my goal was to get into there first. Control things since I just had to mark those guys today."
That was early in the day, though, and the lead changed constantly as the trio jostled for position, occasionally rubbing elbows, as they made their way through Cumberland's trails. Anything can, and will, happen in the woods. On the final sequence of trails, through 2 Flats and Bonestorm, served up a storm of mechanicals. Oliver reportedly dropped a chain while L'Esperance clipped a tree and crashed chasing Peter Disera, and raced to the line with his bars slightly off-kilter, 17 seconds behind his fellow Canuck.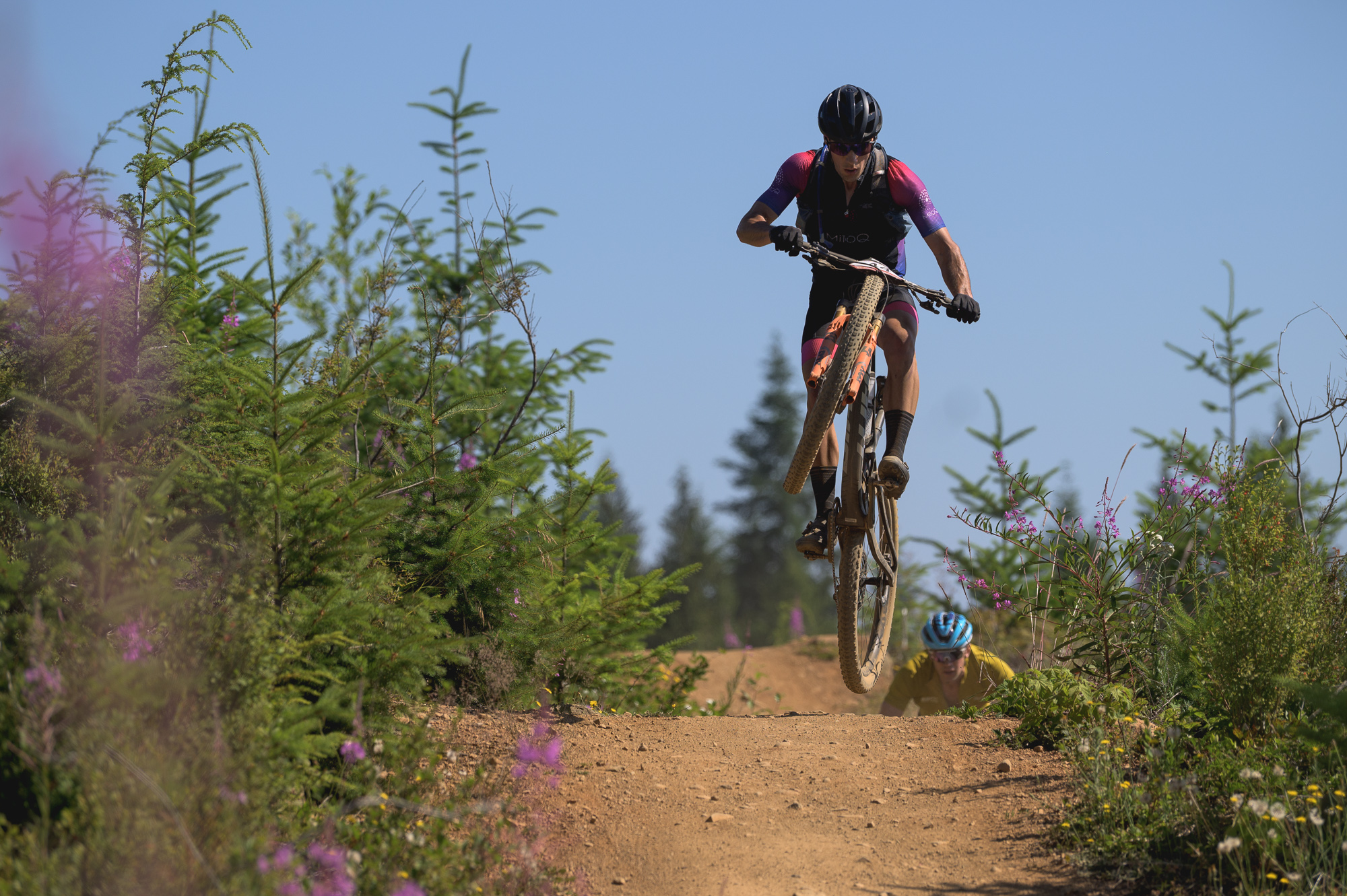 "I have no idea what happened. It was the last few corners, and I think i just caught a handlebar on a tree and went over. I think I got lucky, I didn't get hurt at all. My stem was a little crooked, so I rode it crooked to the finish line and lost a few seconds to Peter."
That was exactly the scenario on the Maxxis racer's mind at the start of the day. 
"Racing on this kind of terrain anything can happen. with this much single track, it's amazing the amount of times that you're just centimeters from trees and just on the edge of losing traction, all seven days." 
The last-minute excitement was a final twist in what has been a challenging, and satisfying race. That made taking his second BC Bike Race title all the more rewarding. 
"To be honest, winning this version of BCBR is pretty special. It's on the coast, it's the original version. That coupled with the fact that we had a really strong field this year, it's super special. The whole experience was great."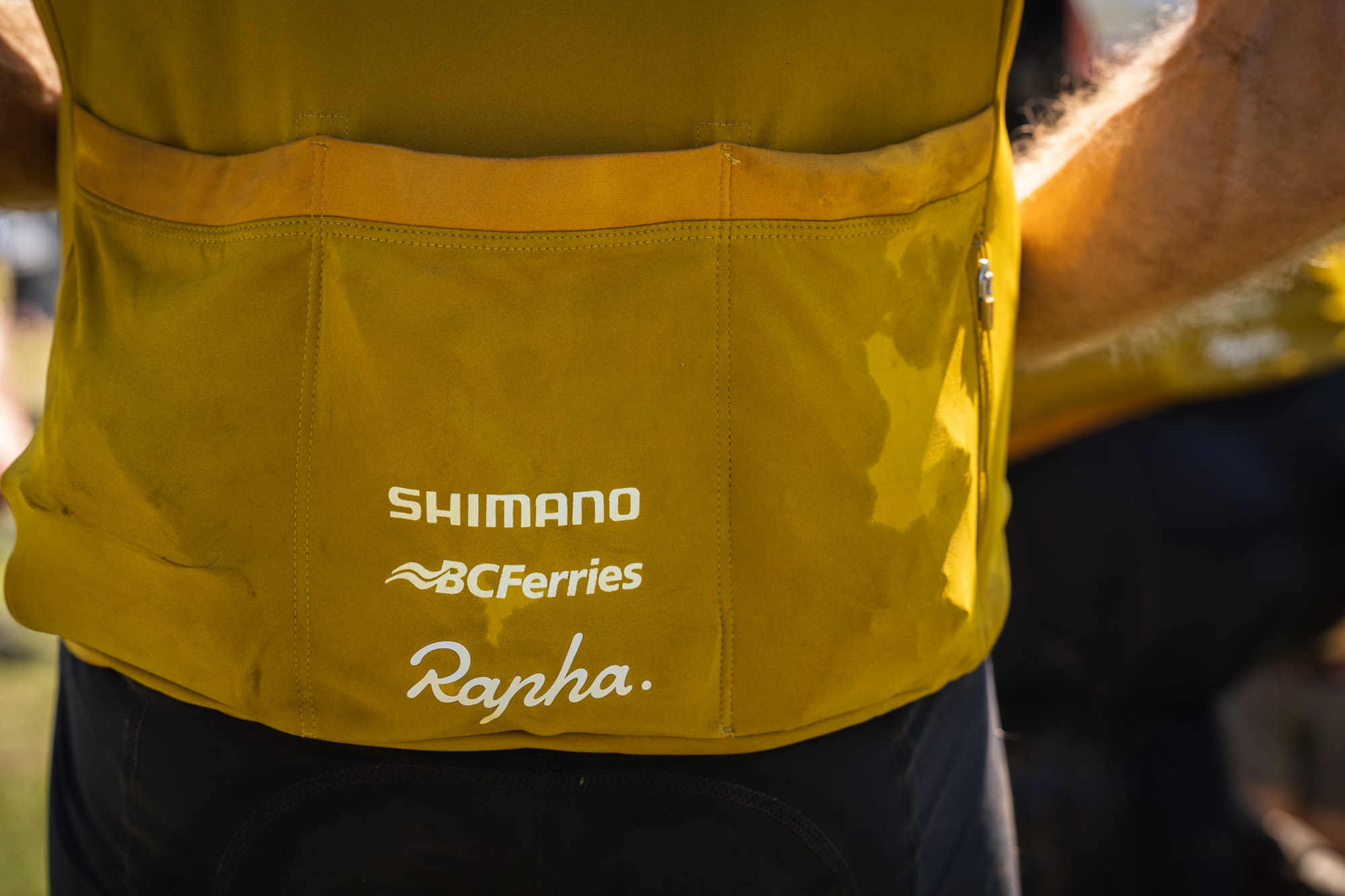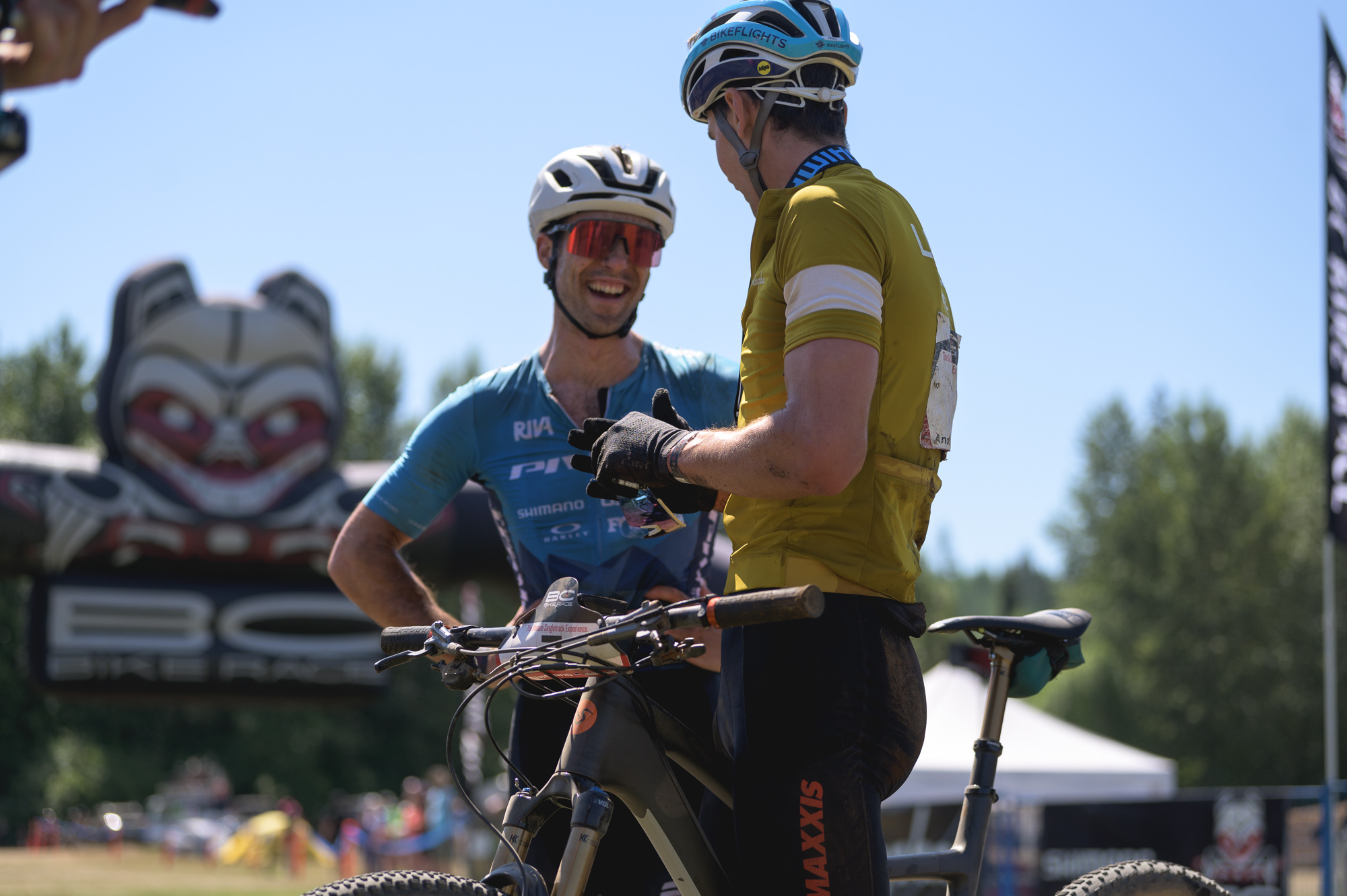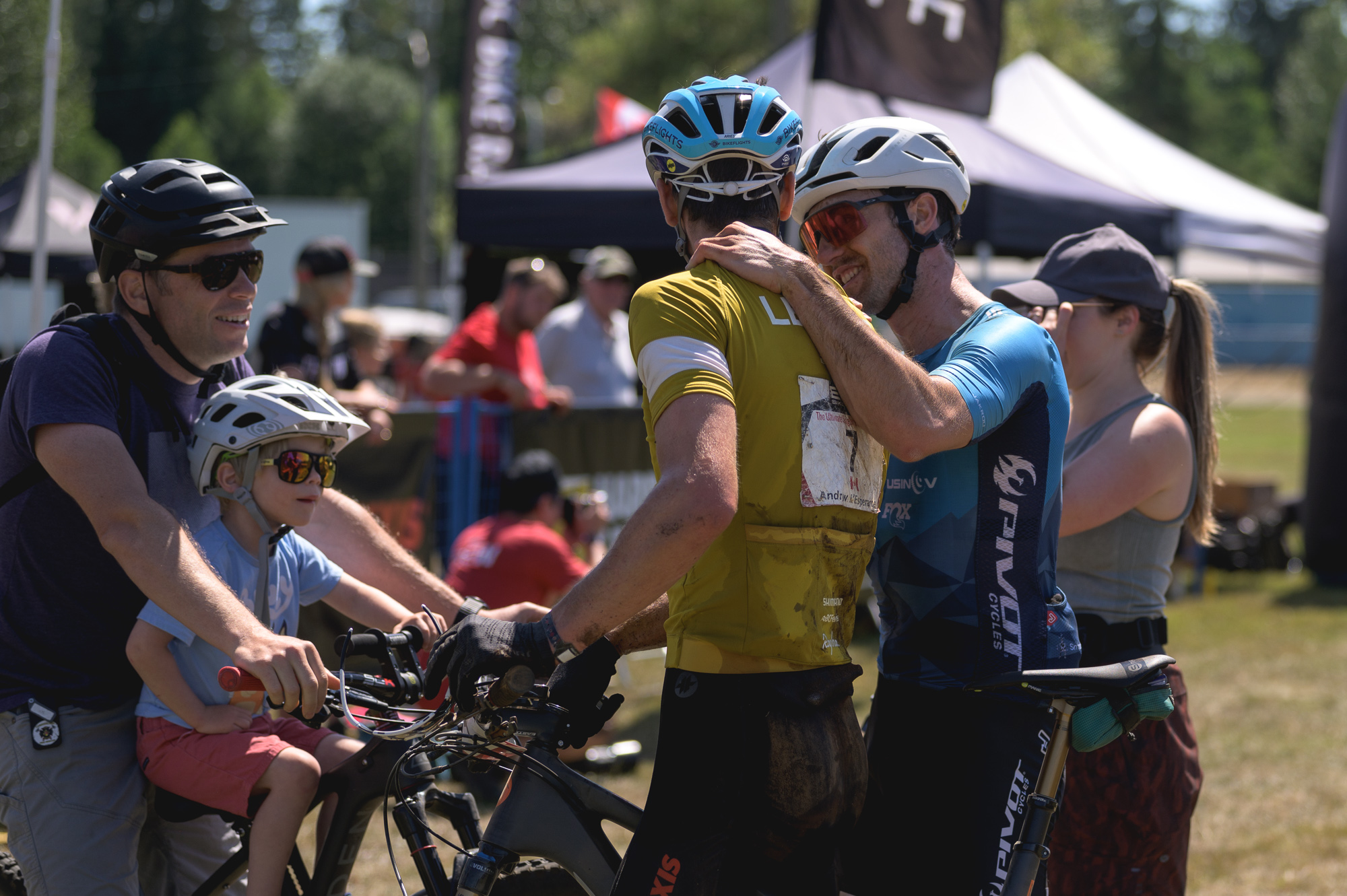 A Returning Champion and a New Contender
On the women's side, perhaps emboldened by yesterday's win, Eva Poidevin went on the offensive early in the final stage. Evelyn Dong was, for the most part, able to follow, but Katerina Nash looked to be in a spot of trouble.
"It was the last day, so I went off the start. Evelyn was right behind me. When it opened up onto the dirt road I could see Katerina was maybe 20 or 30 seconds behind us and I was feeling good. I got a bit of a gap on Evelyn." 
Dong caught up as the two passed through the bottom of Bear Buns and stayed together to the finish line. Poidevin edged out the Utah racer on the line to take a second BCBR stage win. It's an impressive result for the young Canuck against a stellar open women's field in her first BC Bike Race appearance. 
"I wasn't sure how it was going to go," Poidevin admits, adding "The week's been totally amazing."
Poidevin and Dong were able to push on and put a full three and a half minutes into Nash before sprinting for the win, but not enough to unseat the Czech-Californian from the top seat of the overall podium.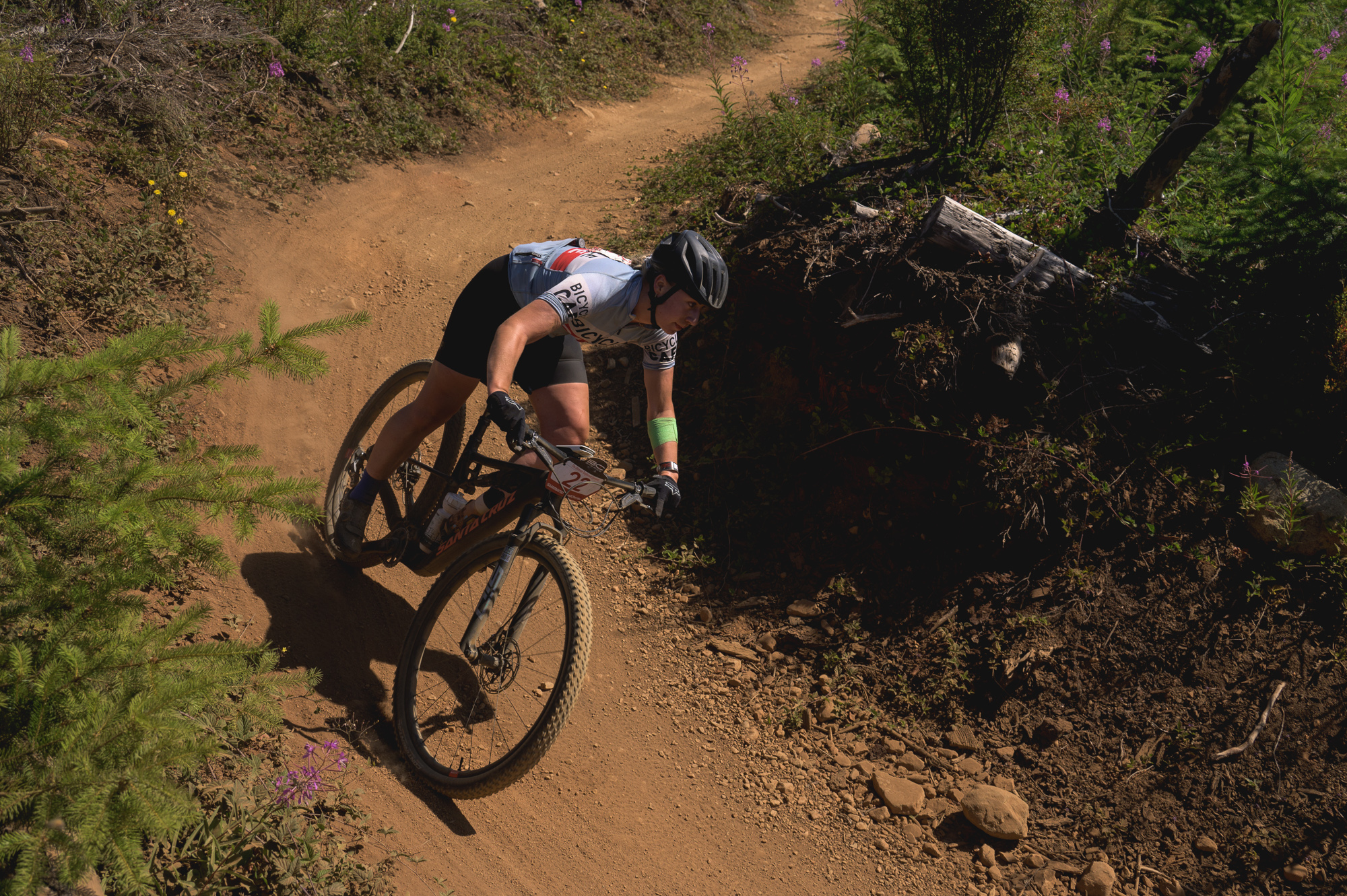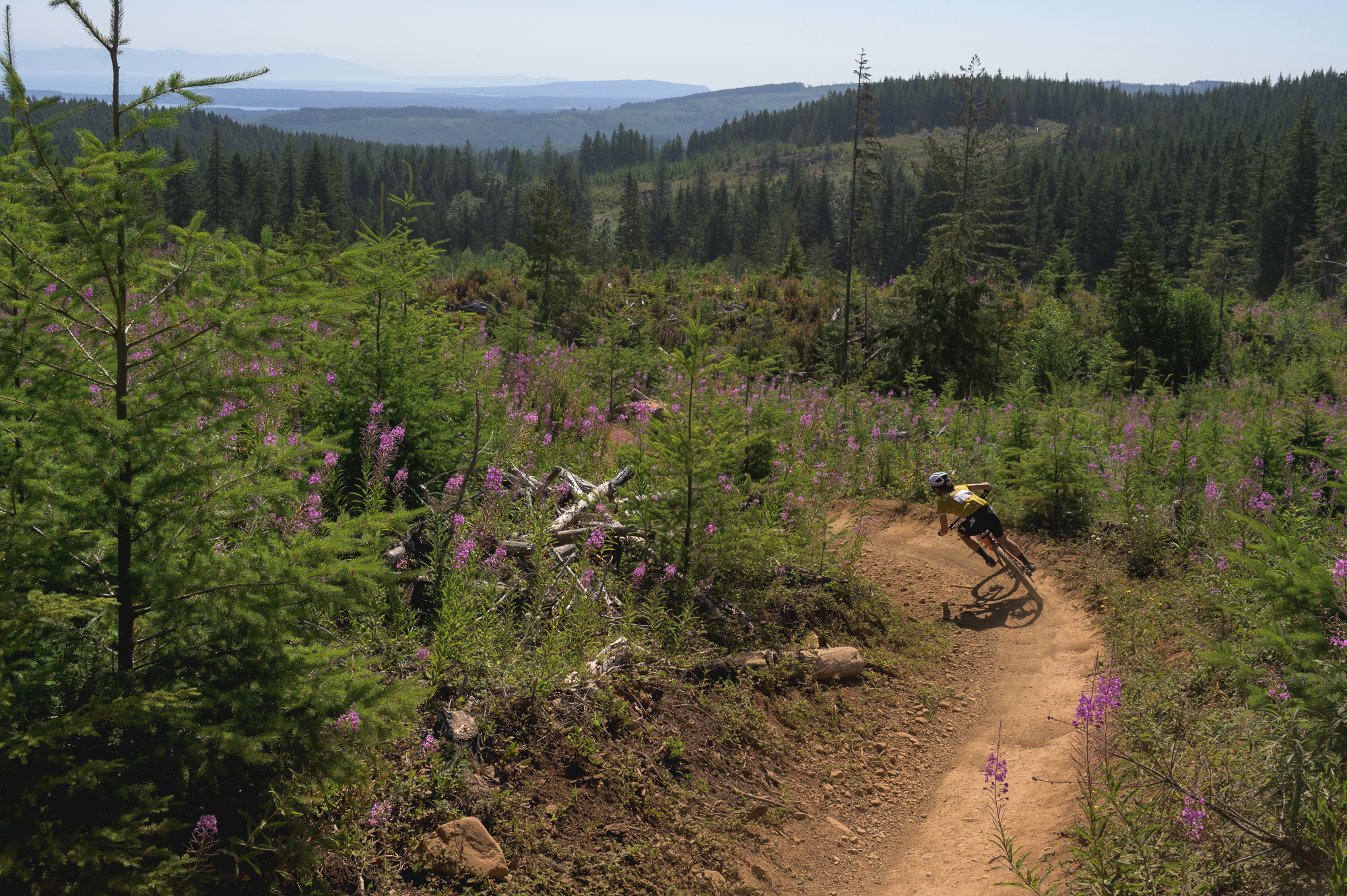 "You never know until you cross that finish line, right? I don't mess around, I don't take it too easy. But I was definitely running out of energy and had to manage the last two days. Today was hard because they gave it  from the start and I couldn't keep up. But that's part of stage racing, you have to forget the first five minutes and focus on yourself and that's what I did today. I believed I still had something in me to win the overall, and it worked out.
Nash reclaims the BC Bike Race title in her first appearance in the event in four years. Having past titles doesn't make the latest win less meaningful.
"It's been a great week. It took me four years to get back here. You know you have age boxes, 0-10, 10-20, I'm in that box where time on the bike and time training… you start losing the fitness. To come back and still be able to take it, it feels pretty rad," Nash shared after stepping off the final BCBR podium. "I'm pretty stoked that I managed to keep my fitness the last couple years. And I love riding B.C. trails, so the combination of those two got me to the top. But yeah, there's a whole group of young riders coming after me – it's actually quite exciting. It was cool to watch Eva's progression throughout the race and obviously, I knew Evalyn would be super strong, since we've been racing together forever."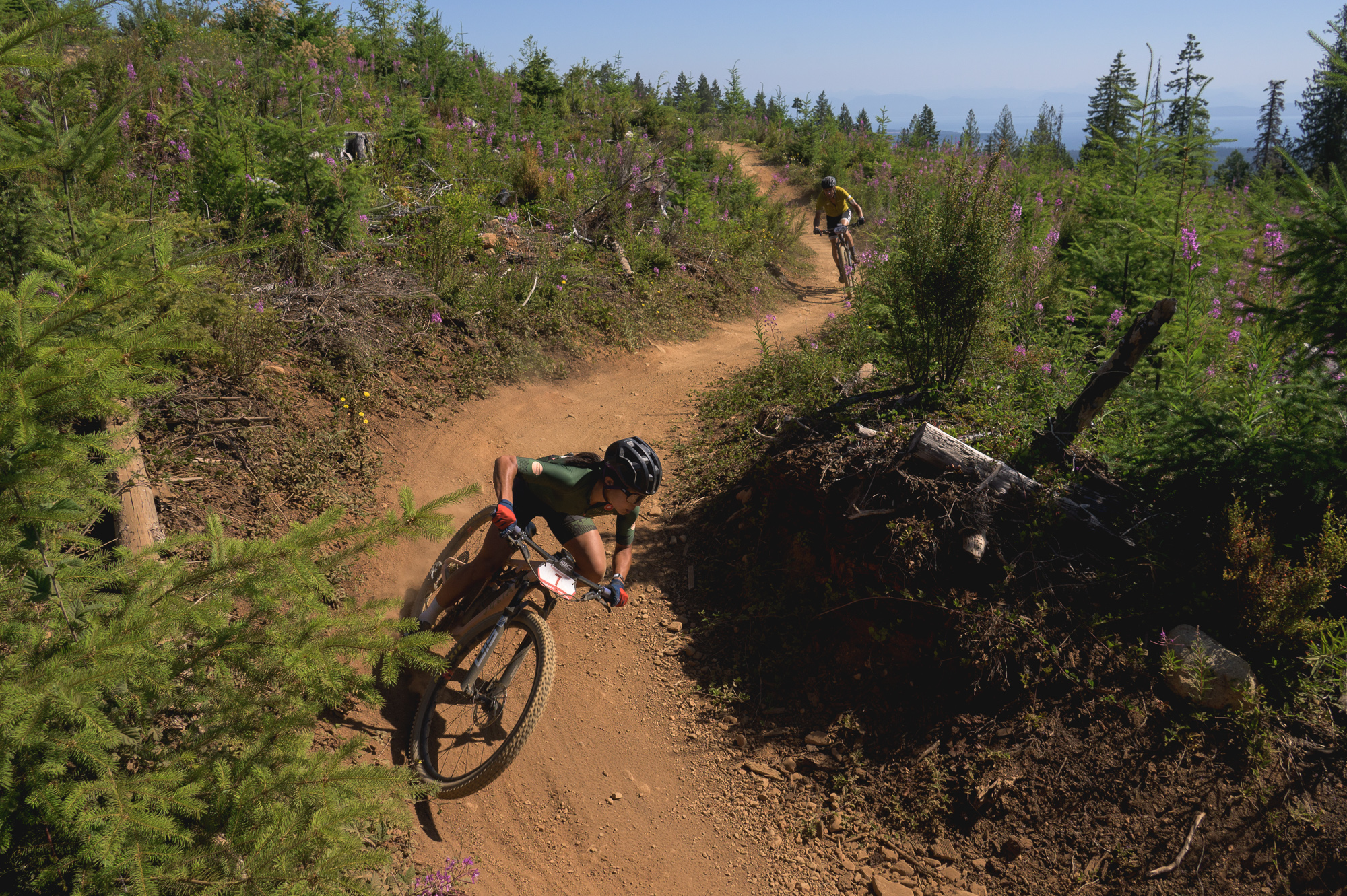 Every Second Matters, Every Rider Celebrates the Finish Line
The pros aren't the only ones taking the race all the way to the finish arch in Cumberland Village. Bob Jones and Trevor Howard of Team NOBLized built momentum all week to take second place in the Men's Team of Two (80-99) by a razor-thin eight seconds based on their Day 7 result. 
"This week was really tough. Probably the hardest week I've had on a bike," Jones says. "The heat was really difficult at the start of the week but, as it got cooler, I got faster. I'm really happy with that." 
"The last few days, Bob came alive and we took 11 minutes out of those guys," Trevor said. "It's pretty great to share the hardest week on a bike with your buddy. That made this week for me." 
Team racing requires a little more nuanced effort than racing solo. Matching your partner's pace day after day, even when you're feeling good and they're wading through a low, isn't easy. How did NOBLize ride-out the ebbs and flows when one rider started much stronger?
"Pushing him up all the gravel road climbs!" Trevor says with a laugh. "cheering him on. Then getting infront of him on anything really technical to avoid a mechanical. I waited for him on the road today and he got in my draft. The whole week were were pretty strategic, just trying to stay focused in case it came down to the wire, which it did."
Jones is no slouch on the descents. That likely made managing his speed as much of a challenge for Howard as taking on a big week of XC racing was for Jones. 
"I've come from racing downhill and a bit of enduro, so putting in 6-8 months of really hard work to try get a good result," says Jones of stepping up the XC challenge, adding "I'm a fan, but I'm probably going to sell my bike next week."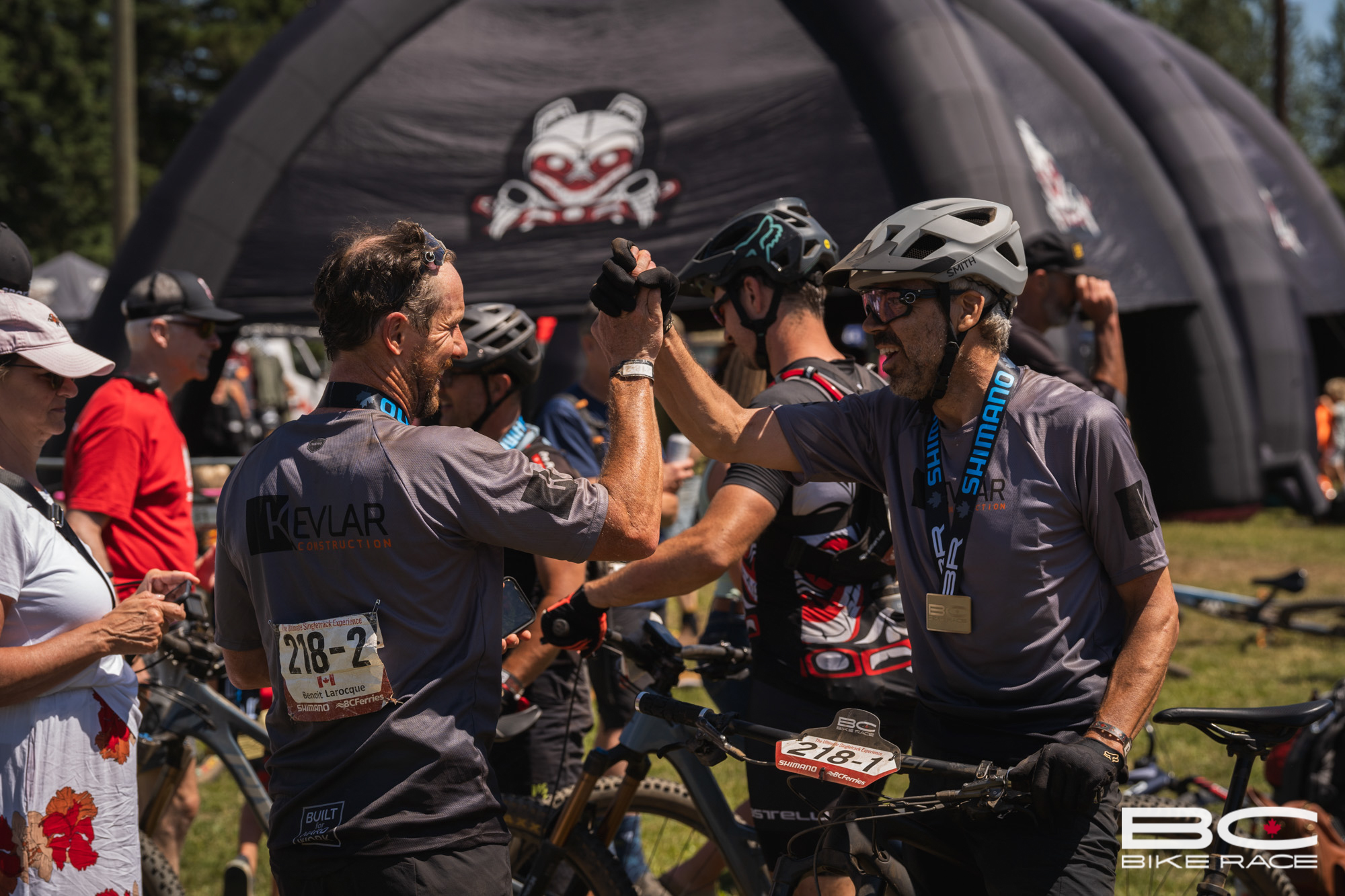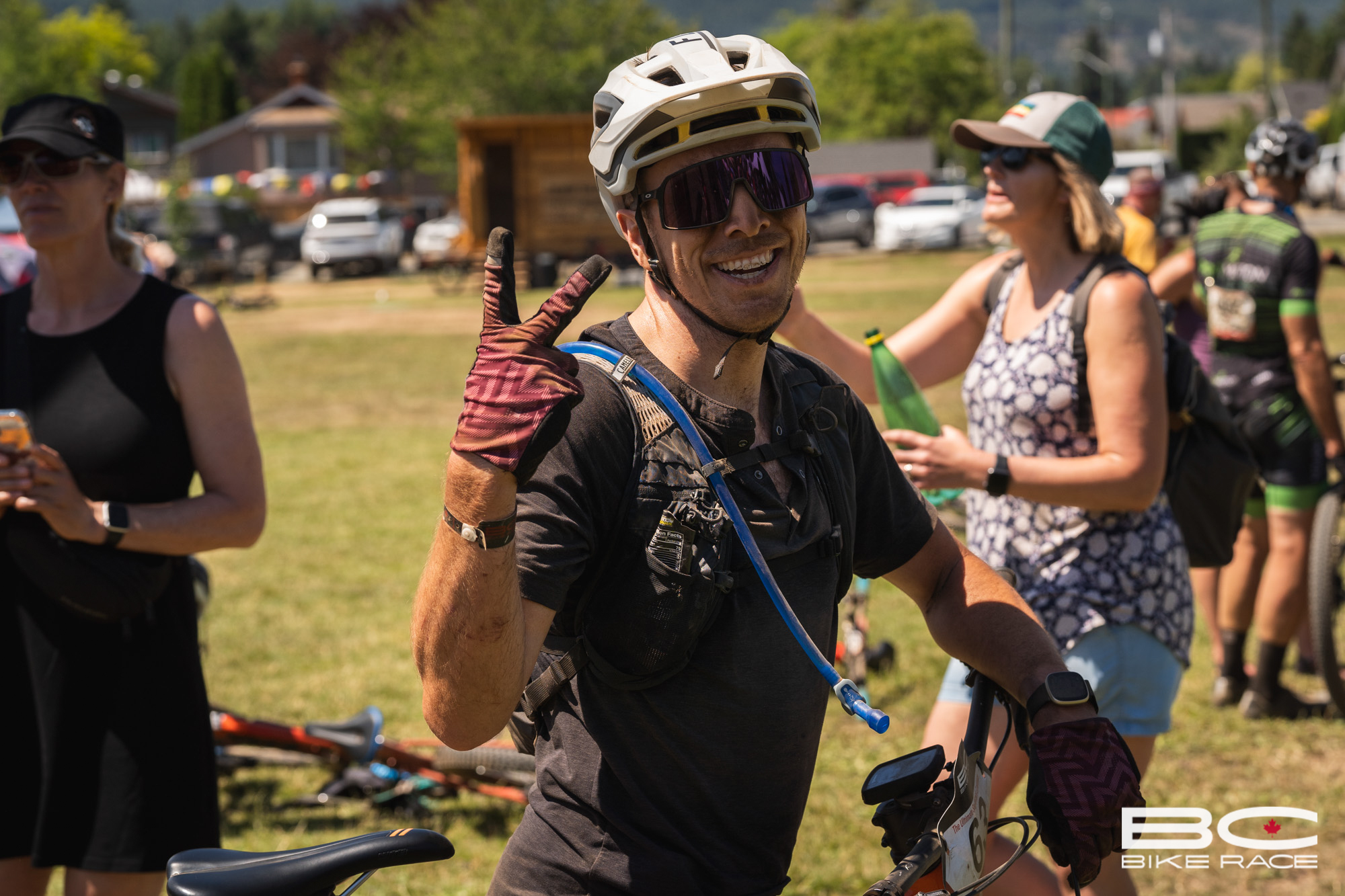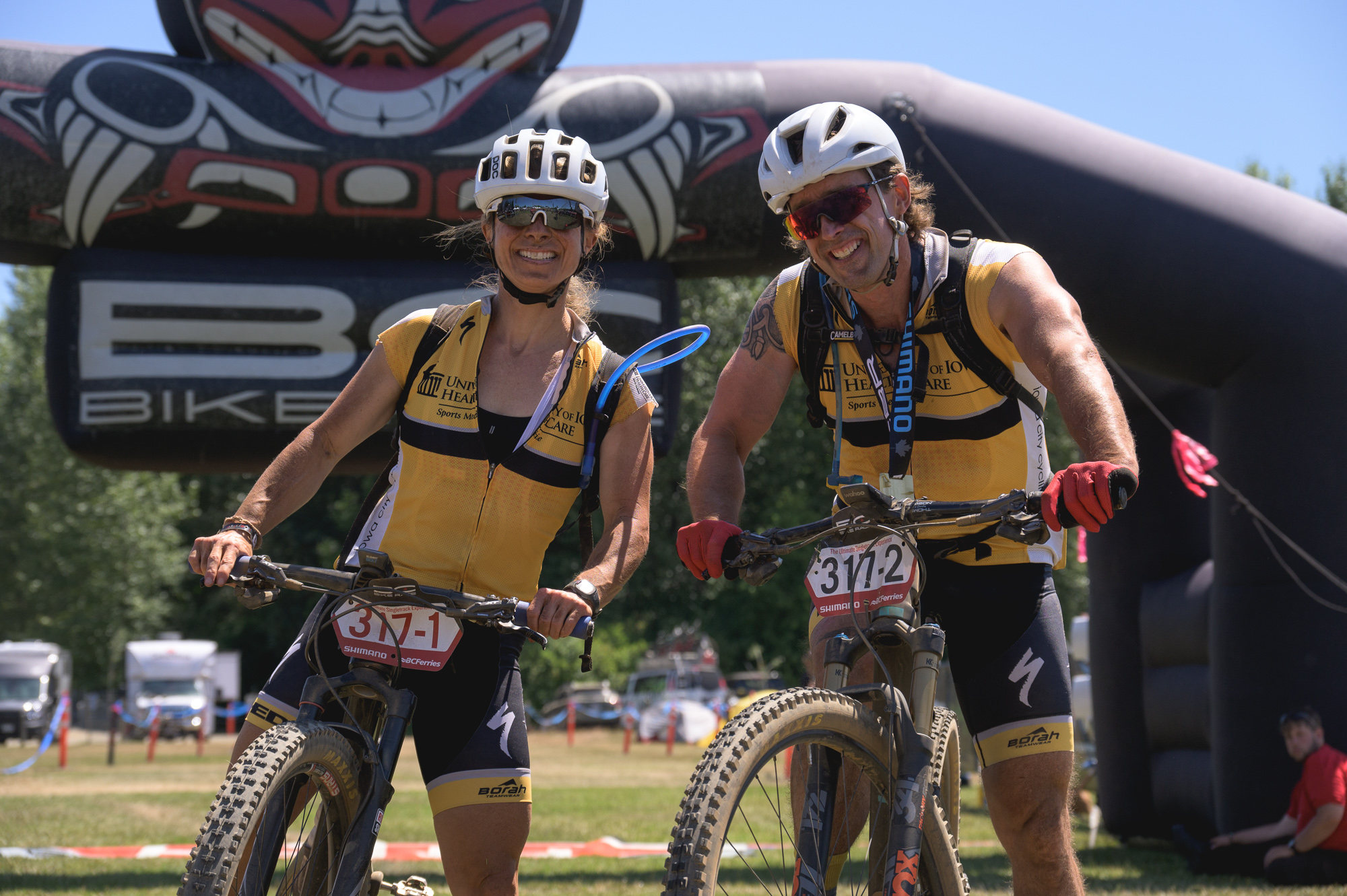 While racers are working hard to earn places, the competition is also bringing new friends together. Michele Carr spent the latter half of her BC Bike Race week racing with fellow 60+ women's podium finisher, Valerie Terada of Mililani, Hawaii. 
The week was hard, but very good," Carr says. "I rode wth Valerie. She's also an over 60+  so, for the last three days, we've been riding together. If I feel good, I go a bit harder at the end." 
Carr is an Island local, running a coaching program near BCBR's first Basecamp in the Cowichan Valley. Racing close to home had its advantages, but was still a new challenge. 
"It was quite different actually, you're riding a little harder. But it was nice to be familiar with the trails for sure. I'm very, very proud to finish" 
One local advantage was a cheering squad. Carr was welcomed across the line by her sister, brother-in-law and husband.  "He's been all over the course every day!" 
Support comes in many forms. Valentijn Steenhoudt was talked into traveling from Belgium to take on the BCBR by a group of friends returning to the event. 
"It was peer pressure!" Steenhoudt says when asked what brought him to Vancouver Island, "But it was awesome." 
Steenhoudt wasn't just celebrating finishing a week of racing, it was also the tall Belgian's birthday on Sunday. His present? A fresh set of scrapes on his forearm. 
"I decided to take a belly flop. A bit of tiredness and fatigue, but it's OK. I didn't really hurt myself too badly." 
Sunday was the BCBR finish line but, like many arriving from further afield, it isn't the end of his B.C. experience. 
"we still have a week to go here. we are here for three weeks, we're staying for another week here in Squamish and Whistler checking it out. It's a really incredible experience. Belgium is pretty flat and you end up riding the same trails every day, because that's all there is. Here, You can find trails for days and keep going!" 
BC Bike Race is about creating a challenge, and through overcoming challenge together, you create community. Alexandru Cristea, up from Mexico, was the final rider across the line in Cumberland. While he might not have finished as fast as some, there's a reason everyone that finishes BCBR gets one of the iconic finisher's medals. This event is about more than time on the clock.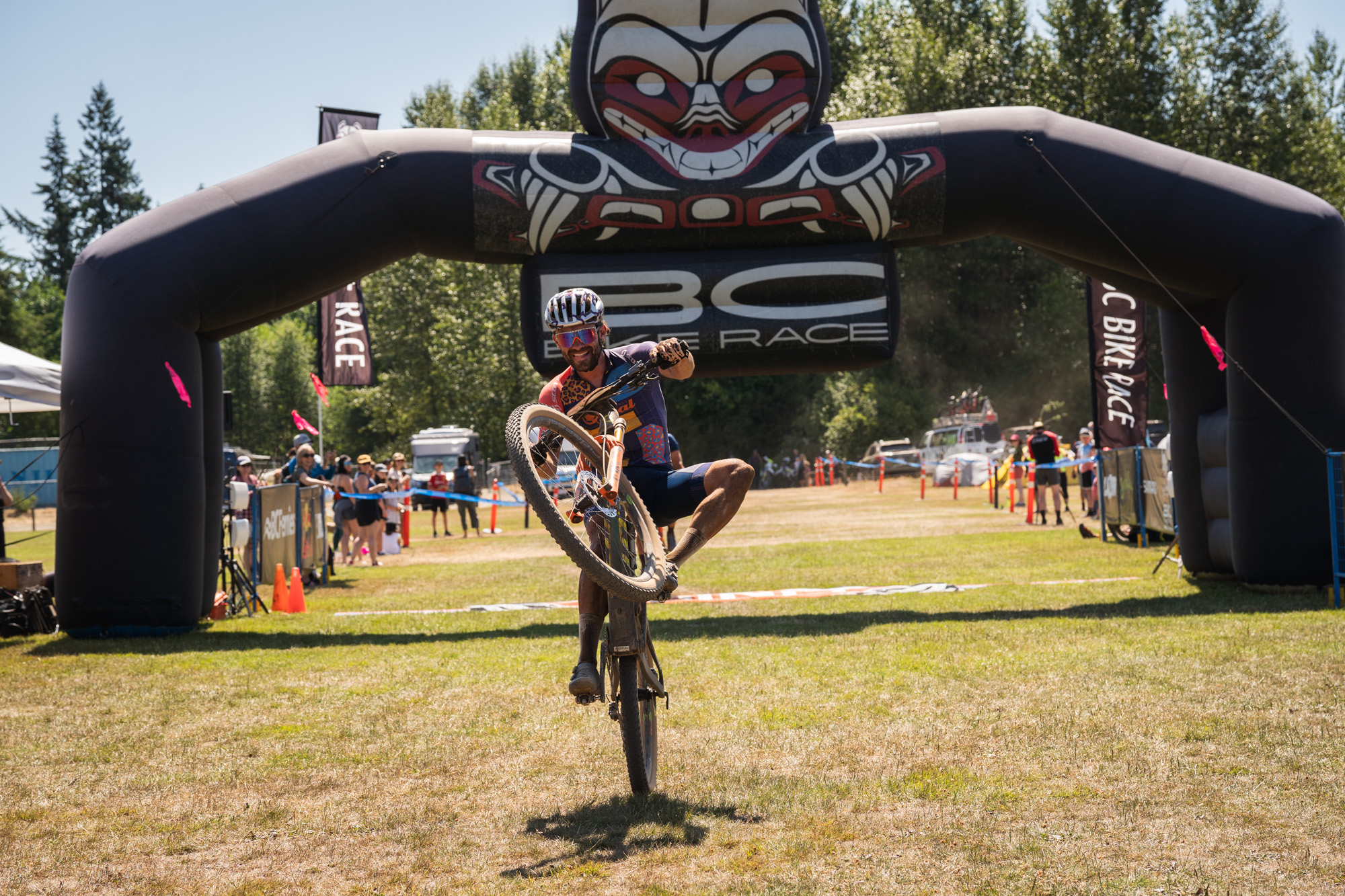 Ryan Standish over the line in style
"It's an amazing feeling, because finally, I feel like I'm entering a community, not just a Canadian community, but an international community of mountain bikers. I am super proud to be here! So thank you, thank you BC Bike Race!"
After an early awards ceremony, riders, staff and volunteers were released from their tasks, they were happy to sit on the grass, or just outside the beer garden listening to Barney Bentall, yes, the Barney Bentall, play a set of classics (including his own) and originals with help from Melanie Dekker.
No matter how tired the legs and lungs were in the audience, how much they left on the trail, physically and emotionally, the racers watching have never felt more alive. 
If that sounds like the way you'd like to spend a Sunday afternoon, or a full week on Vancouver Island, Registration for the 2024 BC Bike Race opens at 10:00 AM PST on Wednesday, July 12, 2023. This year was nearly at capacity, so don' this out on your chance to take on the challenge of "The Ultimate Singletrack Experience."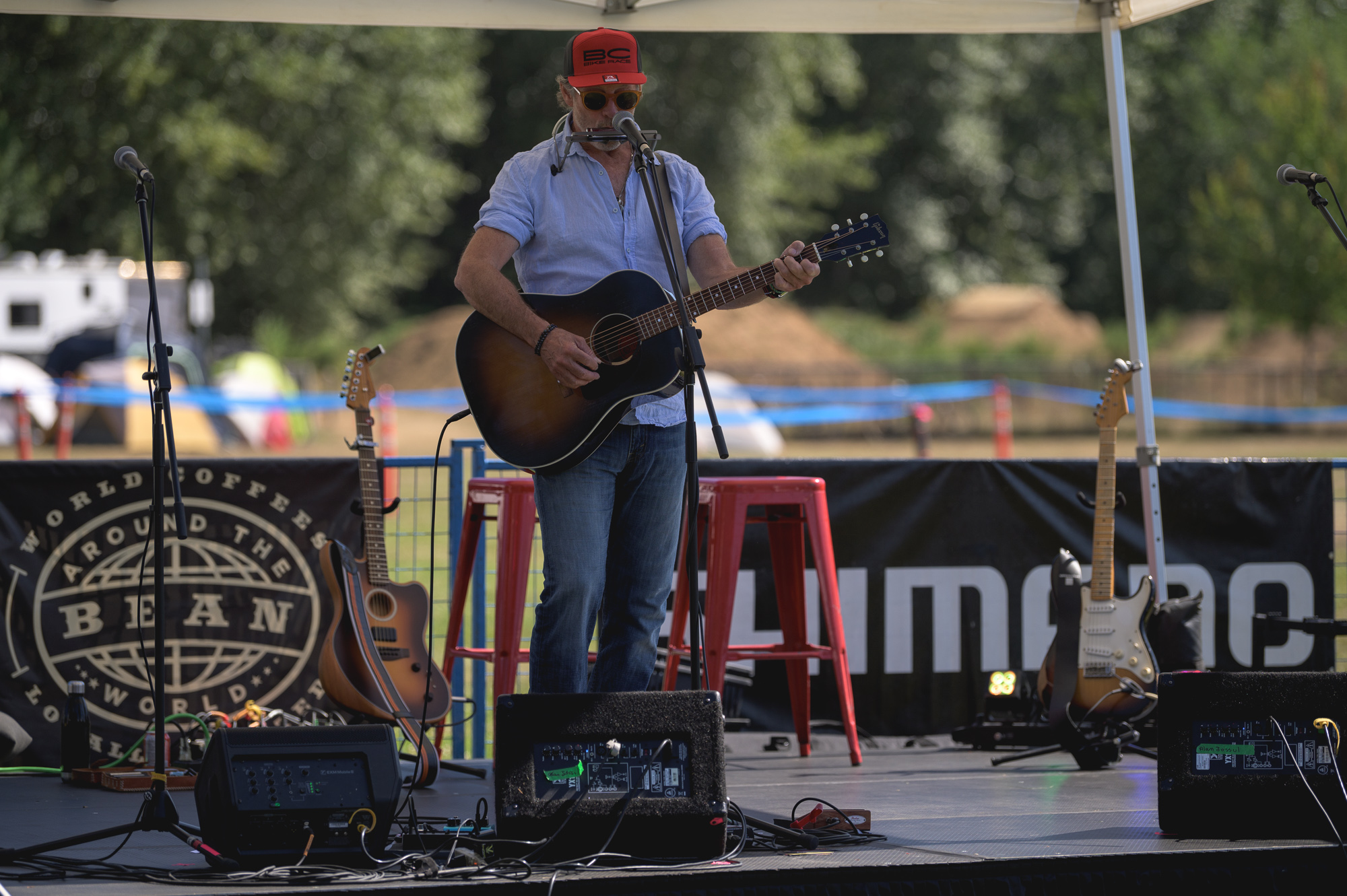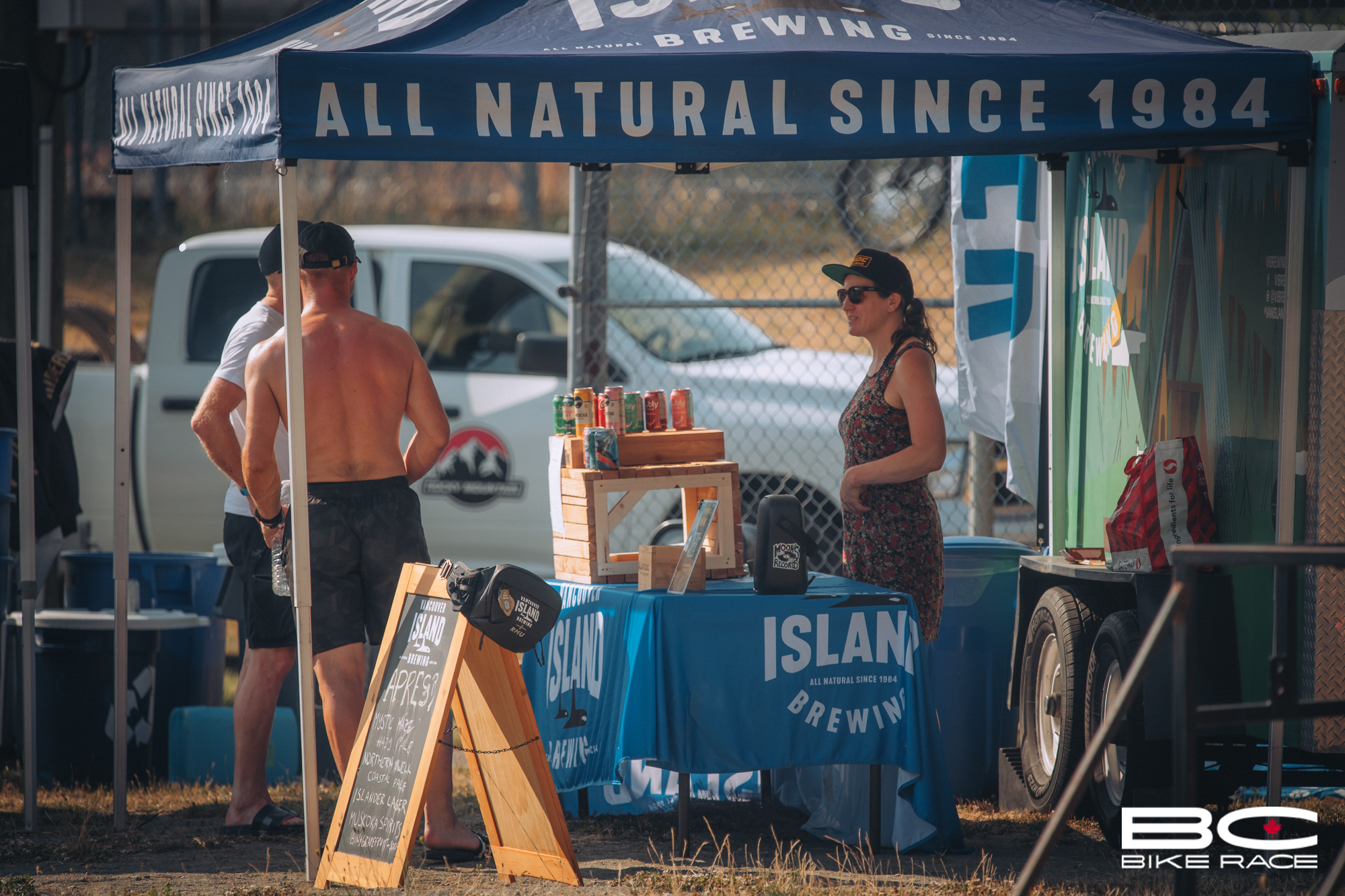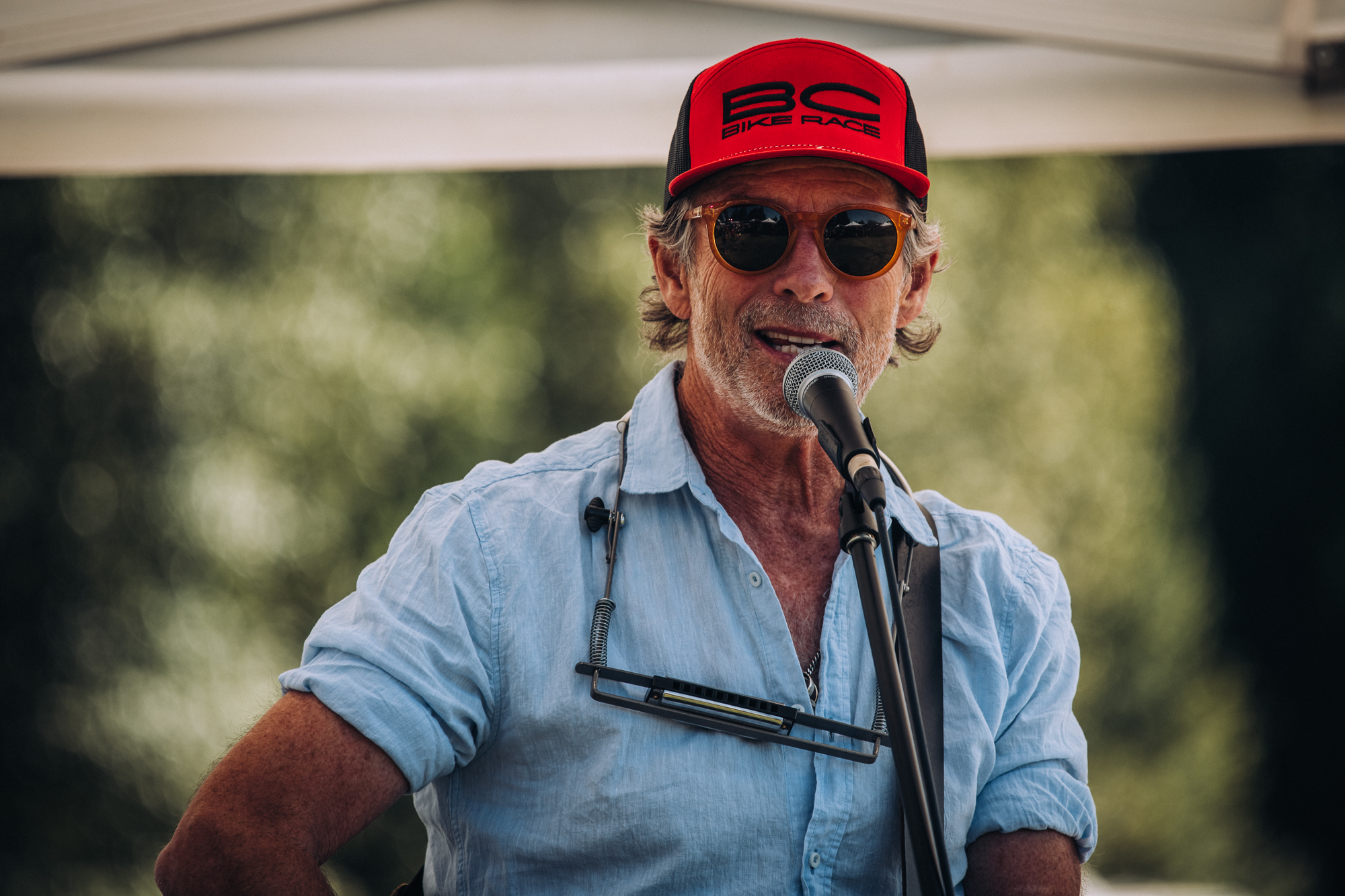 2023 BC Bike Race – Day 7 Results
Open Men's Results
Peter Disera – 1:34:38
Andrew L'Esperance – 1:34:55 (+0.17)
Craig Oliver – 1:35:11 (+0.33)
Open Women's Results
Eva Poidevin – 1:55:17
Evelyn Dong – 1:55:17 (+0.00)
Katerina Nash – 1:58:45 (+3.28)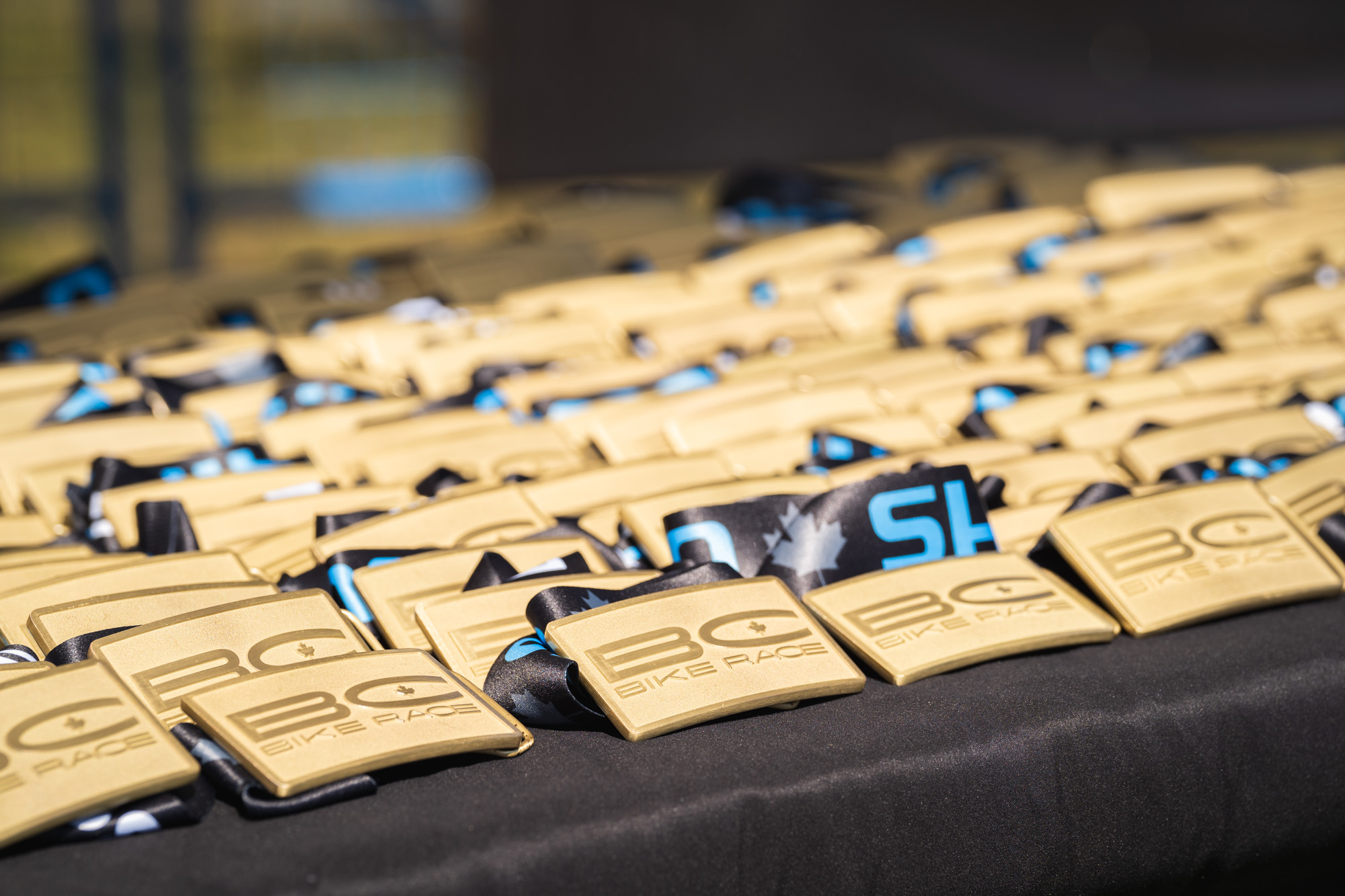 2023 BC Bike Race – Cumulative Results

Open Men's Results
Andrew L'Esperance        – 10:45:47
Peter Disera                       – 10:46:29 +0:00:42
Craig Oliver                        -10:47:34 +0:01:47
Open Women's Results
Katerina Nash                         – 13:07:44
Evelyn Dong                           – 13:12:58 (+5.14)
Eva Poidevin                          – 13:20:33 (+12.49)
Full Results  BCBR